Insights
Construction Chad Brucken: 15 Years of Trusted Craftsmanship
June 20, 2023
"Chad Brucken of McElroy's really has our best interests at heart," said Ron Gentry, director at Stormont Vail Health. "When we have a plumbing or piping issue, I call Chad and whatever time it is, or wherever he is, he'll answer and handle it. He's always courteous and professional when he deals with our doctors and nurses, too. Everyone finds Chad polite and solutions focused." June 19, 2023, is Chad Brucken's 15th anniversary as a member of the McElroy's team. We're happy to honor Chad as a plumbing/pipefitting foreman who everyone – from teammates to customers – can trust for timely, high-quality work!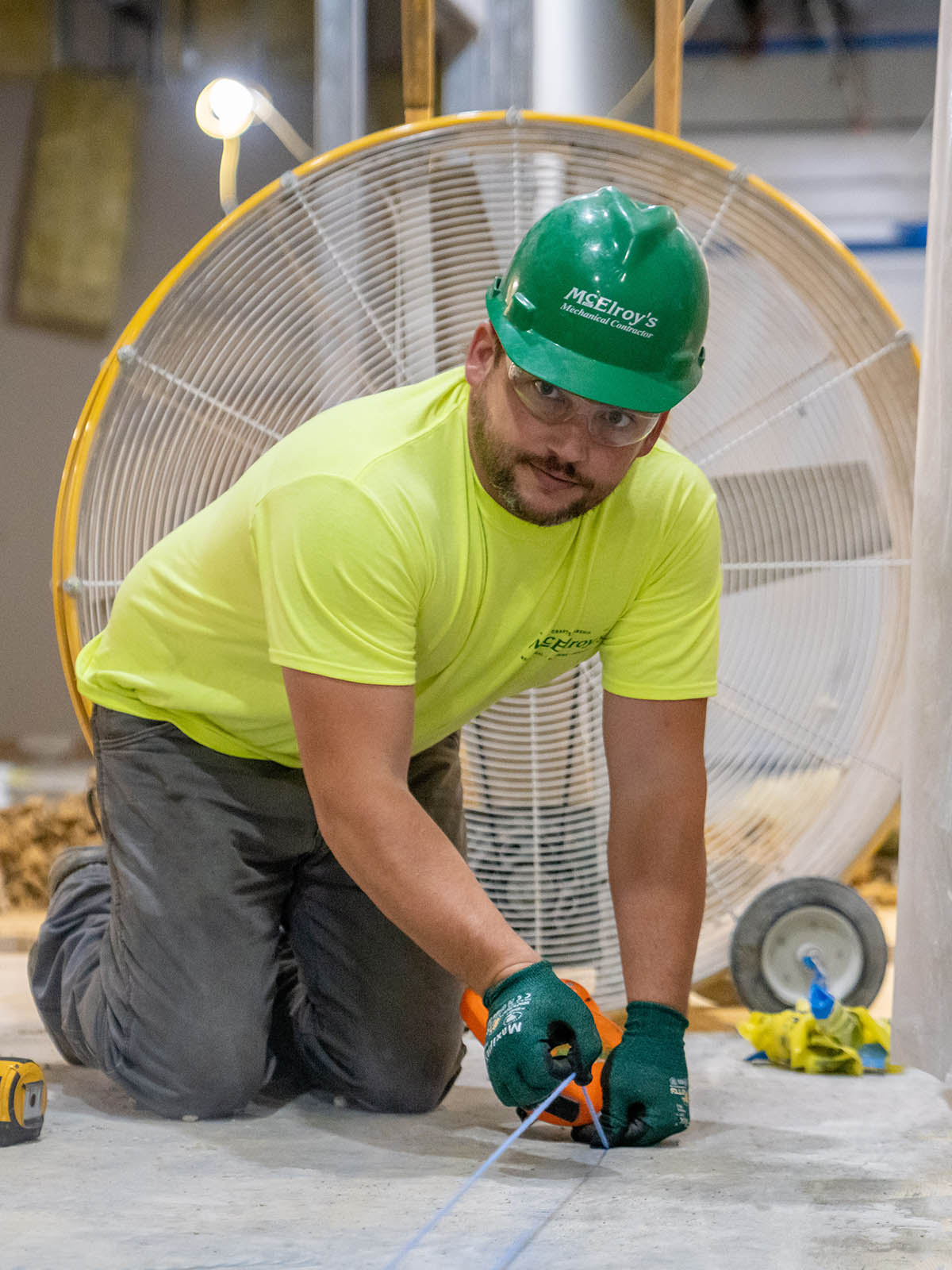 Do It Yourself
Chad grew up in Soldier, Kansas, west of Holton. He was the youngest of four, and helped with hay and livestock on his grandfather's farm. "Dad was a foreman for Morton Buildings in Holton," said Chad. "We grew up with a sense of accountability. Nothing was handed to us, we learned how to do it ourselves." While attending Jackson Heights High School, Chad took classes in heating and air through Kaw Valley Tech. As a high-school junior, Chad started working 40 hours a week for the Sonic restaurant in Holton. Over the next five years, he rose to become a general store manager for several Sonics in Kansas.
Working With Metal
Chad missed working with his hands, so he moved into auto-body work for Clark Chevrolet in Holton. "Re-building cars is a passion of mine," Chad said. "One of my favorites was a Plymouth Gold Duster." Meanwhile, his sister's boyfriend was working for McElroy's. Thinking back on the HVAC tech classes he'd taken, Chad thought McElroy's might be a good career move. He got on board as a helper in the sheet-metal department. "It was a smart, long-term decision. Working in the trades is rewarding, lets you enjoy life beyond work, and can set you up very well for retirement."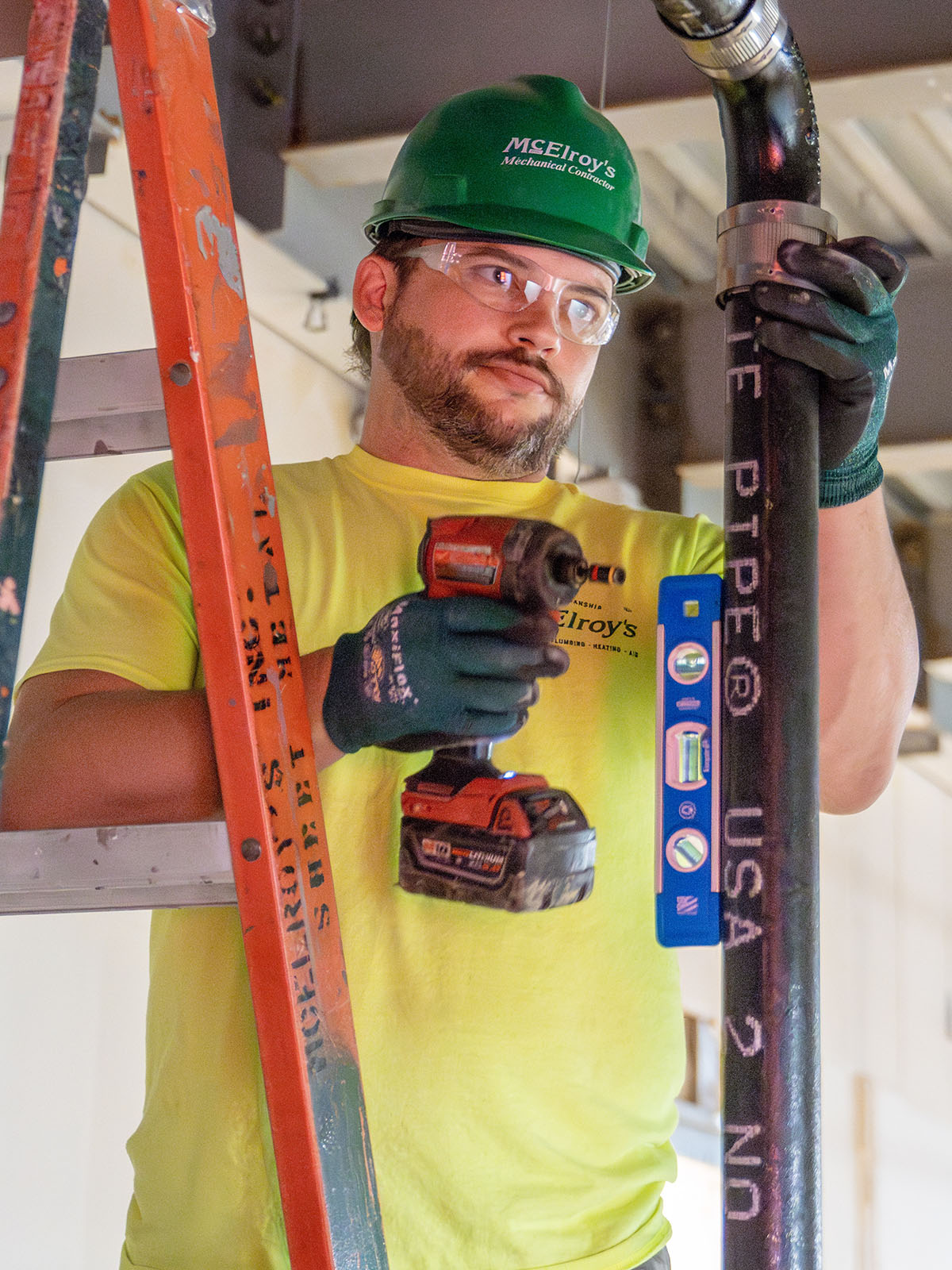 Union Local 441
"One day a guy saw my McElroy's shirt and introduced himself to me," Chad said. "He was the business manager for Plumbers & Pipefitters Union Local 441. He knew my name and my family. He suggested I should join the union, and do my apprenticeship at McElroy's – which I did." Chad started out under the direction of Quentin Latta, a McElroy's plumbing/pipefitting foreman, doing a lot of construction for medical facilities. "Quentin ensured that I understood and followed important procedures to safeguard ourselves as well as the patients, staff and visitors inside the hospital."
Work Done Right
When Chad became a journeyman, he started serving as a foreman on McElroy's projects. He led work on the Evel Knievel museum, Topeka Country Club and many medical-related projects – especially for Stormont Vail Health. One of his apprentices was Aaron Thompson. "Chad is a good teacher. He has a lot of knowledge that he's willing to share. He'll always take the time to explain how and why a thing should be done a certain way," Aaron said. "Chad is easy going, and creates a positive work environment. But no matter what, he insists on getting things done – and done the correct way."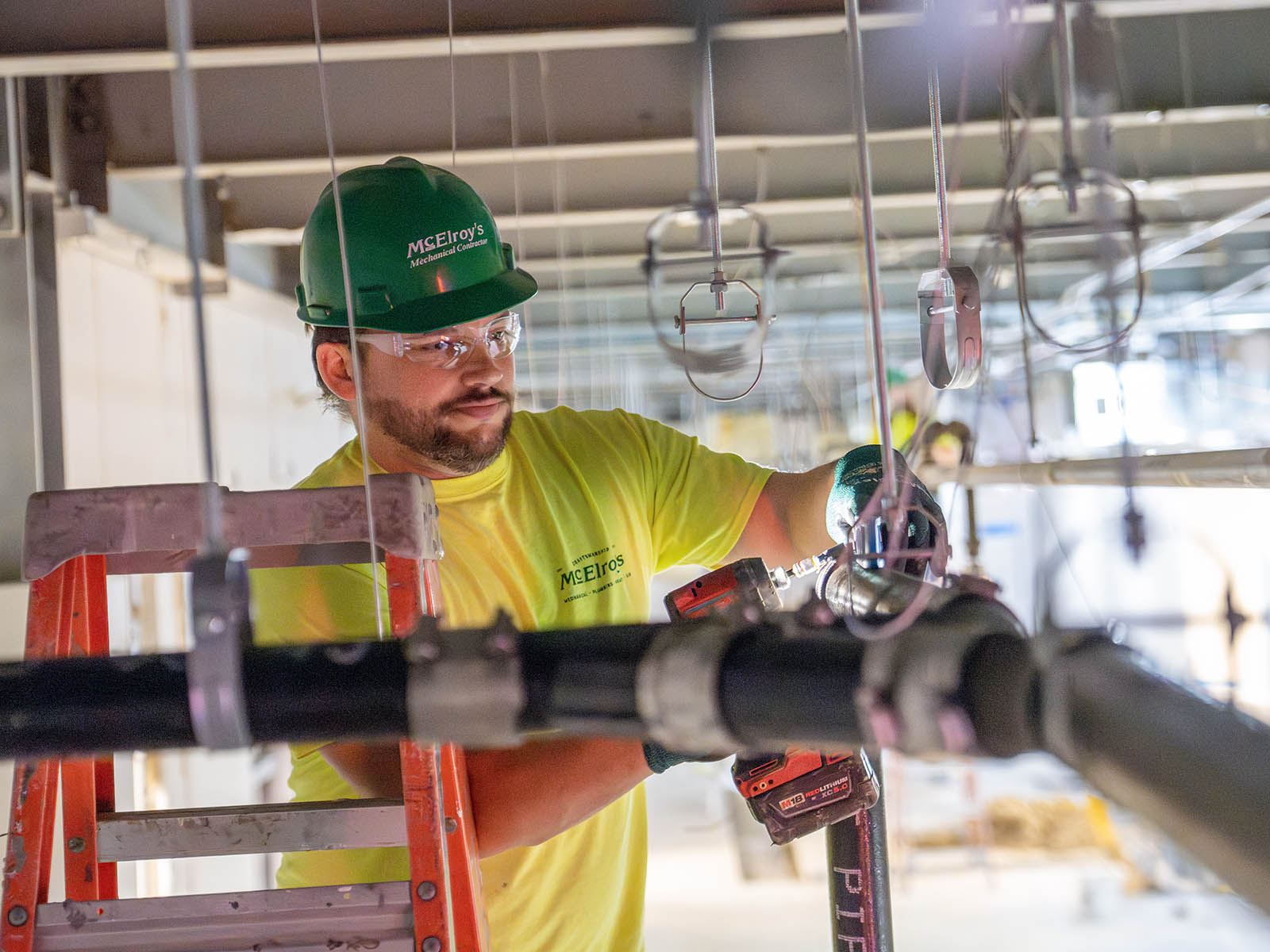 Lives At Stake
Chad is especially trusted for his medical-related piping. His teams have built intricate systems for MRIs, CT scanners, laboratories, medical gas and more throughout the region. "Medical piping requires flawless craftsmanship. People's lives can literally depend on the integrity of these systems," said Jimmy Thomas, McElroy's commercial project manager who oversees Stormont Vail Health and other jobs. "Chad is a go-to guy for medical projects. He has in-depth, specialized knowledge, insists on the highest quality from his teams, and won't cut corners. He's also a great planner. Chad thinks ahead, spots issues early in the process, and ensures everything is taken care of."
Keeping Busy
Chad and his wife, Kayla, live in the Lake Sherwood community in southwest Topeka. They have seven children – four boys and three girls – ranging in age from four to 23. The family enjoys being active in the Lifepoint Church, as well as in the many activities of the kids. Chad and Kayla are also involved in real estate through Stone and Story Real Estate Group. "I like to keep busy," Chad said. "As my dad used to say, if you want to keep your butt warm, go cut wood!"
Trustworthy
We are very glad that Chad joined our team 15 years ago, and that he has found McElroy's a rewarding place to stay. "In the mechanical contracting industry, McElroy's is the top choice," Chad said. "The pay and benefits are great, and the family atmosphere is unmatched in this field." McElroy's would speak just as highly about the exceptional quality of Chad's work, and the level of trust everyone can put in him. "I try to be a man of my word," Chad said. "Your word is really all that you have." Thank you, Chad Brucken, for being an outstanding example of the McElroy's core value: Trustworthy. McElroy's, and the customers with whom you work so very well, are looking forward to many more years of counting on your valuable service!