Insights
Team Rawlyn Reynolds: 10 Years of Persistent Solutions
May 11, 2023
"It can be confusing and stressful. The same plumbing part might be known by six different names – but whatever you call it, the field technician needs it now," said Shawn Kelley, McElroy's warehouse manager. "Rawlyn has the experience to figure out what each tech is asking for, and he makes sure they get it!" That's the problem-solving expertise someone develops when they've been at the job for a decade, like Rawlyn Reynolds, McElroy's purchasing associate. On May 24, we'll celebrate Rawlyn for his 10 years with McElroy's, making sure the right parts and materials make it to the hands that need them.
Formative Years in Emporia
Rawlyn was born in Emporia, Kansas, where his maternal grandfather was the pastor at the Church of God of Prophecy for 50 years. "My mom and dad always made sure I was in church, even when I didn't want to go," Rawlyn said. "I'm thankful my parents helped me learn to know what it really means to have a relationship with Jesus and follow after him in every area of my life. I wouldn't be the man I am today without my parents' guidance." As kids, Rawlyn and his older brother Rhett enjoyed fishing with their dad, and spent a lot of time at their grandparents' house, watching Disney movies. "Aladdin, Lion King, Mulan, I loved them all," Rawlyn said.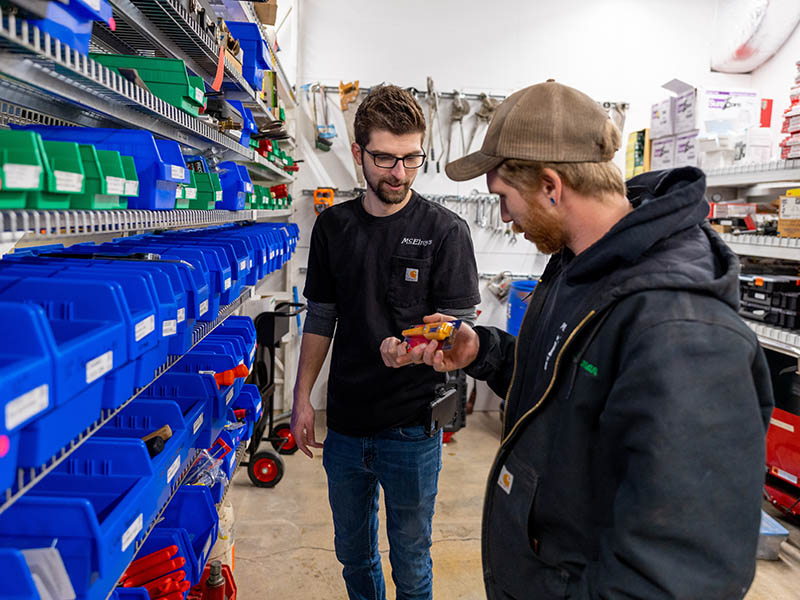 Topeka, and McElroy's
While Rawlyn was attending Logan Elementary in Emporia, his father got a job at the Topeka Goodyear plant. He made the long commute for a couple of years before moving the family to Topeka. From sixth grade on, Rawlyn attended the Shawnee Heights school district where he enjoyed math, played youth-league basketball, and was an avid skateboarder. After graduation, Rawlyn took general education classes at Washburn University for a few semesters, thinking he might enjoy teaching math. Meanwhile, his brother Rhett had started working at McElroy's as a delivery driver. When Rhett decided to pursue his graphic design interests at Washburn Tech, he suggested that Rawlyn might want the open driver's position. Rawlyn applied, and in May 2013, he started his career at McElroy's.
Driver to Purchaser
After a while, as Rawlyn continued serving primarily as a delivery driver, he also began training to assist with purchasing. "It was an opportunity to move up in the company," Rawlyn explained. "At first I would place a few small reorders for stock parts whenever I had the time. Then I began placing orders for parts and materials for specific construction projects. When I'd gotten the hang of it, I moved into purchasing full time." Rawlyn focused on buying for the plumbing service department for a couple of years, and then he did purchasing for the McElroy's construction team.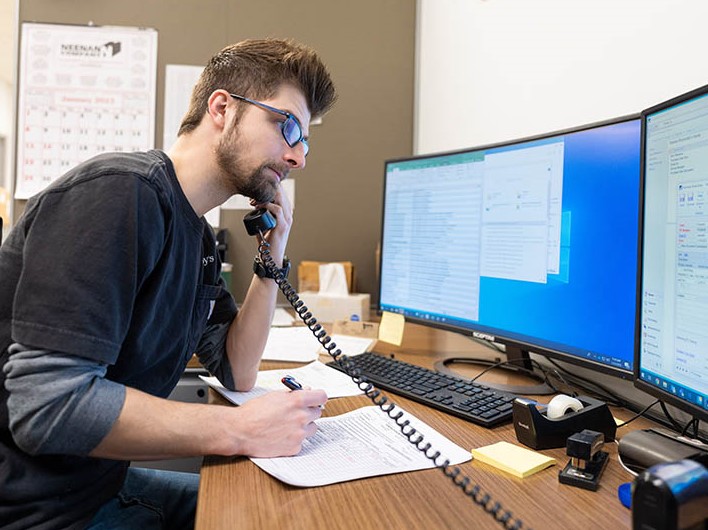 Orders That Are Very Clear
"Purchasing parts and materials for plumbers is not an easy job. You'll have so many different plumbers wanting a wide variety of things that they all describe by different names," said Casey Brees, commercial sales rep for Neenan Company plumbing supplies. "Rawlyn is easy to work with and he's a persistent problem solver. He'll go the extra mile to ask the right questions, get good answers and figure things out. When he sends an order, he's done the work to be sure it's right. You can count on him to be very clear."
Taking On Other Challenges
In 2017, when McElroy's moved our administrative offices to 3310 SW Topeka, we added an all-new warehousing area on the building's lower level. Brit Hunsicker took responsibility for setting up and stocking the new warehouse, with Rawlyn and others assisting. When Brit moved into commercial HVAC service sales, management of the warehouse went to Rawlyn. In mid-2019, McElroy's hired Shawn Kelley to lead the warehouse team, and Rawlyn returned to purchasing. "I enjoyed the managerial challenge, but Shawn has a lot of experience in warehousing and I was glad she took it on," Rawlyn said. He accepted another challenge in mid-2022 – reorganizing the McElroy's tools department at 3209 SW Topeka. "I cleaned it up, organized it and put new processes in place. Then we brought in Jeff Trimmer to take it forward, and I got back to purchasing, which is still what I do best."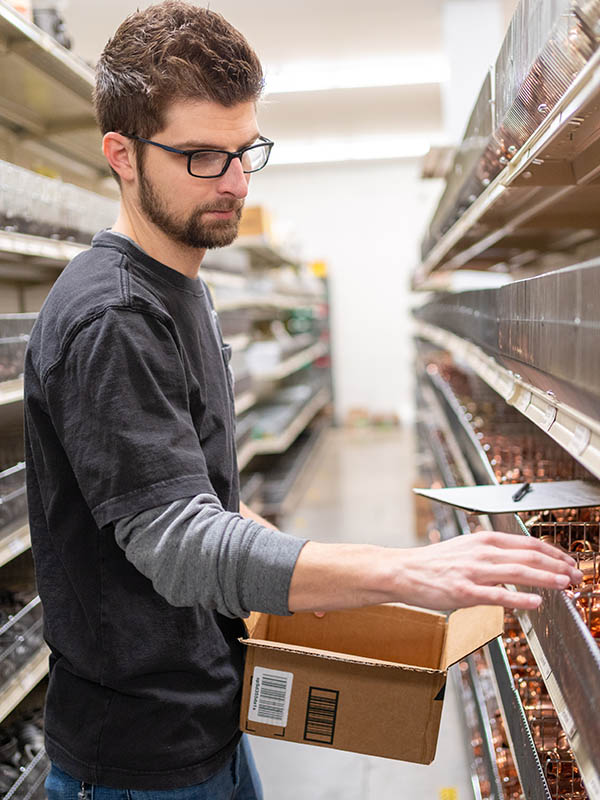 Personal Pursuits
Building on his upbringing, Rawlyn is very involved with the Lakeview Church of the Nazarene in Topeka. "I play guitar, sing and lead worship," said Rawlyn. "I also lead a discipleship group, and I'm working toward ordination." Another pursuit from his youth was basketball, which he thoroughly enjoys watching. "I'm a big NBA fan, especially LeBron James. I also like to play the NBA 2K basketball videogame online. My favorite college basketball team is the KU Jayhawks." For companionship, Rawlyn has a mini-labradoodle named Winnie who he got as a puppy last August.
Going By Fast
"I enjoy the fast pace in purchasing – talking with techs in the field and getting them what they need quickly and inexpensively," said Rawlyn. "The days go by fast." So do the years. It doesn't seem like an entire decade has passed since Rawlyn joined the McElroy's team, but it has. He can still be heard humming while he works – sticking persistently with any challenging task until he finds a solution. As McElroy's moves forward with new warehouse management software and systems, Rawlyn's ten years of expertise will be even more valuable in helping with the transition. We appreciate Rawlyn and his countless contributions to the McElroy's team, and we look forward to many more years of his calm, helpful and very knowledgeable assistance!