Insights
Construction Rhett Reynolds: 10 Years of Uplifting Attitude
May 18, 2022
"Rhett always has a great attitude. No matter what happens, it just slides off of him," said Danny Billings, McElroy's plumbing/pipefitting prefabrication manager. "He's responsible for so many different things that can happen in any given day, it's a real benefit that he's positive and easy going." Rhett Reynolds, who handles plumbing/pipefitting purchasing and warehouse duties for McElroy's construction division, will celebrate his 10th anniversary with McElroy's on May 18. We appreciate his hard work and adaptability, and the way he truly personifies the McElroy's Positive Attitude core value.
School Days
Rhett was born in Emporia, Kansas, and moved into the Shawnee Heights school district near Topeka as a high-school freshman. He enjoyed physical education and art classes, such as drawing and painting. During his junior and senior years, Rhett played the 2 and 3 positions on the T-Birds varsity basketball team. After graduation, he decided to go to work instead of college. His first job was loading trucks for FedEx, which he did for about a year.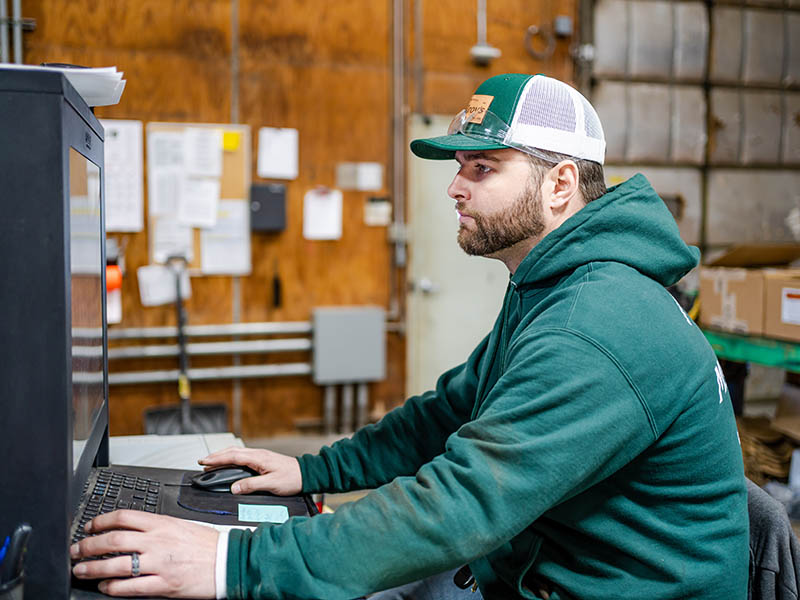 McElroy's DeliverY Driver
In September 2011, Rhett's oldest brother, Ryan, told him that McElroy's was looking to hire a delivery driver. Rhett applied and was hired. "I enjoyed making deliveries. It was interesting and sometimes challenging," Rhett said. "The days flew by." After about three years, he decided it was time to pursue his creative interests, so he enrolled in graphic design at Washburn Tech. Rhett graduated with certifications in Adobe Illustrator, Photoshop and InDesign. Meanwhile, his youngest brother, Rawlyn, had been hired by McElroy's.
Parts for Service Plumbing
"In the spring of 2015, Rawlyn told me McElroy's was looking for another delivery driver," Rhett said. "I liked the atmosphere at McElroy's and enjoyed the people I worked with. So I decided to come back to McElroy's instead of going into graphic design." After Rhett had been a driver for a while, Luke Dumler, McElroy's plumbing service manager, asked him to be responsible for plumbing service parts. In 2016, McElroy's moved their service plumbing and HVAC parts departments into a new warehouse on the lower level of the new McElroy's headquarters at 3310 SW Topeka. Rhett, Rawlyn and others began the long process of moving parts into the new warehouse, stocking and organizing them.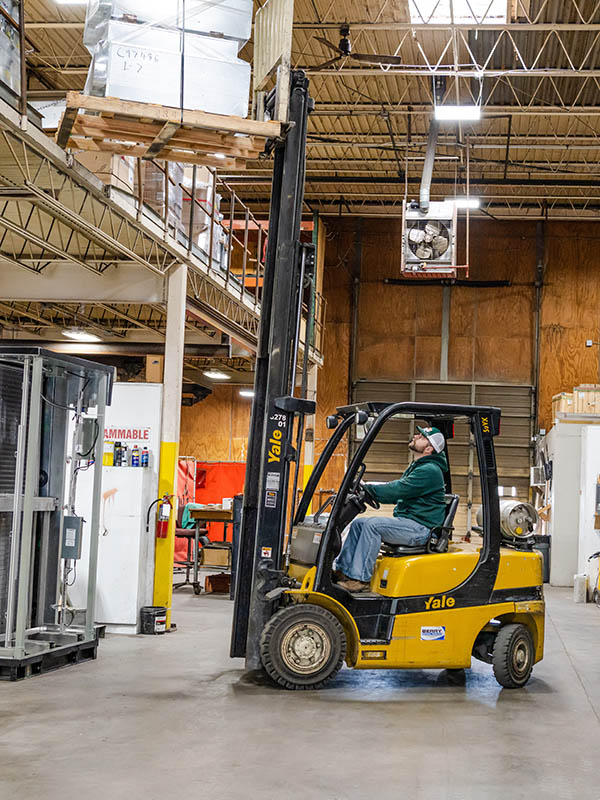 In-depth Parts Knowledge
Brit Hunsicker, who is now a McElroy's HVAC service salesman, was asked to manage the new warehouse. "I know HVAC, but I'm not well-versed in plumbing," Brit said. "Rhett is very knowledgeable in plumbing parts, fittings and materials. One item may have five different names, depending on who's asking for it. Rhett is great at figuring out exactly what a plumbing technician is looking for, and getting it to him." When Brit moved into HVAC sales, Rawlyn took over as the service parts warehouse manager while Rhett focused on parts for service plumbing.
Construction Warehouse and Purchasing
In 2018, the McElroy's construction division needed someone to manage purchasing and warehousing of plumbing and pipefitting parts, tools and materials. Rhett moved over to the McElroy's plumbing and pipefitting prefabrication facility at 3209 SW Topeka, and took the position he has today. "I send Rhett my material orders, and he makes sure it's all here so we can build it," said Joey Towle, McElroy's BIM operator and CAD designer. "He knows when orders will arrive, keeps materials organized, and always knows where to find what's needed. Rhett's a hard worker who's happy to get the job done with smart solutions in a timely way."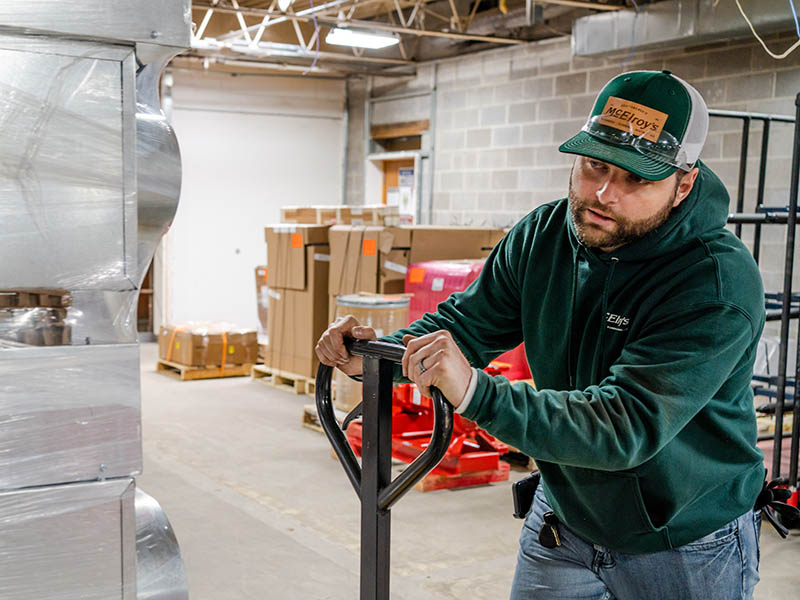 Busy is Good
"A busy day is a good day," Rhett said. "There's so much coming and going all the time, that means I enjoy my job nearly every day!" At any one time, there might be two or three trucks coming in with six or eight pallets of pipe, parts, fittings and tools that Rhett has ordered. All those items need to be unloaded, tagged by the job and purchase order, and stocked. "I've been doing this for a while, so I know how it should go. I'm determined to do it right the first time, with everything in its place and in good shape, coming or going."
Family Life
Rhett and his wife, Lynzie, have two children, 3-year old Liam, and 1-year old Raelynn. Formerly working as a nurse, Lynzie is now a stay-at-home mom. The family enjoys picnics and time with their many relatives living in the Topeka area. Rhett and Lynzie are active in Topeka's Northland Christian Church. "I'm working to be a better man with faith – growing in the Lord," said Rhett. In his free time, Rhett still enjoys drawing and painting.
Helpful and Uplifting
"Everyone at McElroy's is helpful and easy to get along with," said Rhett. That goes double for Rhett himself. He is universally described as having a great attitude under any circumstances. You can count on him to get you what you need when you need it, and then share a joke or two. His ability to reliably meet the needs of those around him – with a smile – helps to uplift everyone's spirits. Thank you, Rhett, for 10 years of service to McElroy's. We're looking forward to enjoying many future years with you as a valuable member of our team!