Insights
Construction Shane Hillebert: 10 Years as a Happy Craftsman
August 21, 2023
"Shane Hillebert takes artistic pride in his craftsmanship," said Hayden Selman, plumbing/pipefitting foreman with McElroy's. "He's very organized, thinks ahead and plans things out. Shane might take just a little longer to get something done, but it's done right the first time – and the quality's excellent!" On August 21, 2023, we're celebrating Shane Hillebert's 10th anniversary as a member of the McElroy's team. We're pleased to honor Shane as a commercial construction plumber/pipefitter who sweats the details and is always happy doing his best!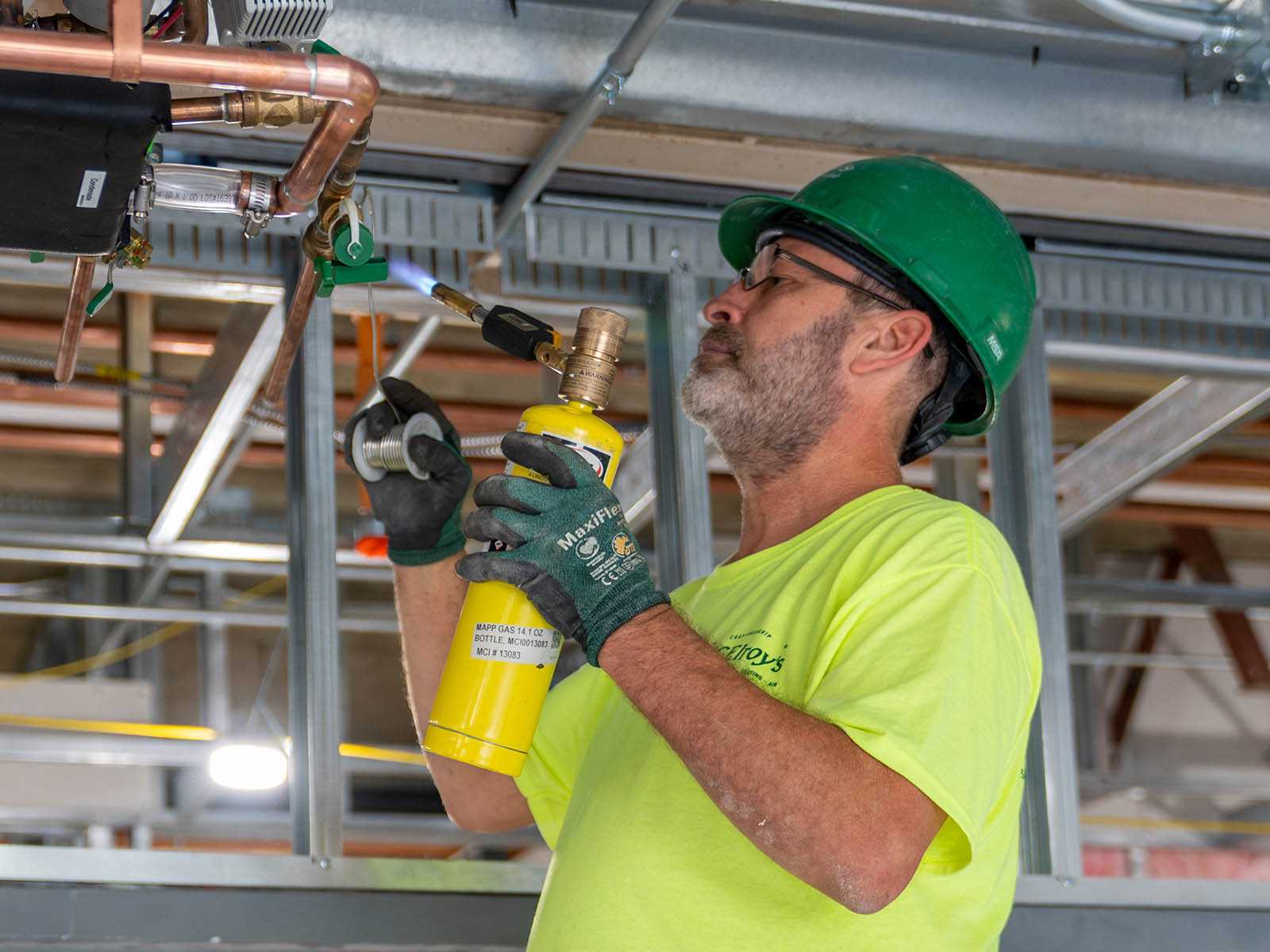 Work Ethic
Shane grew up in Topeka. His father, Roy, was a draftsman, working in the Docking State Office Building from age 18 until retirement. "Dad taught my brother, Shawn, and me about having a good work ethic," Shane said. "Each morning, he'd flip on the lights and say it was time to get up. It wasn't much fun then, but he taught me to always be on time." Roy also taught Shane a little about working on cars and fixing things around the house. "I didn't fully realize it until much later, but I've always had mechanical ability."
Art Interest
From high-school age into early adulthood, Shane stayed very busy – sometimes working three jobs at once. He held positions in food service and retail while also mowing lawns and throwing papers. "I was interested in art and went to Washburn University for a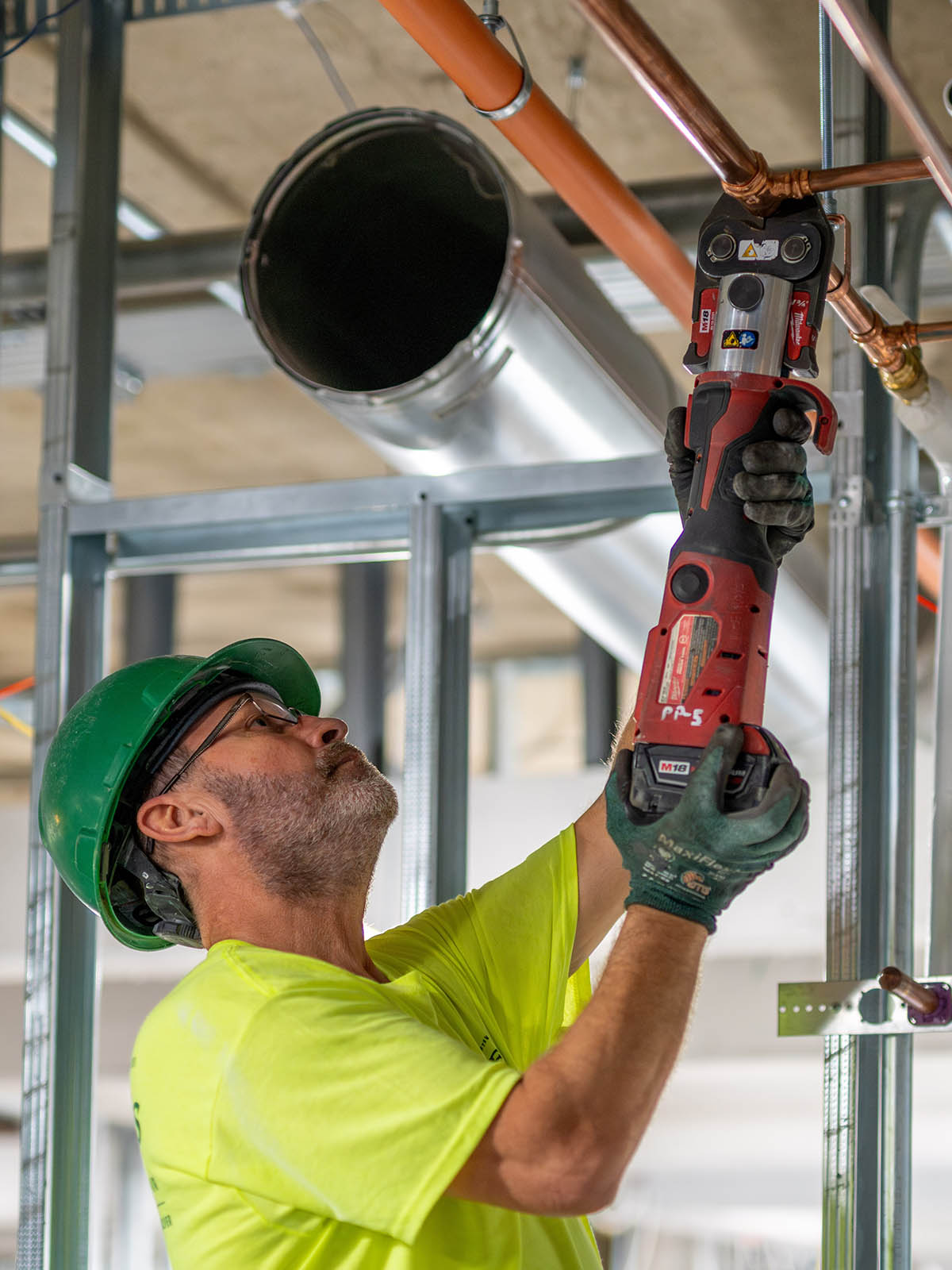 couple of years," Shane said. "In the evenings I worked for Subway, doing store inspections and office paperwork. From there I went to Mobile Phone of Kansas doing customer service. When Westar Communications bought the company, I moved into design and marketing work. I enjoyed using my art skills, but another company bought the division and our jobs just faded away."
Plumbing Career Move
Shane was at a crossroads. "The father of the woman I was dating at the time owned a plumbing business, and he asked me if I'd help him part time," Shane said. "I said I would, and I helped him with residential plumbing for a few months. That's when it became clear that I was good at working with my hands and I began to really enjoy it." Those around him saw he had a knack for plumbing and suggested that he join the union and make a career of it. "I joined Local 441 and became a plumbing/pipefitting apprentice, working at McElroy's."
Craftsmanship
Even as a commercial construction pipefitter, Shane's inner artist was at work. "In addition to building piping systems that are functional and economical, I like to focus on the quality of my craftsmanship – making everything I create look terrific, too,"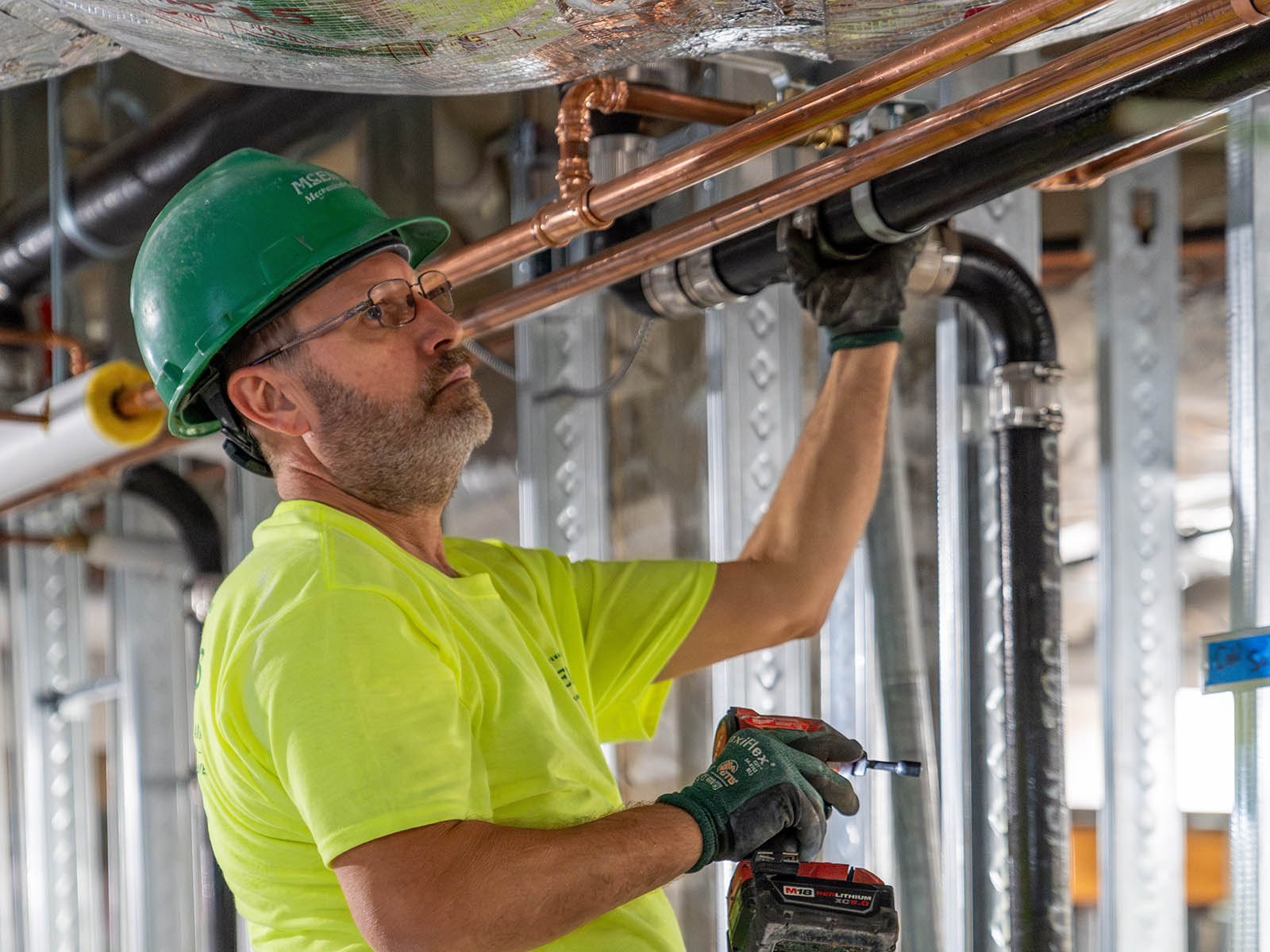 Shane said. One of his favorite early projects was the DeBruce Center at the University of Kansas. Among other things, the facility houses James Naismith's original rules of basketball. "It's a beautiful building. I love how it looks and is put together. Although most people will never see them, the piping systems I helped build are also beautiful in their own way."
Wanting The Best
Aaron Thompson, a plumbing/pipefitting journeyman with McElroy's, apprenticed with Shane. "Shane is fun to work with. He always keeps things light. But there's never any question – he's going to see that everything is done right," Aaron said. "He teaches everyone to take pride in details. When you're putting up pipe hangers, he wants all the nuts put on the same way, so everything matches. Whether pipes are running vertically, horizontally or at a specific angle, you should check with a level to ensure they're running plumb. Shane wants the best product for the customer. Bottom line, he wants the best for everybody he knows."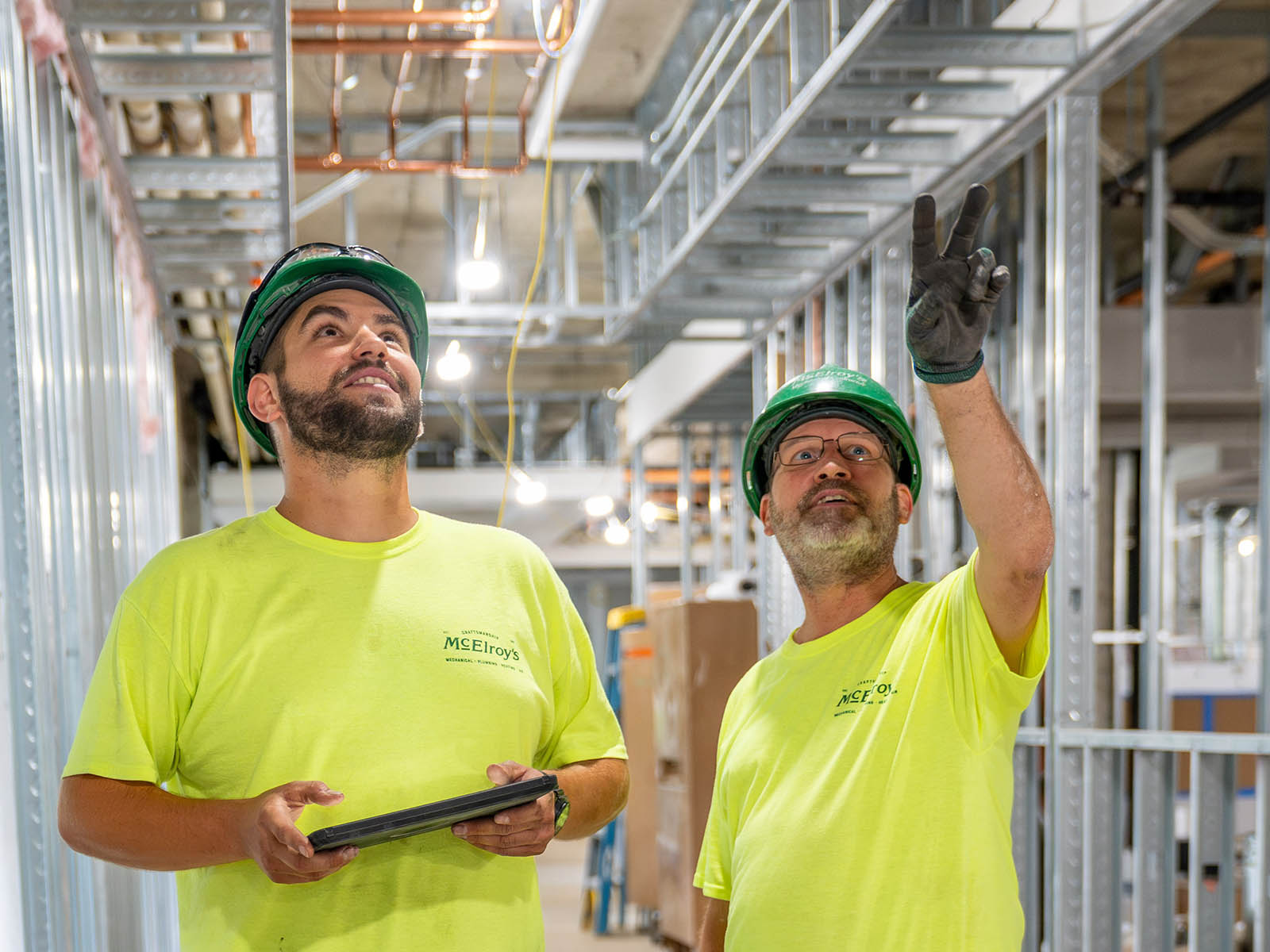 Team of Friends
In the construction trades, major projects come and go – and sometimes there are breaks in between. "Some breaks were short, and I waited them out. A couple of times I took work elsewhere – but as soon as they could, McElroy's always picked me back up," Shane said. "It's a big company, but McElroy's has a smaller, family-company feeling. I really like the team at McElroy's. Even on the toughest days we get along well, finding something to laugh about. Most of my friends in the trade are from here – friends on the jobsite as well as outside of work."
Family Time
Shane's work friends will tell you how important Shane's family is to him. His relatives all live in the Topeka area, and they spend a lot of time together. "My daughter, Chandler, and her husband, Justin, have two kids: Risley, age 8, and Miles, age 5. My brother, Shawn, and his wife, Andrea, have a married son and three daughters. My dad is 77 and has been cancer-free for 10 years, and my mom is 71. As a group, we all get together regularly for holidays and other events. Dad, Shawn and I are especially tight knit."
Great Work Appreciated
"I've always been treated very well at McElroy's. The leaders here share a wealth of knowledge and they're always willing to help you out," Shane said. "We're paid well to do great work that's appreciated, and I enjoy it!" We're glad to have you on the McElroy's team, Shane Hillebert. Your dedication to the art of fine craftsmanship – carried out with a happy attitude – means a lot to your peers and our customers. Thank you, Shane, for 10 great years of putting your impressive plumbing/pipefitting talents to work with McElroy's!