Insights
Construction Chris Perkins: 10 Years as a Positive Teammate
May 25, 2023
"Chris Perkins is very intelligent. He knows and shares a lot of smart tricks and techniques for construction pipefitting work," said Scott Schneider, McElroy's commercial project supervisor. "More importantly, he has a happy, uplifting attitude about his work. He takes the initiative to do his very best each day – and he encourages his teammates to do the same. Chris leads by doing high-quality work with a smile." May 28, 2023, will mark 10 years that Chris has been a member of the McElroy's team. We're glad to celebrate Chris as a great example of how positivity makes everyone's day, and the work that we do together, so much better!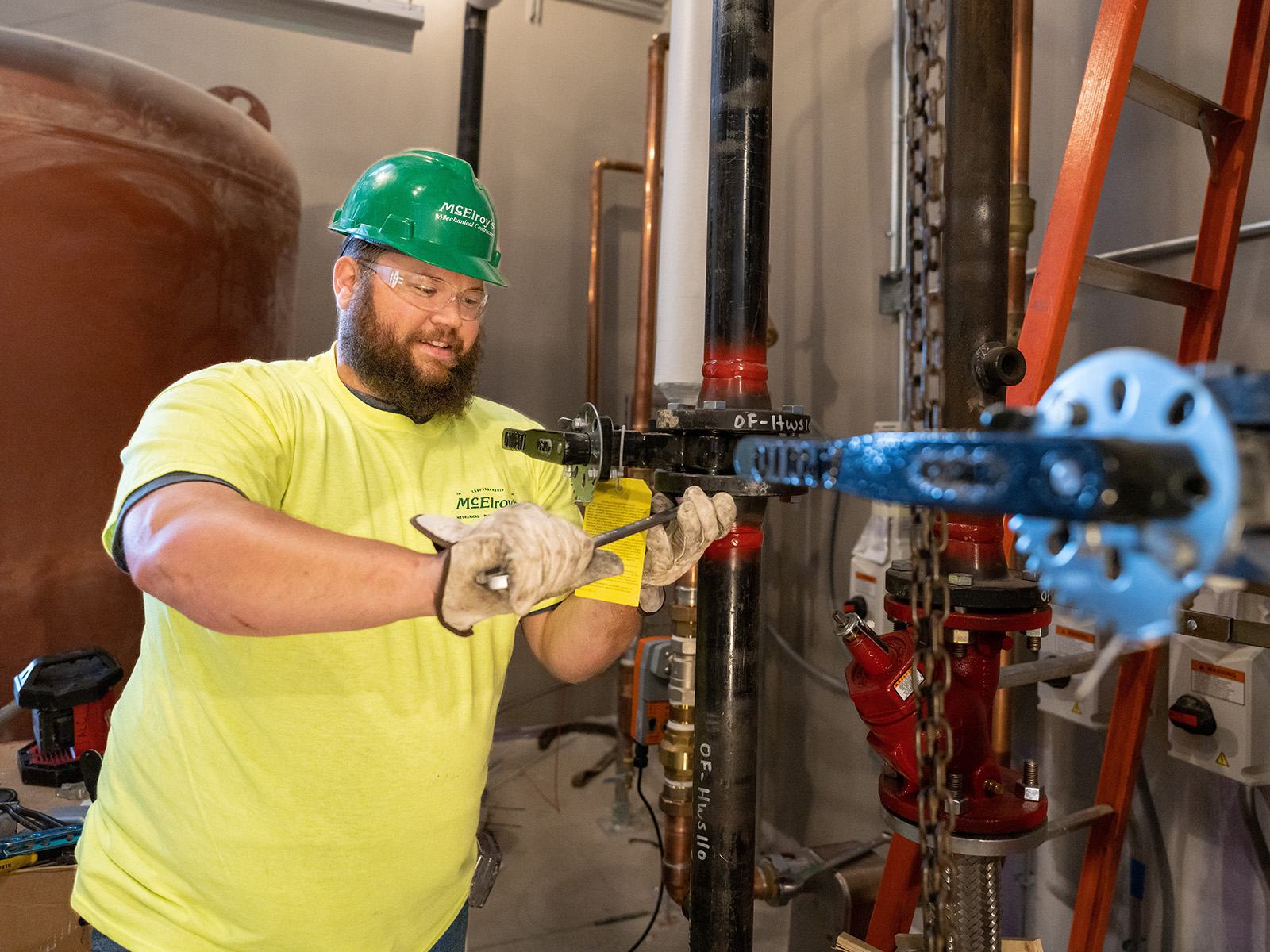 Family of Tradesmen
Chris grew up with an interest in working with his hands. "In high school I took wood working, metal shop and all those classes that I could," Chris said. "My father, Kevin Perkins, worked in construction. My mother Rebecca's dad, Marvin Edmonds, was a service technician for McElroy's. He worked there from 1953 until he retired in the 80s. Mom said McElroy's was the Topeka company to work for. Grandad raised five kids, had a camper and a boat, so I figured it must have been a good career."
Building Technology
Chris worked nights and weekends through high school, and after graduation he got a job doing masonry for three years. He married Jordan Reser, and when they had their first son, Kane, they decided that Chris should attend Washburn Tech full time to improve his career. "I studied Building Technology and learned everything that goes into building a house," Chris said. Nearing graduation in the spring of 2013, he naturally reached out to McElroy's. "They had a position open in their Building Controls division, and that's where I got on board."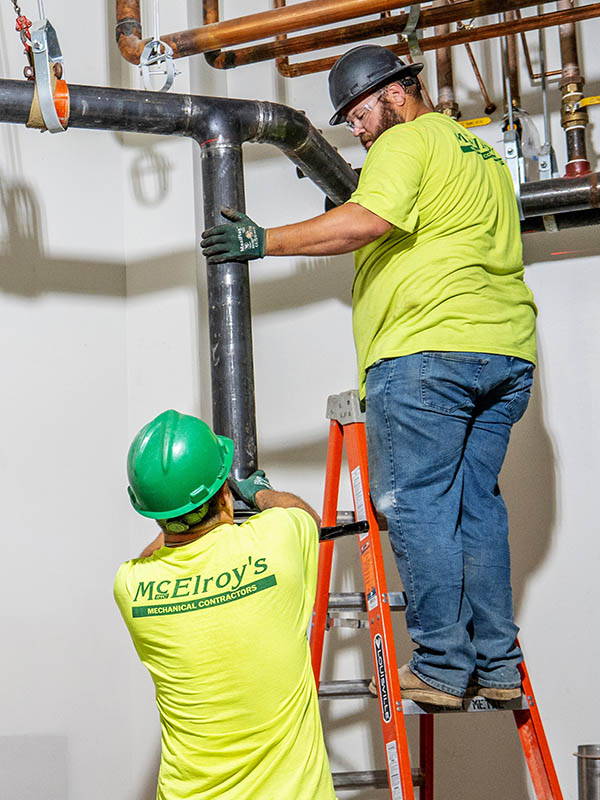 Apprenticeship
While Chris was working in controls, he decided the pipefitting side of the business interested him most. He began as a pre-apprentice for McElroy's and was accepted into the Local 441 plumbing and pipefitting apprenticeship program in 2014. "Chris was a good student of the trade and picked up skills quickly," said Joe Pruett, a McElroy's pipefitting technician who was in Chris' class. "It was great coming up as an apprentice with Chris. He's a team player and a good guy, and we were able to share the knowledge we were learning. Chris is still great at sharing what he knows, and he'll help you out whenever you need it."
Leadership Qualities
In 2016, McElroy's wanted to add some well-versed plumber/pipefitters to the commercial construction team, and Chris was enthusiastic about the opportunity. He moved into construction and started working on projects under Scott Schneider's direction. "Chris especially enjoys working on pipe systems in large-scale mechanical rooms," said Scott. "He's very detail-oriented, methodical and wants to do things right. As Chris has grown in his skills, he's also increased his leadership qualities. We can count on Chris to always give 100-percent, and he confidently encourages other team members to do the same."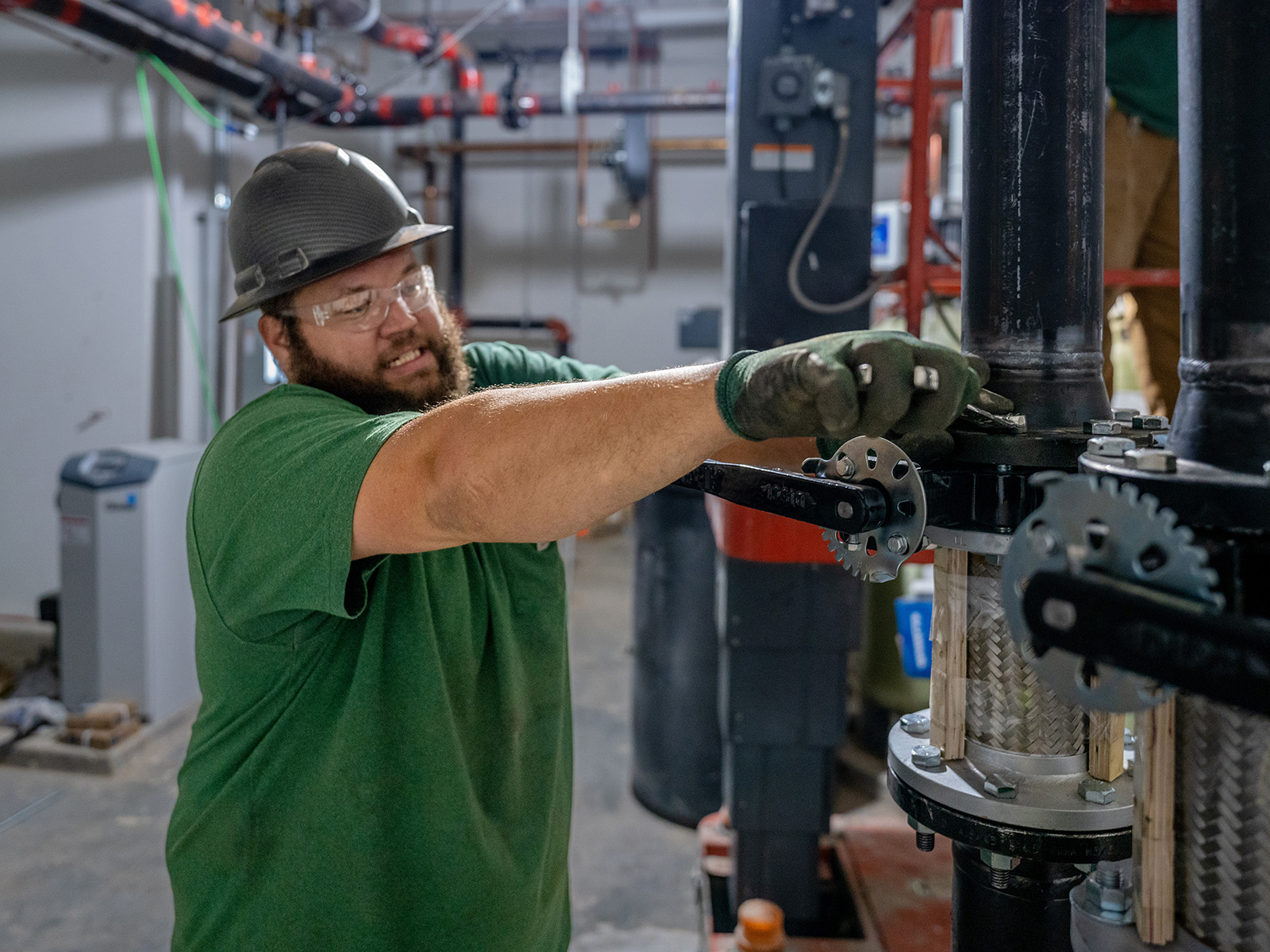 Pride in Quality
One of the first major projects Chris worked on was the Vanier Family Football Complex at Kansas State University. "It's really satisfying to see the finished project and be able to say I worked on a place like that," Chris said. "Taking pride in our quality is one reason it's fun to be on the McElroy's team. I enjoy going to the jobsite every day to work with skilled partners who care. We know what we're doing and we collaborate. We get to show our skills and abilities together, and at the end of the day, we can each pat ourselves on the back."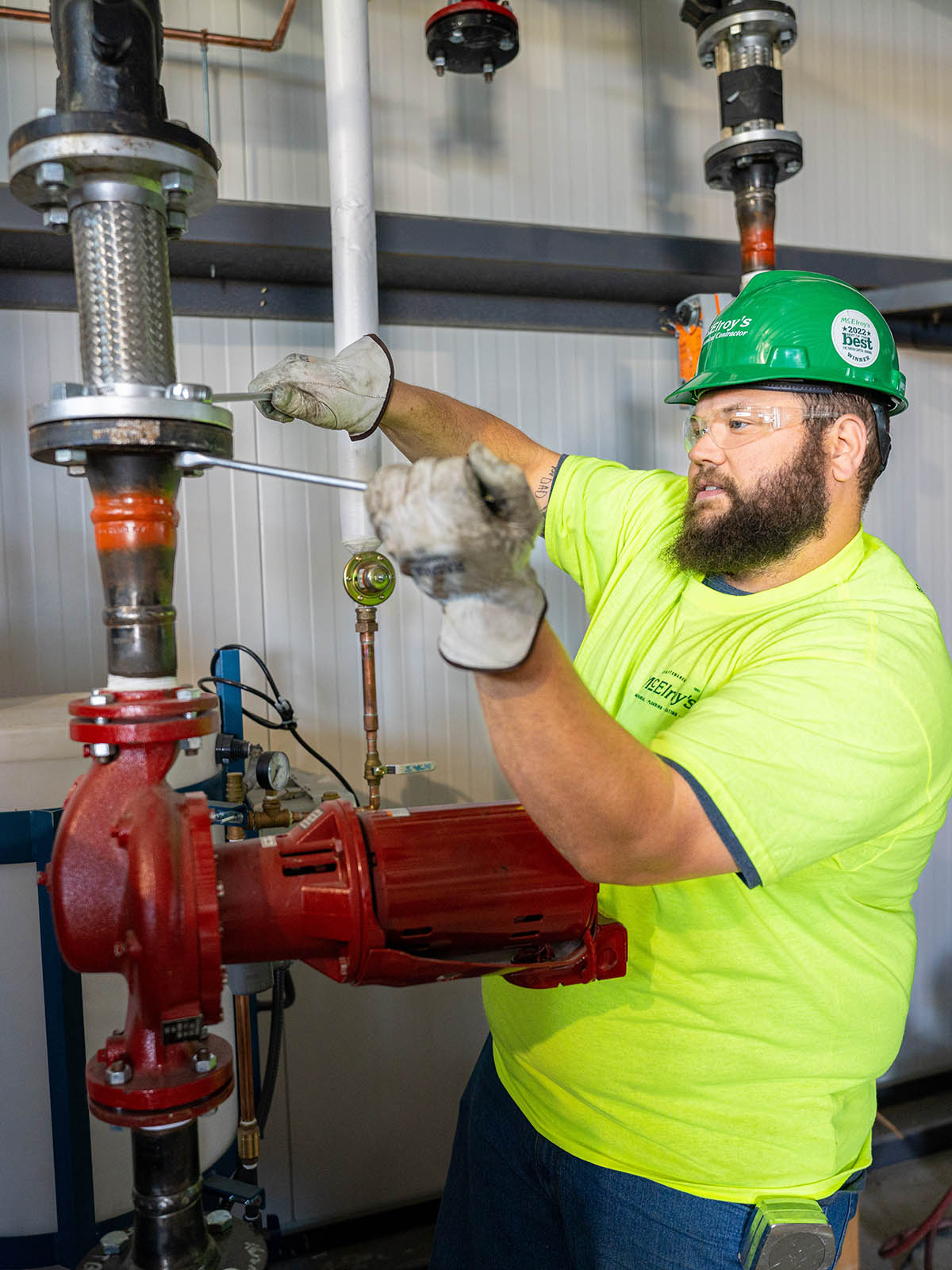 Busy with Two Sons
Chris' wife Jordan thoroughly enjoys being a teacher aide at Tecumseh North Elementary. She likes to sew, and they're working together to remodel their home. Chris and Jordan focus a lot on the activities of their two sons, Kane, aged 12 and Rhyatt, 6. Summers are especially busy with sports activities – Rhyatt plays T-ball and Kane is into baseball, basketball and football.
Overall Good Attitude
"Bad moods make any day go slower. That's why I try to show up happy each morning and have an overall good attitude about life," Chris said. We at McElroy's witness his philosophy in action on the jobsite all the time. The way Chris simply enjoys doing great work rubs off on his teammates, and leads to better, quicker days for everyone involved. We're glad Chris has made his career with McElroy's for a decade now. And we're sure the next ten years will pass by even faster as his positive style of leadership grows ever stronger!