Insights
Dona Hartzell: Retiring June 18
June 15, 2021
"When Dona started at McElroy's nearly ten years ago, customer service work was completely new for her," said Cassie Benton, customer service manager. "From the start, she has always been willing to take what she is given and run with it. It's been a pleasure to watch Dona blossom into someone with can-do confidence and reliable capabilities. Every day, Dona has a friendly face and a friendly greeting. When she retires, we will really miss her!"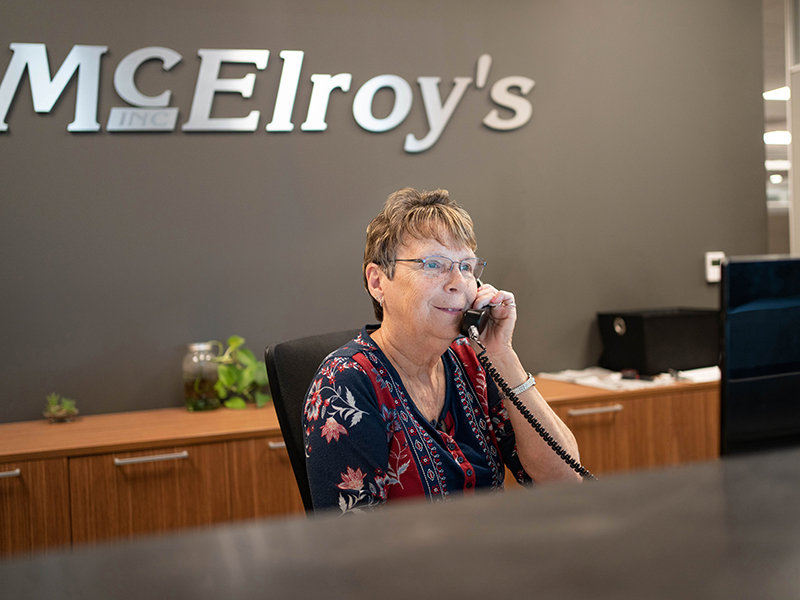 Customers as Friends
Dona Hartzell will retire from McElroy's on Friday, June 18, 2021. Starting as our receptionist, Dona has added a variety of customer service duties to her role as well. "I really enjoy talking with customers," Dona said. "A lot of them have become friends. Some have already sent me retirement cards. In fact, one of our customers gave me quite a bit of helpful advice to prepare for retirement."
Payless Warehouse
Before joining McElroy's, Dona expected she would retire from Payless ShoeSource. She worked in their warehouse for 35 years while their world headquarters was still in Topeka. Dona did nearly every kind of warehouse work, from driving a forklift to working in shipping, and filling e-commerce orders for shoes and hosiery. "I enjoyed the physical aspects of the work and had no plans to leave," Dona said. "Out of 500 people, I was #10 on the seniority list – and when Payless decided to move away, I stayed until the end." After Payless, Dona worked a couple of seasons for a Topeka-based yearbook company. Then she decided it was time for a new full-time job.
Getting it Right
"McElroy's was looking for a receptionist, and I did a phone interview with Cassie Benton," Dona remembered. "When she told me her name, I double-checked and asked if she had said Cassie or Cathy. She was impressed that I wanted to get it right. Even though I didn't have the experience, she had confidence in me and gave me the chance to learn."
Assisting Every Department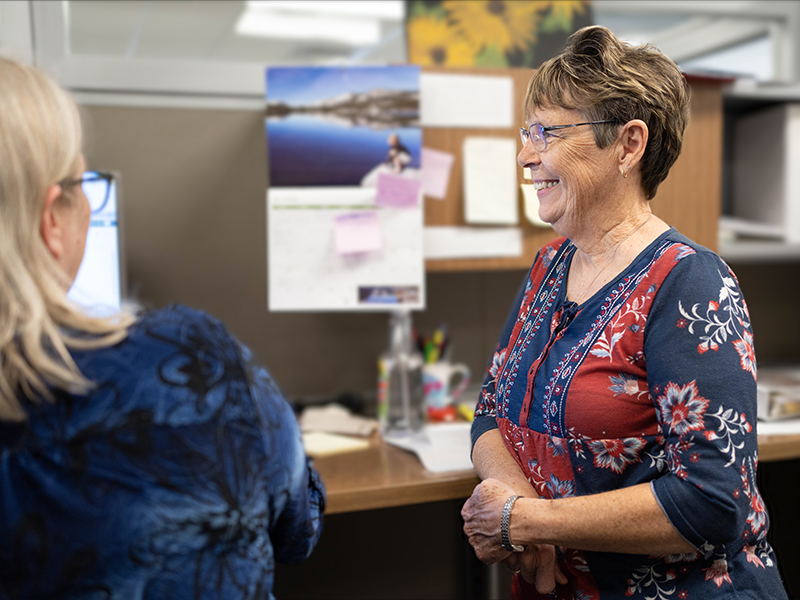 "Dona is able to assist every department at McElroy's in one way or another," said Julie Schirmer, residential HVAC customer service rep. "She does such a wide variety of tasks, and is efficient at learning them, knowing them and quickly getting them done. She always gets calls to the right person, and when she takes messages, all the information we need is there." In addition to appreciating her work contributions, Julie said Dona is a very good friend. "I love her like family. As happy as I am for Dona to be able to retire, she will be hugely missed."
Active Lifestyle
Dona grew up in Topeka's Highland Park area. One of her sisters was much older than she, and her other sister was much younger – so she grew up mostly with her brothers. They were very active together, playing sports, riding motorcycles, building a three-story treehouse and doing a lot of family camping. In retirement, Dona plans to enjoy the outdoors with her brother Danny and spend time with the families of her daughter Denise and son Derek, plus her three grandkids and her great-granddaughter.
Someone to Talk To
"What I've enjoyed most about my time at McElroy's has been the people," Dona said. "My new duties were nerve-wracking at first, but everyone helped me so I could succeed. My conversations with our customers have been interesting and rewarding. Sometimes folks just need someone to talk to, and I've been happy to listen as much as I could." As you can tell, Dona has been an excellent example of the McElroy's Service to Others core value. She took on a completely new line of work and made herself an extremely valuable and beloved member of our team. All of us at McElroy's wish Dona the absolute best in retirement, and we hope she'll stay in touch. Maybe sometimes, we'll just need someone to talk to. Enjoy your future, Dona!