Insights
Service Doug Stuewe: 10 Years of Trusted Service
April 27, 2022
"I trust Doug Stuewe completely. He's the most conscientious person I've ever met," said Tim McCaffrey, facilities director for Hayden Catholic High School. "He has a super work ethic, and if he needs to stay late to finish solving an HVAC issue, I have no worries telling him to shut the door when he's done." This spring, Doug Stuewe, McElroy's commercial HVAC service technician, celebrates 10 years with McElroy's. His honesty and integrity mean that customers trust him and his service recommendations. Doug is a great example of the McElroy's Trustworthy core value.
Mechanical Roots
Doug Stuewe grew up in north Topeka and attended the Seaman school district. "I was always pretty mechanical," Doug said. "I had a '56 Chevy that I turned into a hot rod." Growing up, Doug's entire family worked at Topeka's Goodyear Tire & Rubber plant, and he had friends and neighbors with similar trade union jobs. "At the time, I kept hearing people worry about potential plant closings and layoffs and how they might have to move to get new work. I've always loved Topeka, so I wanted a career with a reliable future here in town." He believed his answer would be in criminal justice.
Criminal Justice
After getting his criminal justice degree from Washburn University, Doug went to work for the Shawnee County jail. "The first five years were great," Doug said. "I got married, had three kids and no worries about paying the bills. But in time, I realized I didn't really like it. When the kids got older I knew it was time to look into something I'd rather do – something that suited my mechanical roots."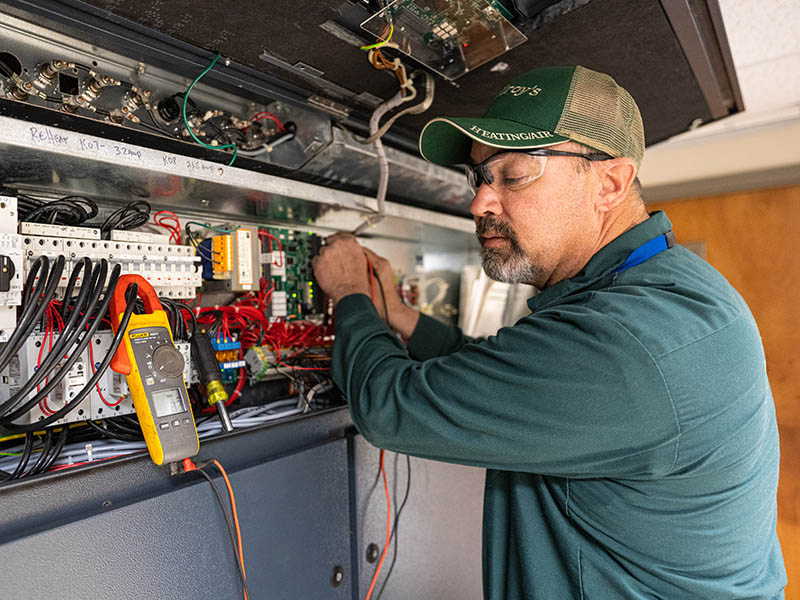 An All-new Career
In 2011, after 18 years working at the jail, and nearing the age of 40, Doug was embarking upon a complete career change. "I applied for an apprenticeship with the plumbers & pipefitters union, but missed the cutoff by two points. They suggested I might consider HVAC as an option," Doug said. "My wife, Holly, told me that Washburn Tech had an HVAC night class and encouraged me to go for it. I did. And in 2012 I applied for an apprenticeship and came in second from the top. The union told me that Keith Watkins, McElroy's commercial HVAC service manager, was looking for a new technician and said I should call him."
Integrity and Fortitude
Doug left a voicemail with Keith, but decided to take the bull by the horns and stopped by in person. Keith didn't ask him about his technical skills. What he cared about was Doug's character. "I was impressed by how Doug had a wife and three kids and still had the determination to walk away from a career he was unhappy with – and the fortitude to build a new one. I'm not sure I could have done that," Keith said. "I knew his wife must be strong and supportive." Keith believed in Doug's integrity so strongly that he hired him the next day. "I could give Doug a stack of cash and he'd hold it for me. I wouldn't even have to count it when he gave it back."
supporting the new guy
During his first apprentice year, Doug rode with a lot of different McElroy's technicians, learning the trade. "I got to know them all very well – what they had for dinner, how their kids were doing in school – everything about them," Doug said. "And I never, ever heard anyone bad-mouth McElroy's. As close as we were, if there were issues they surely would have come out." What's more, he found the McElroy's team to be remarkably supportive. "I was the new guy – at 40 years of age! But nobody looked at me like I didn't belong. They were always helpful. I wanted McElroy's to be my lifetime work family."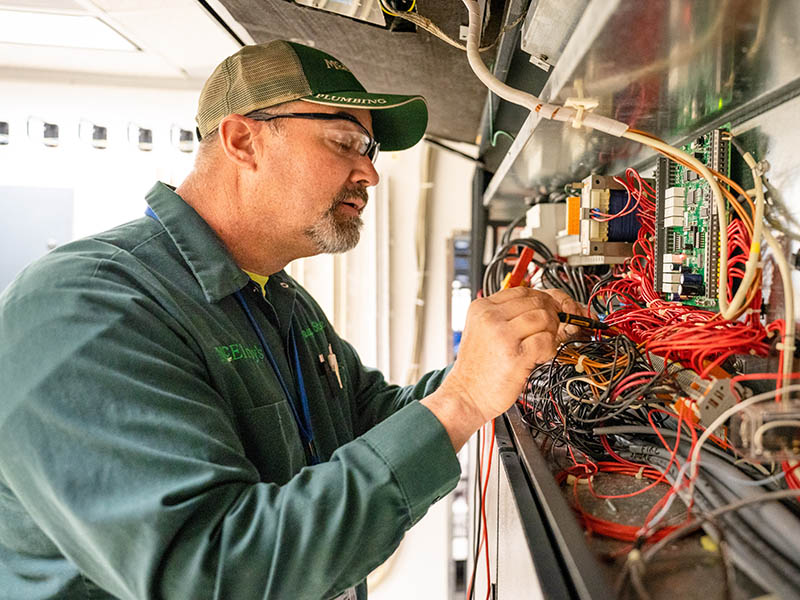 Doing the Right Thing
The camaraderie Doug had with his McElroy's teammates extended to his relationships with customers. "I'm a retired sheriff's deputy," said Tim McCaffrey. "I knew and respected Doug when he worked at the jail. When I contracted with McElroy's for annual service at Hayden High School, it was Doug who showed up to do the work. I had no idea he'd changed careers, and I was thrilled to see him." Customers like Tim knew they could trust Doug to do the right things for the right reasons – every day.
Carrying Forward
Doug likes to carry forward the help he received by helping other guys. "Doug is always available to assist in troubleshooting, bounce ideas off of, and pick up calls when the on-call guy needs help," said Austin Jones, going on six years with McElroy's as a commercial HVAC service tech. "Doug embodies one of the greatest leadership traits. He's always open to discussing new or different options to solve a problem. McElroy's customers can trust Doug to honestly provide the best solutions with the highest level of craftsmanship."
Pitching and Dancing
Doug and Holly, a nurse at Stormont Vail, recently moved to the Holton, Kansas, area north of Topeka where they're renovating an older farm house. Their son Jared, age 21, is a pitcher for the Cloud County Community College baseball team and wants a future in commercial carpentry. Brady, 19, also pitches for Cloud County and is interested in being a floor layer. Daughter Lauren is a Seaman High School senior, enjoys basketball and track and dances with the Vikettes. She plans to go to Kansas State and be on the Classy Cats dance team.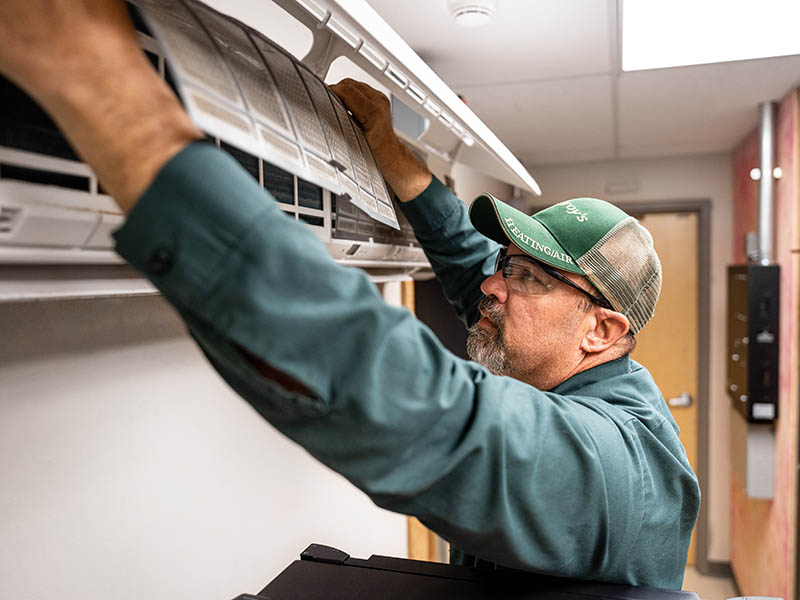 Job Satisfaction
"Getting a job at McElroy's was life-changing. I've been so much happier," Doug said. "Sometimes I have to work in harsh environments, and sometimes I come home beat. But I always feel a sense of accomplishment." Doug wishes they had promoted jobs in the trades more when he was in school, so young people could understand the satisfaction of trade work. "Every day I get to see a finished product, and I know I've left the customer in as good or better shape than when I arrived. I really enjoy that."
wishing doug the best
We're glad that 10 years ago Doug threw caution to the winds and changed course to become a valuable member of the McElroy's family. Unfortunately, a non-work-related health issue means that Doug must change his path again. "My doctor tells me I should move to something less active," Doug said. "If it weren't for that, I'd definitely stay with McElroy's until I retire." While we're sorry to see him move on, we honor Doug for his trusted service to McElroy's. We wish him the best, and we know he'll do great in his next job!