Insights
Prefabrication Joey Towle: 10 Years of Trustworthy Growth
June 08, 2023
"When McElroy's needed to expand our Building Information Modeling department, Joey Towle's reputation for being highly skilled and reliable made him the person I wanted to trust with the opportunity," said John Hoyt, McElroy's director of Virtual Design and Construction. "Joey has exceptional expertise in plumbing and pipefitting – in the shop and in the field – and he's highly adaptable to technology." On June 10, 2023, we'll celebrate 10 years that Joey has been a member of the McElroy's team. We're glad to honor Joey for his skills and his remarkable ability to grow and adapt.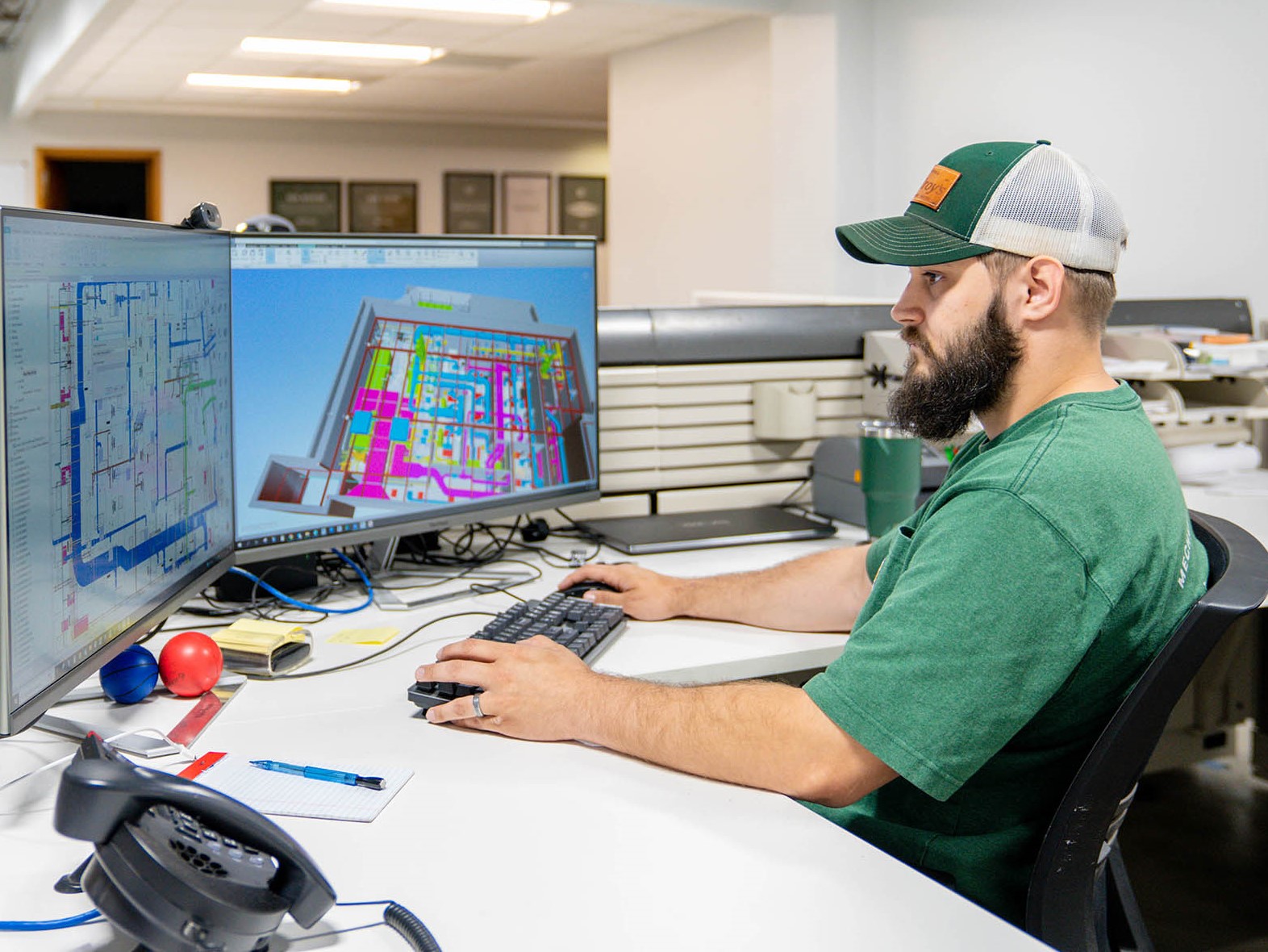 Construction Technology
Joey grew up in Topeka with a sister and four brothers – one brother is his twin. "We were always outside making a mess," said Joey. He attended Hayden High School where he enjoyed playing basketball and football. "In football, I was a wide receiver and defensive back. We went to the state finals twice and we won in 2008, my sophomore year." After graduation, Joey attended Washburn University for a while before shifting to Washburn Tech to study Construction Technology. "I enjoy working with my hands, and technical school was a much better fit for me."
Apprentice at McElroy's
At Washburn Tech, Joey learned about Plumbers and Pipefitters Union Local 441. When he finished his courses, he joined the union and was placed with McElroy's for his apprenticeship. "My father, Allen Towle, is the president and CEO of Fidelity State Bank. He knows McElroy's president Dan Beal through their community involvement," Joey said. "Dad told me about McElroy's and what a good company it is. Being an apprentice with McElroy's was a great opportunity."
Something New Daily
Joey worked on the commercial construction team at McElroy's. "My first project was helping to remodel the St. Francis Hospital emergency room," Joey said. "Then I spent the next couple of years on crews at Washburn University – working on the Memorial Union renovations and the Morgan Hall addition. I loved the work. It was something new every day: copper pipe, carbon-steel, stainless steel, cast iron, pvc – above the ceilings and under the ground. One day it's small water pipe for a restroom and the next it's eight-inch steel pipe in a mechanical room. If you have water, heating or cooling there's going to be pipe involved. There's a lot more to what pipefitters do than people imagine!"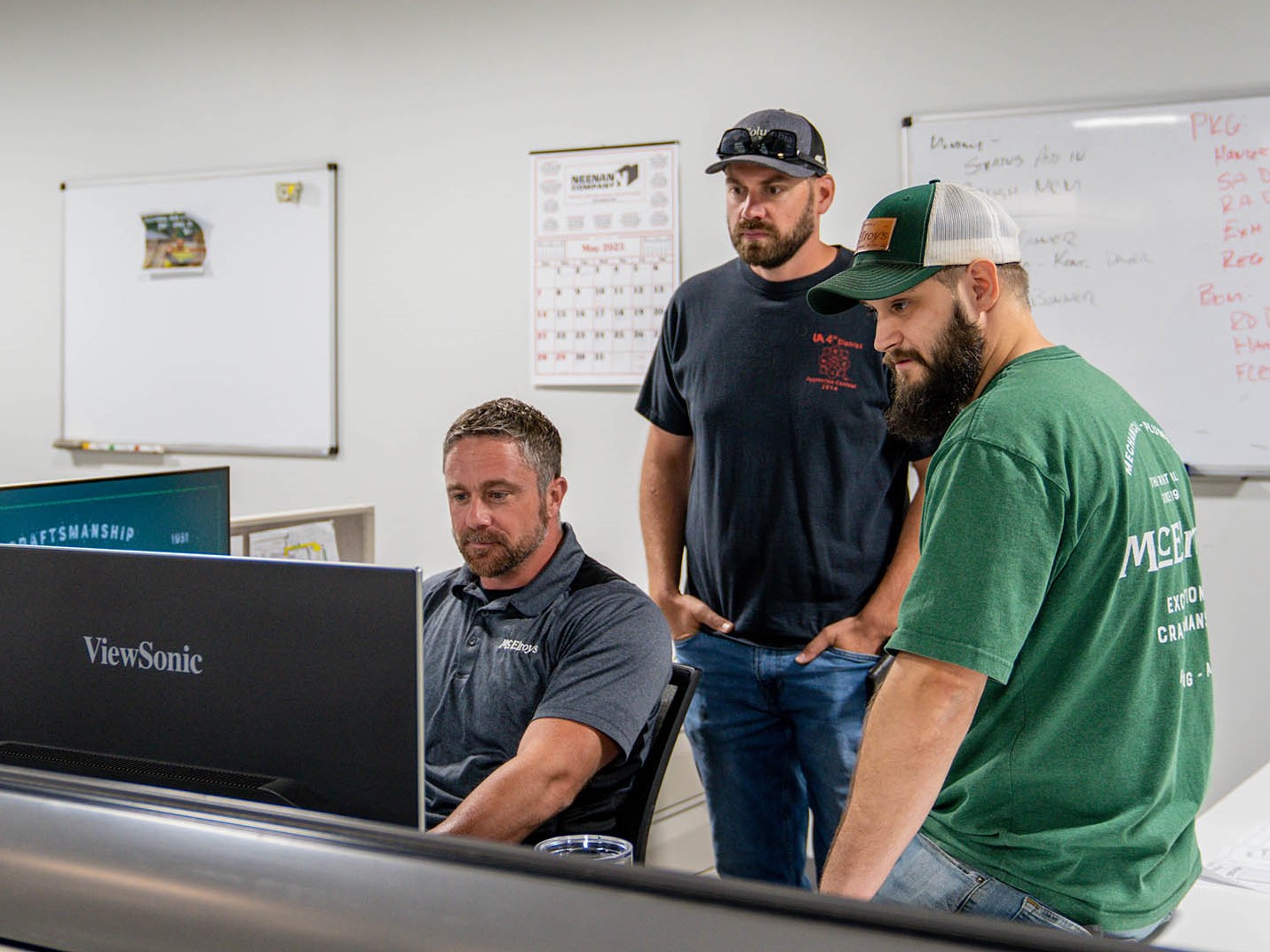 BIM Team
Not long after Joey became a journeyman in September, 2018, John Hoyt asked him to join the growing McElroy's Building Information Modeling (BIM) team. BIM is computer design of building systems, and Joey didn't think he'd be good at it – so he said no. Then he asked his wife, Jerrica, about it. "I encouraged him to go for it," Jerrica said. "Although Joey can be goofy around the house, at work he's very responsible and capable. So Joey told John he'd like to give it a try. McElroy's gave him training and time to learn, and in six months it was great. Joey enjoys the challenge and loves the guys he's working with. Although he's mostly in the office now, he still gets out and works with his hands sometimes."
Fabrication Shop Leadership
Joey dove in and learned the new technologies from John, online trainings and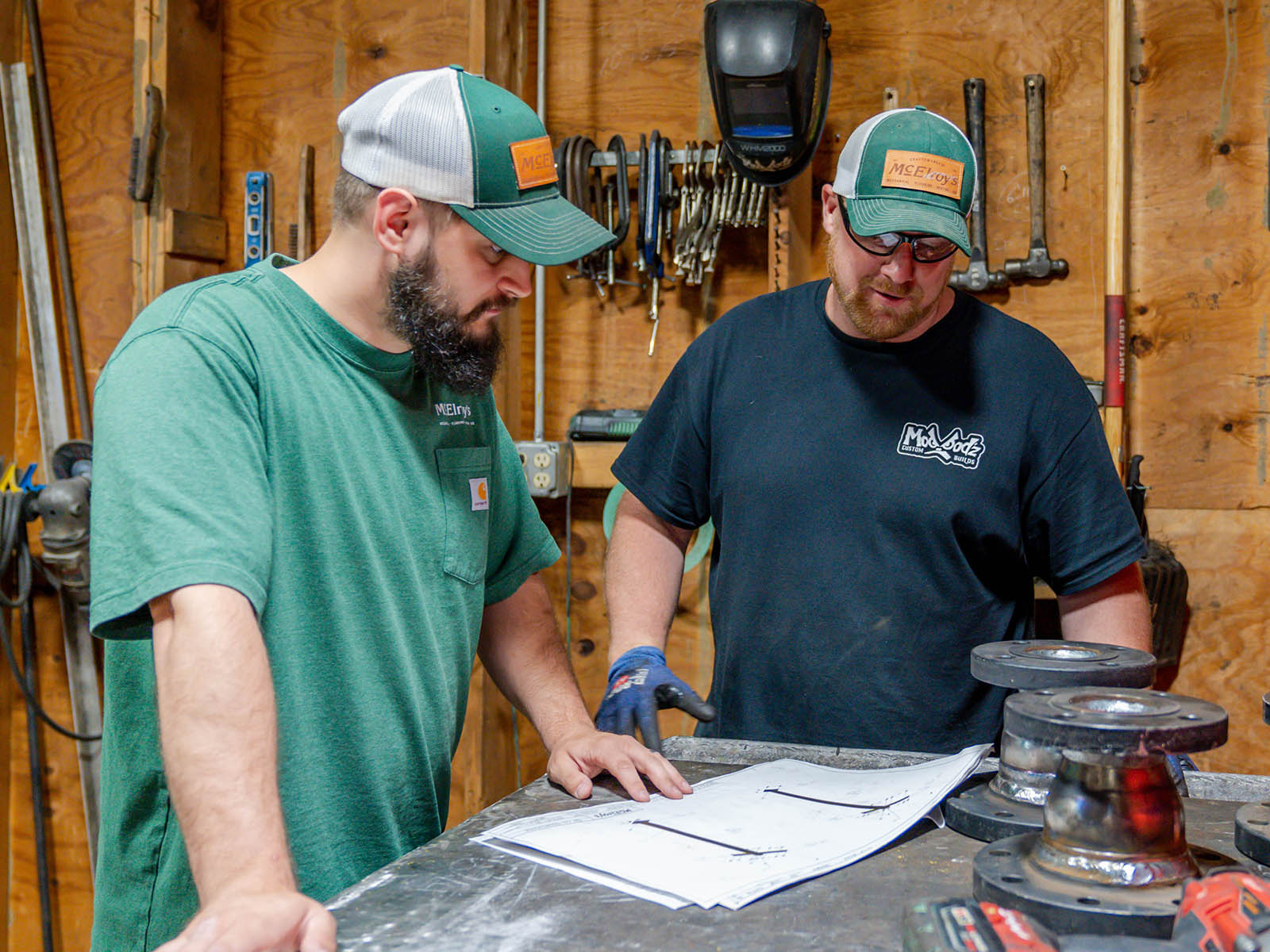 union classes. "With BIM, we can make sure the various systems that go into a building will fit and work together in the spaces where they belong," Joey explained. "We can see onscreen if there will be problems and fix them before they happen." Many of the systems Joey designs can be pre-built in the McElroy's fabrication shops. Last December, when the pipefitting fab shop manager retired, Joey was asked to lead that team, in addition to his BIM work. "McElroy's has been great for me. I've had a lot of room to grow – and the support to do it."
Leading By Example
"It's really enjoyable working with Joey," said Brent Eisenbarth, a long-time McElroy's pipefitter who recently joined the BIM team as a designer. "Joey's always in a good mood and willing to help any way he can. The same great qualities he had as a field technician – leading by example with hard work and solid values – help him lead the pipefitting shop now. Joey gets along with everybody, from the McElroy's team to the vendors and the many other contractors we work with. Everyone can trust his word. When Joey promises a date something will be ready, he ensures that it will – even if he has to work late."
Family Fun
Joey and Jerrica live just north of Topeka. Jerrica is the traffic coordinator for Mammoth Creative Company in Meriden. They have two daughters: four-year-old Kinsley and 11-year-old Baylynn. Baylynn enjoys playing soccer, Kinsley thrives in the back yard, and they all like watching movies together. All of Joey's and Jerrica's siblings live in Topeka or Kansas City, and both Joey's and Jerrica's parents own pools, so they get together frequently for family festivities!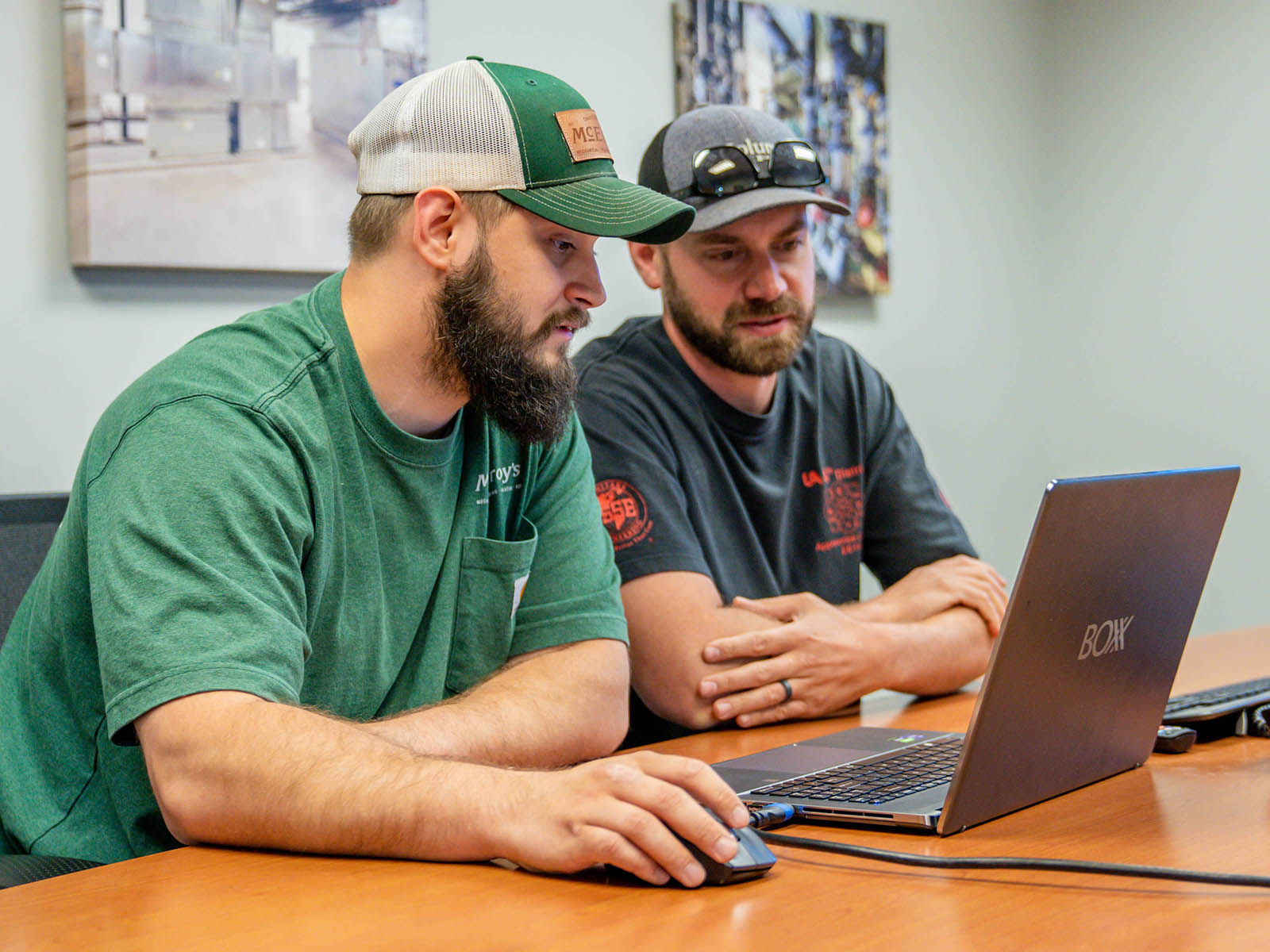 Trusted Colleague
"McElroy's has given me opportunities I wasn't even looking for," said Joey. "When you do good work for McElroy's, you will definitely be noticed, and they will help you grow. That's not true everywhere." Joey's open-minded ability to learn and adapt isn't found everywhere either. His deep commitment to being trustworthy is equally uncommon. Joey's passion for his work and his dedication to excellence inspire those around him. We're very proud to help Joey celebrate his 10th McElroy's anniversary. He truly embodies the qualities of a remarkable professional and a trusted colleague!