Insights
Community 2021 McElroy's Integrity Award: Danny Billings
January 13, 2022
Danny Billings, a member of the McElroy's team for 37 years, has been named the 2021 honoree of the McElroy's Core Values Integrity Award. "Many deserving McElroy's team members were nominated, and the selection committee carefully reviewed them all," said McElroy's President Dan Beal. "Danny Billings was ranked as the leader in consistently demonstrating our values in all that he does."
Most Prestigious McElroy's Award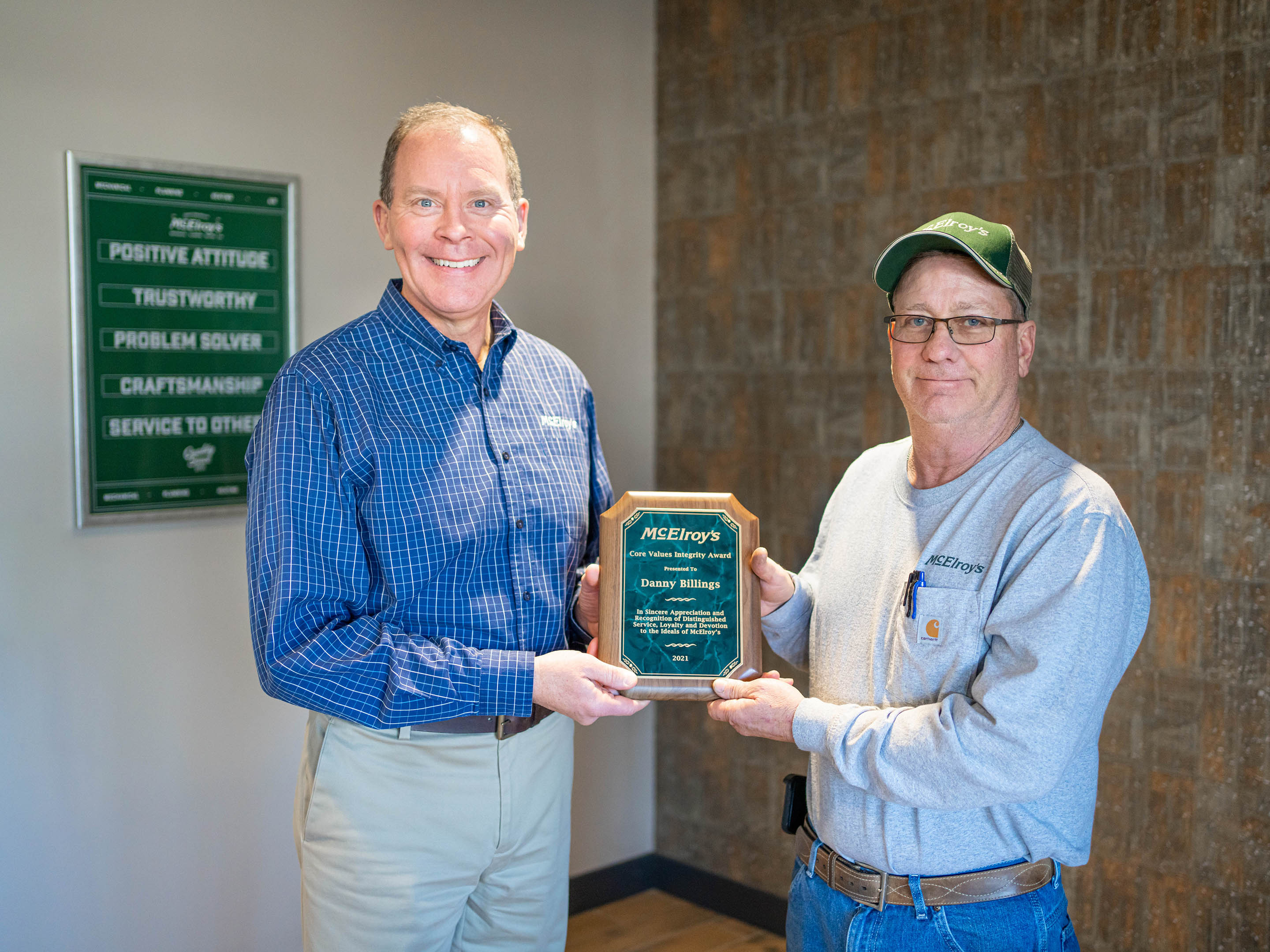 The McElroy's Core Values Integrity Award is the most prestigious award a McElroy's employee can receive. Given annually, this award celebrates an employee whose work especially exemplifies McElroy's Core Values, while achieving excellence in service to the McElroy's team, customers and community. Our Core Values are: Positive Attitude, Trustworthiness, Problem Solving, Craftsmanship and Service to Others.
Craftsmanship
While all five values apply to Danny, he identifies most closely with Craftsmanship. He started as a plumber/pipefitter working in the field on construction projects. "I've always liked to do my work correctly and make it look good," said Danny. "There's satisfaction in knowing you've done your work to your best ability." That ethic helped Danny to become a strong project supervisor, responsible for the overall quality of many key projects over the years.
Prefabrication Leadership
Danny now demonstrates core-values excellence as manager of the McElroy's plumbing/pipefitting prefabrication shop. A nomination for Danny stated, "The goal of prefabrication is to help others in the field to do their jobs more quickly and efficiently. Danny likes to help others and is good at it." Prefabrication work must be detailed and precise to work correctly in the field. Danny leads his team to do their very best and their work is consistently excellent. "You can trust Danny to get things done when he says, and he's great at communicating issues and successes with you."
Donation to the Helping Hands Humane Society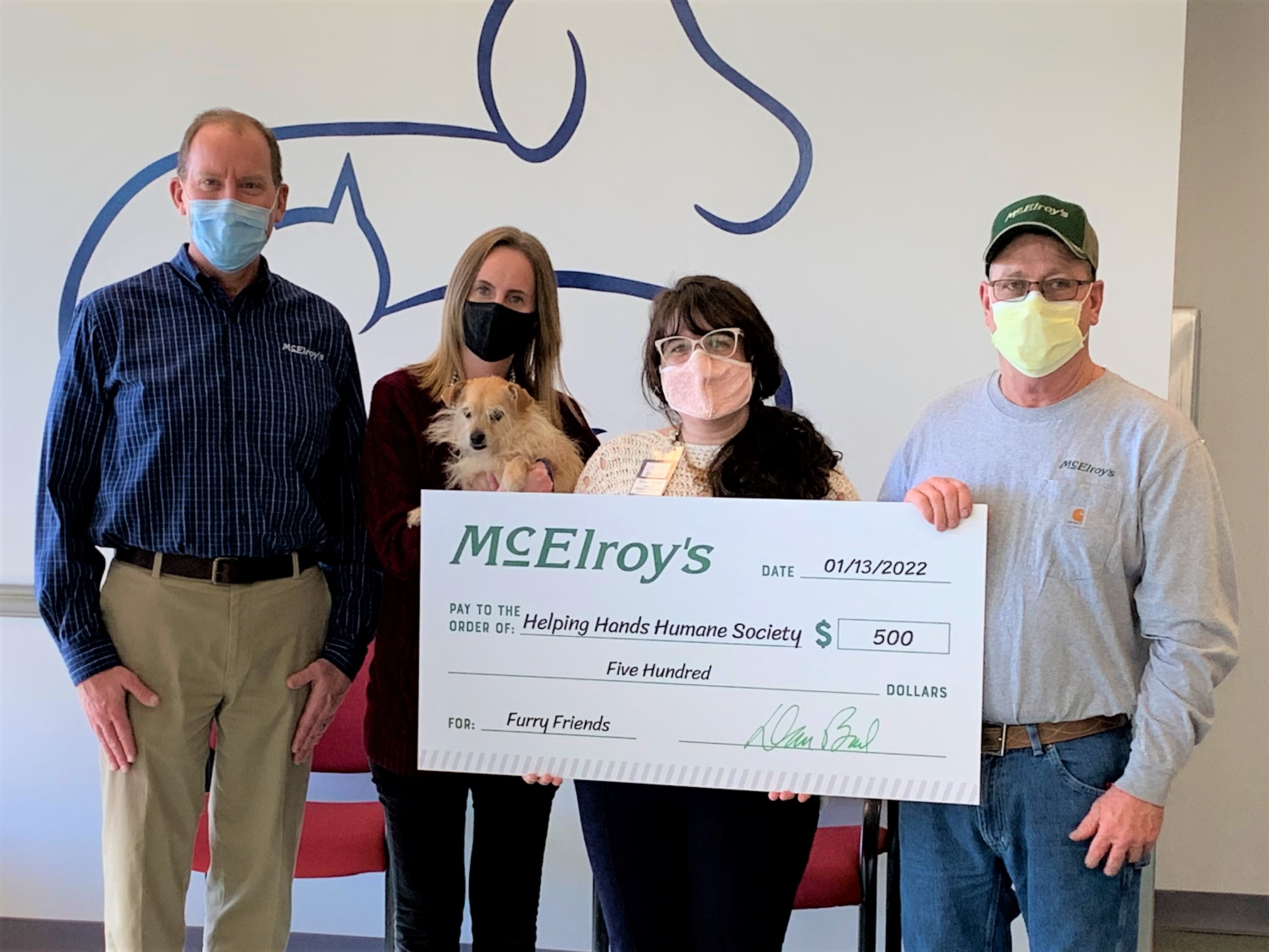 Each year, McElroy's will donate $500 to the charity of the honoree's choice. Danny designated the Helping Hands Humane Society for this year's contribution. "My wife and I are lifelong animal lovers and enjoy the company of our dog," said Danny. "When I was a toddler, my family rescued a couple of pets from HHHS, and when my father passed away in March, 2021, my mother requested donations to HHHS in lieu of flowers. We don't want to forget the needs of animals in these difficult times."
Sincere Appreciation and Recognition
"Danny is a team player who has always wanted to help others throughout his impressive career with McElroy's," said President Dan Beal. "We're pleased to honor Danny for his work for the McElroy's team and our customers. Thank you, Danny, for your service, loyalty and devotion to the ideals of McElroy's!"
The 2021 Selection Committee
Preston Bond, commercial project supervisor; Rendy Habiger, plumbing service sales; John Hoyt, director of VDC; Sherl Lunceford, accounting/service invoicing; Julie Schirmer, residential HVAC service rep.