Insights
Construction Advancements in Building Controls
October 26, 2023
Buildings are getting smarter all the time. Their electronic "brains" are evolving to help us better control energy usage, zoned climate comfort, lighting, building access/security, fire/smoke systems, industrial applications and more. We're talking about automated building and industrial controls – an area of leading expertise at McElroy's.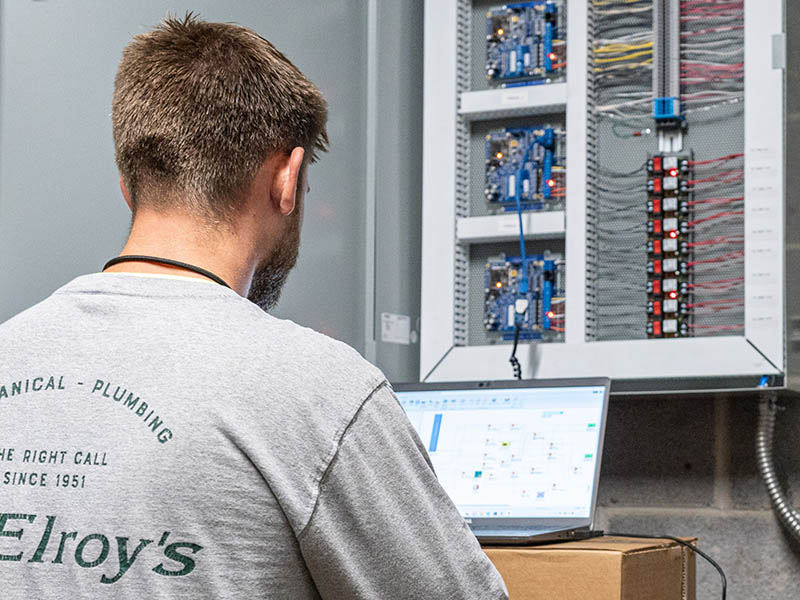 Valuable Benefits
"Optimized control systems provide a host of valuable benefits for smart buildings, data centers and industrial processes," said Keith Watkins, McElroy's commercial HVAC service manager. "High-functioning controls offer better energy management, enhanced security, optimized labor, operational excellence and end-to-end efficiency – all resulting in lower overall costs. McElroy's has the skills and experience to ensure your control systems are doing everything they should – from design, to installation and programming, to maintenance."
Highly Adaptable
For the greatest flexibility, McElroy's building controls division offers Tridium Niagara-4 Certified programming and services. "The Niagara framework lets us connect data from a wide variety of control devices and systems – serving many different purposes – into one central platform," Keith explained. "All that real-time operational data is converted into on-screen visual representations for monitoring and management wherever you are, at any time. It doesn't matter whether the systems are brand new or legacy systems, from the same makers or not. We can integrate them all."
Industry-leading Controls
McElroy's is an Authorized Dealer for ASI Controls, and Solidyne Controls. ASI offers flexible, reliable and long-lasting products that are easily configurable. Their emphasis on backwards compatibility and interoperability makes ASI ideal for system upgrades while incorporating legacy systems and devices. With ASI's evolutionary capabilities, McElroy's can add to and/or enhance any system without having to completely replace existing components.
Proven Expertise
The McElroy's building controls division has been leading our marketplace in controls innovation for more than 20 years. "I enjoy challenging myself to make building controls and industrial controls more efficient," said Keith. "As the controls field continues to advance rapidly, it seems like whatever I can dream up, we can do!" From completely new systems to expansions and upgrades, McElroy's provides design, installation, programming, and maintenance. Put the turnkey expertise of McElroy's building controls experts to work for you.