Insights
Service Brent Gordon: 10 Years of Friendly Service
April 18, 2022
"Brent does a great job. I just tell him the problem, and he takes care of it," said Randy Goldsmith, who handles asset management, sales and leasing for K1 Realty LLC. Randy counts on Brent Gordon to take care of HVAC systems at K1's Tallgrass medical building in Topeka. "He's a great technician and a terrific individual. As hard as he works, Brent's always very friendly and smiling." On April 18, Brent Gordon, McElroy's commercial HVAC service technician, celebrates 10 years with McElroy's. His way of providing reliable service with a smile makes Brent an excellent example of McElroy's Positive Attitude core value.
Always A Tinkerer
Brent tried his hand at a variety of jobs before taking a position in Topeka making eyeglasses. It was a good job, but he found he enjoyed fixing machines around the office more than grinding lenses. "Since I was a kid, I've always been a tinkerer," Brent said. "I like taking things apart to see how they work." After about five years with the eyeglass company, he decided he'd be happier changing to a career that better suited his interests.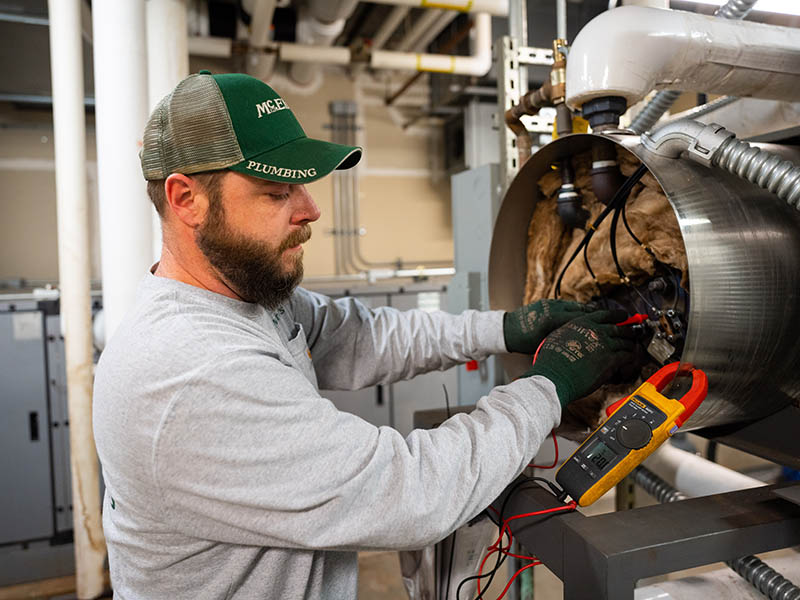 HVAC Night Classes
Brent enrolled at the Wichita Technical Institute's Topeka location and began taking HVAC night classes. The course work suited his tinkering tendencies well, and he completed the two-year program at the top of his class. That's when Brent sought a position at McElroy's, and interviewed with Keith Watkins, commercial HVAC service manager.
Customers Soak Him Up
Keith's philosophy is to hire people based on their personal qualities. Skills, he can teach. "You might be super smart, but if you can't get along with people, you'll never be a great service technician," Keith said. "Brent had a good starting education in HVAC, but mostly I was impressed that he is fair, honest, hard-working and easy-going. I'll gladly send Brent to work for anybody. Customers just soak him up." Brent's positive attitude makes him a good teacher as well. Keith often has his new techs start out riding with Brent.
Culture of Craftsmanship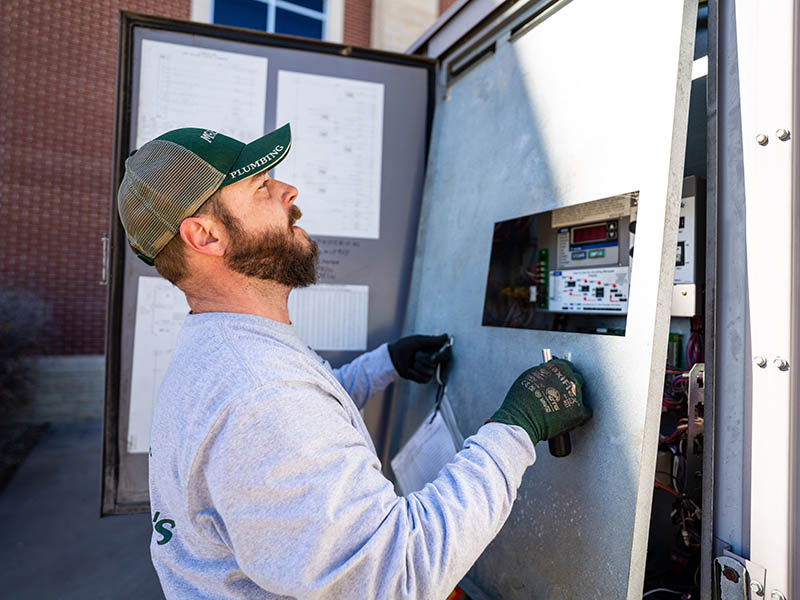 "McElroy's is a big company but it's very family oriented and treats team members right," Brent said. "I like being part of the strong culture of craftsmanship at McElroy's. I was raised to work hard and I learned that anything worth doing should get my best effort. People can look at our plumbing, piping and mechanical work and know by the quality that it's done by McElroy's."
A Great Example
"Brent is a dispatcher's dream," said Cassie Benton, McElroy's customer service manager. "He's very knowledgeable, always willing to help, and I can send him on just about any service call. Brent always has a smile and a goofy mentality that make customers feel good. I only remember one customer that he just couldn't get along with – but even on his worst day, he still got the work done. He's a great example for McElroy's!"
Busy Family
Brent and his wife Natasha live near Lake Shawnee in Topeka with their three girls and two boys, ages 10 to 18. The boys, Presley and Dakota, excel at baseball. The girls, Maddie, Izzy and Rylee, are elite competitive dancers. "We stay really busy, between sports and dance competitions," Brent said. "When I have time for myself, I like to mess around in the garage, building stuff with my hands." When the girls are out of town for dance, you might spot the devoted dad in old-school short shorts, walking the family's five Pomeranians around the lake.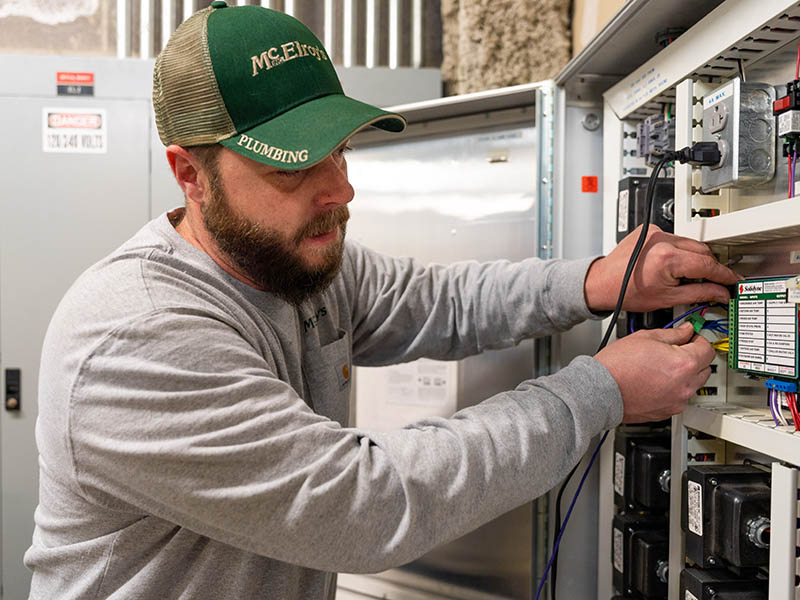 The Right Way
Brent humbly jokes that he simply tries not to blow things up, or flood the building. In reality, he's really proud of the work he does for McElroy's customers. "McElroy's gives me every opportunity to succeed. It feels great when I fix issues and solve problems," Brent said. "It's not always the quickest and easiest fix, but I do it the right way."
Positive Attitude
What definitely seems to come quickly and easily for Brent is his sense of humor and positive attitude. Team mates and customers alike know that even if they're having a bad day, Brent Gordon will pick them up – make them laugh. That's a wonderful quality in a commercial HVAC service technician, and McElroy's is proud to celebrate having Brent on our team for 10 years. His positive attitude makes us smile, and we look forward to many more years of Brent's friendly service!