Insights
Construction Brian Bergquist: 20 Years of Reliable Solutions
August 01, 2022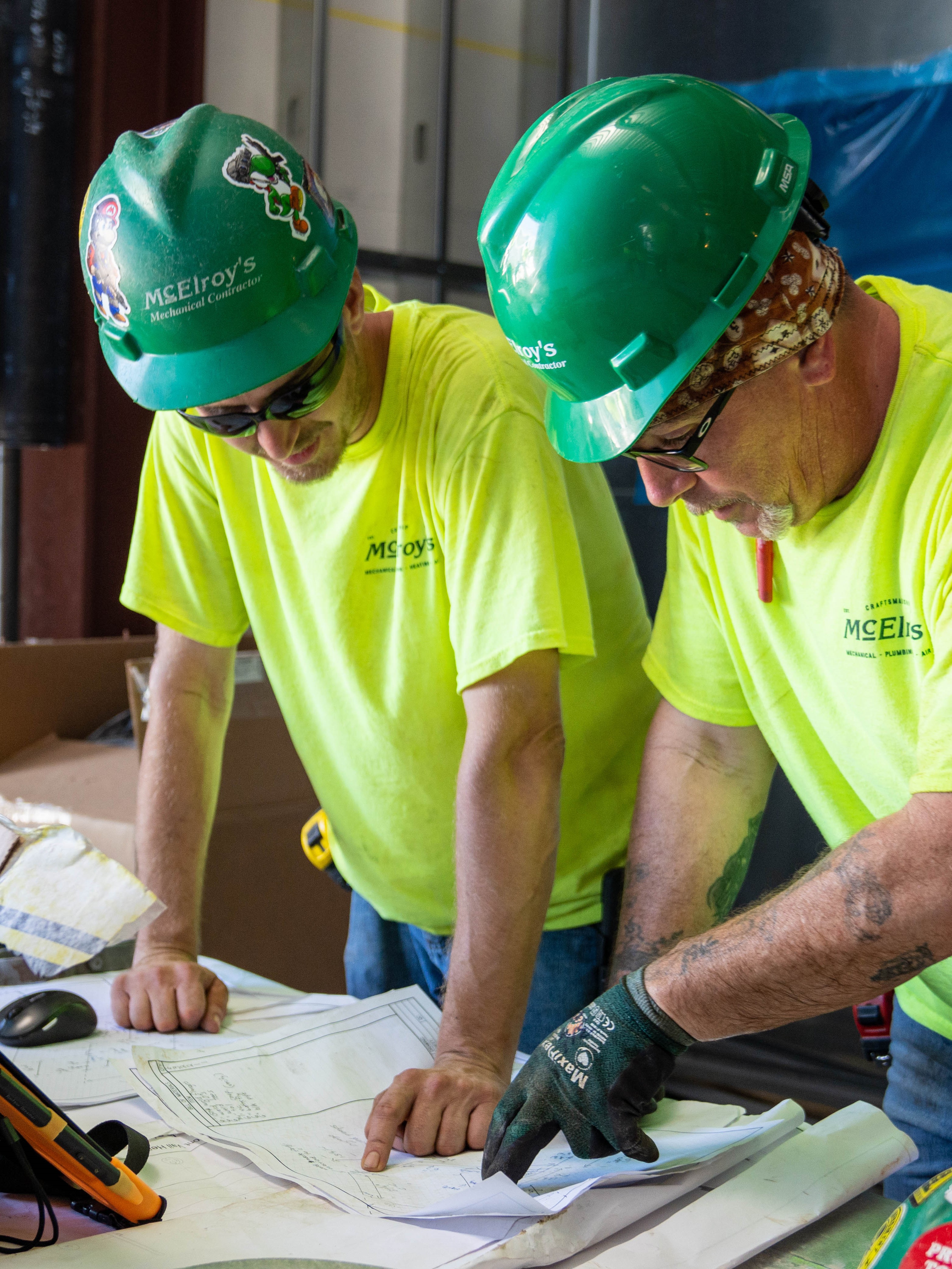 "I've never worked with a foreman who has a better work ethic than Brian does," said Frank Huber, journeyman plumber. "Whether he's leading four guys or 20, Brian's always working right there beside you, ready to take on the hard stuff. He's one of the best, and I'd work for him any time." On August 1, we're celebrating Brian Bergquist's 20-year tenure with McElroy's. We're proud to honor him as a caring leader and an experienced craftsman who's intent on finding the best solutions to challenges in the field.
Flashlight Holder
Brian grew up in Topeka's Highland Park school district where he enjoyed classes in math and science. His father was skilled in plumbing, owned an ice machine business and did maintenance for Stormont Vail Health. "My older brother, Dusty, and I grew up with dad's example of hard work and craftsmanship," Brian said. "I remember tinkering around in the garage with dad as a kid, holding a flashlight as he worked."
Gofer to Journeyman
Dusty Bergquist was already working for McElroy's when Brian graduated in 2001, so Brian applied there. "I got on board with Rick Salyer who was the McElroy's project manager for Stormont Vail jobs," Brian said. "McElroy's was working on Stormont Vail's new surgical wing at the time, and I served for a year as a helper and parts gofer. After a year, I was accepted into the plumbing/pipefitting union's apprenticeship program." Brian earned his plumbing license and a medical gas certificate in 2006, and turned out as a journeyman plumber/pipefitter in 2008.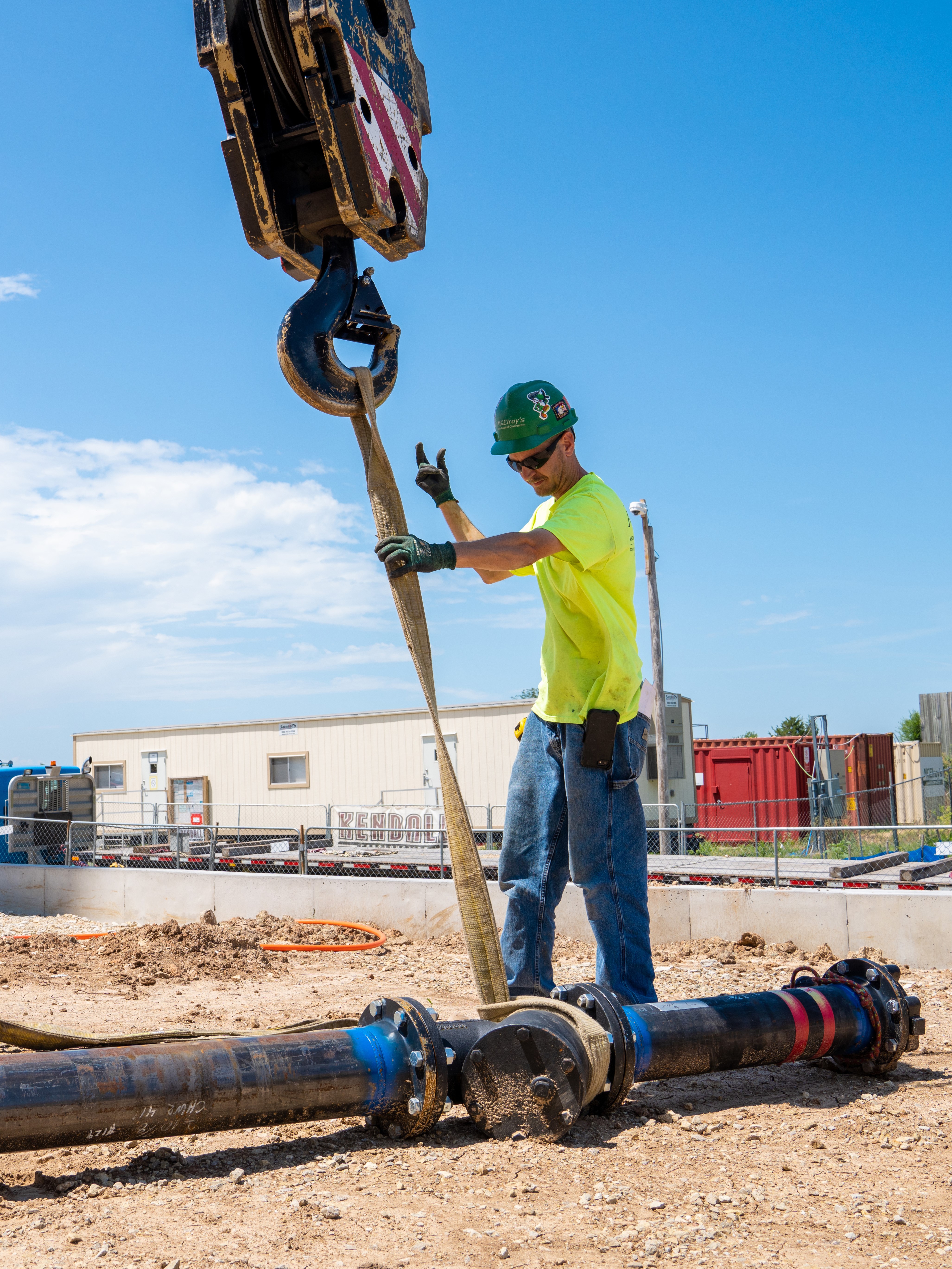 Foreman
Brian's work ethic and abilities quickly made him a stand-out technician. In 2009 he received his first opportunity to serve as a project foreman. "I was team leader of a major steam-pipe renovation job for the Kansas capitol complex, working in the underground tunnels connecting all those buildings," Brian said. For several years, Brian served as McElroy's foreman on many University of Kansas projects, including various campus buildings, fraternities and sororities. "In 2015 and '16 we helped build the DeBruce Center, next to Allen Fieldhouse, where Dr. James Naismith's original rules of basketball are displayed. Climate control there was especially demanding, and I'm very proud of that project."
Great Example
"Brian's knowledge of piping systems is extensive, so very few problems come up during his projects," said James Maclaskey, McElroy's commercial project supervisor. "He's also very good at coordinating with the other trades, making sure we get our piping and equipment installed properly in challenging situations. If there's an issue, Brian comes up with cost-effective solutions that are in the customer's best interest. Brian is a great example of the kind of high-quality employees McElroy's is proud to have on our team."
Easy-going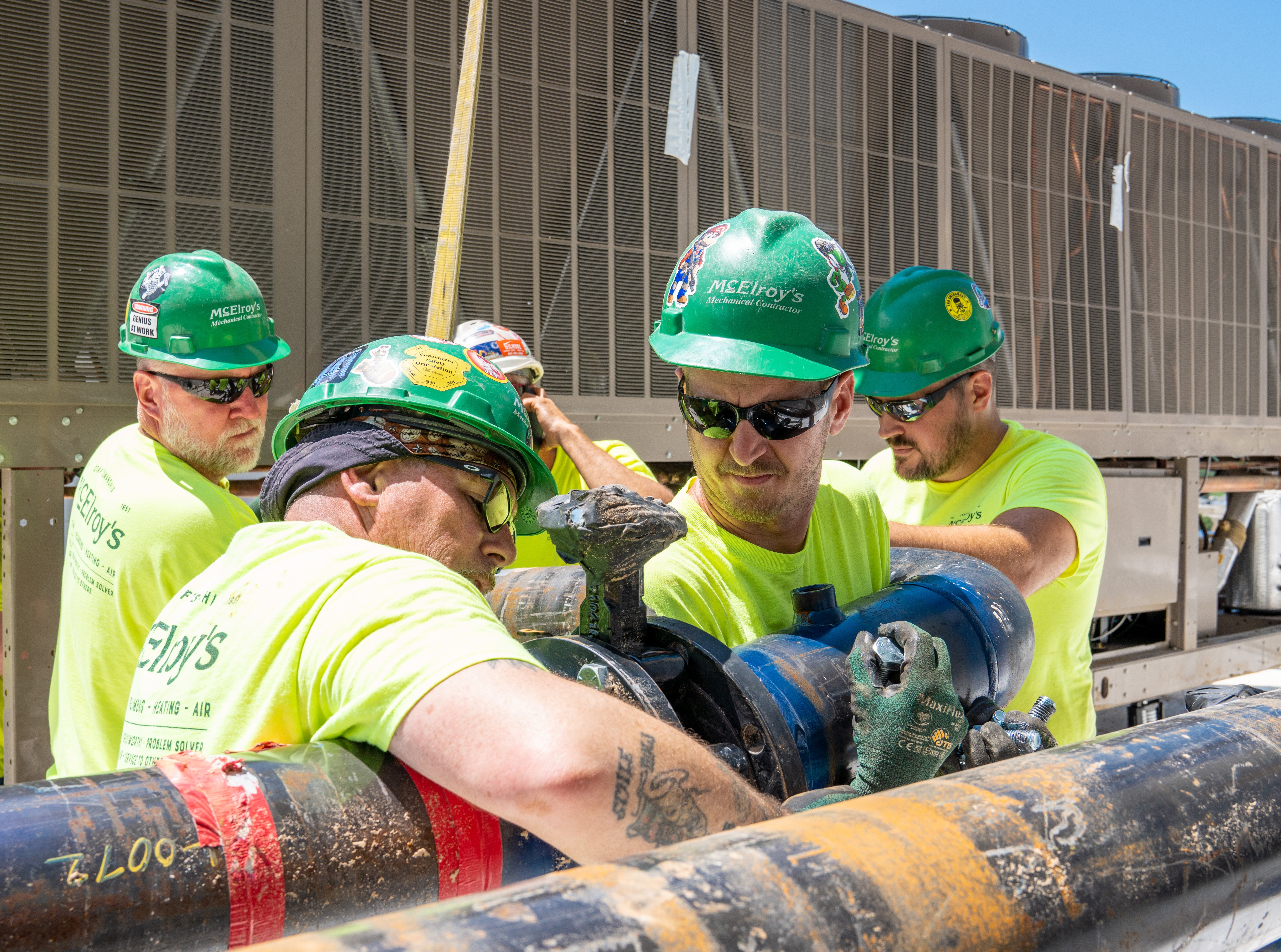 Brian is an easy-going leader who quietly gets the best from his teams. "I get to work with a lot of fun, stand-up guys who are great at what they do. We all take pride in our work and like to walk away from each project feeling good about what we accomplished." Brian explained that he likes to put in extra effort to makes things easier for his crew. "I try to plan ahead and coordinate with the other trades onsite to solve issues before they happen. I can be stern if I have to be – but the McElroy's team is such a friendly, knowledgeable, well-oiled machine that I almost never need to get tough."
Travelers
Brian's wife, Kimberly, is a disability claims trainer for the Kansas agency of Disability Determination Services. Together, they like to travel, camp and take cruises – they've especially enjoyed Louisville, Memphis, San Antonio and New England, and have cruised the Bahamas several times. Brian admits that wherever he goes, "the first thing I look at is the plumbing. I guess it's in my blood." He also enjoys computer gaming and hanging out with friends over savory barbecue.
A Real Asset
"Brian is meticulous about the details and sets a very high standard for his crews," said Wade Jueneman, McElroy's vice president. "Because he leads through action, his teams enjoy working with him and they do great work together. Anyone who'd like to be a foreman someday would be smart to learn how Brian does it." Brian is a real asset to McElroy's and to our customers. His experienced way of solving problems before they happen makes life simpler and more enjoyable for everyone his work involves. We're pleased and proud to have called Brian Bergquist our teammate for 20 years – and we're counting on his contributions for many more!