Insights
Service Brit Hunsicker: 10 Years of Craftsmanship
July 13, 2021
"What really stands out about Brit is his willingness to help anyone and everyone," said Keith Watkins, commercial HVAC service manager. "It doesn't matter what you need, day or night, Brit is always ready to help. What's more, he wants to make sure that whatever he's involved in is done the best it can be. He really cares about the details." As we celebrate Brit Hunsicker's 10th anniversary with McElroy's on July 13, 2021, we applaud his craftsman's passion for quality – and the way he helps everyone strive for perfection.
Fourth Generation in HVAC
Brit grew up in the Shawnee Heights school district, southeast of Topeka. He is the son of Greg Hunsicker, McElroy's vice president of residential HVAC, and great-grandson of our company's founder, Homer McElroy. While just a grade-schooler, Brit spent a lot of time with Greg, learning about the HVAC business. The Hunsicker home was kind of a test site for new developments in things like heated floors and tankless water heaters. "I knew from an early age I wanted to carry on the family legacy," Brit said.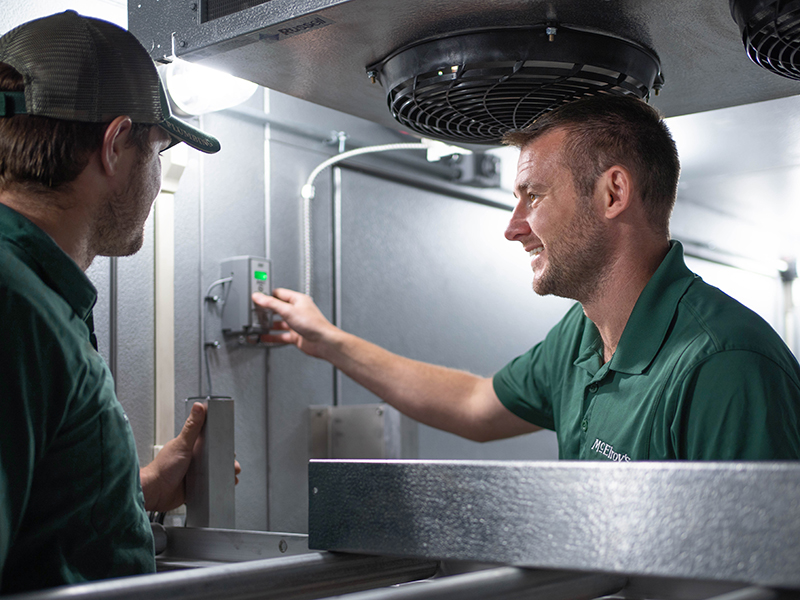 Working With His Hands
Brit was a very good student. While still in high school he also attended Washburn Tech, studying electrical work and HVAC, and earned an Associate's Degree in industrial science. Brit worked summers during high school, helping with residential HVAC installations. He thought about going to a university for an engineering degree, but he already knew he liked working with his hands. "High schools should promote the trades more," said Brit. "People will always need local experts for their heating and cooling. You can make a rewarding living without the time and expense of attending a 4-year college."
A True Craftsman
After high school, Brit went to work full time for McElroy's where he apprenticed with Adam Broxterman and Ben Walker. "Brit was very teachable from the beginning, and always paid close attention to what we were doing," said Ben. "A couple of years after he started with me, you could send him on his own and trust that the job would get done right – the McElroy's way. Brit takes great pride in not only getting a job done, but making sure the workmanship looks great. He's a true craftsman!"
Customer Interaction
When McElroy's needed help in the warehouse, Brit went to work there. He was warehouse manager for most of 2017 and 2018 – making sure every technician had the things necessary to take great care of each customer. But Brit missed customer interaction. "In the field, I was in a new house every day, meeting people," Brit explained. "Many times they'd know my family and I'd know theirs. I enjoyed that." So when an opportunity opened up in commercial HVAC sales at McElroy's, Brit was ready for it.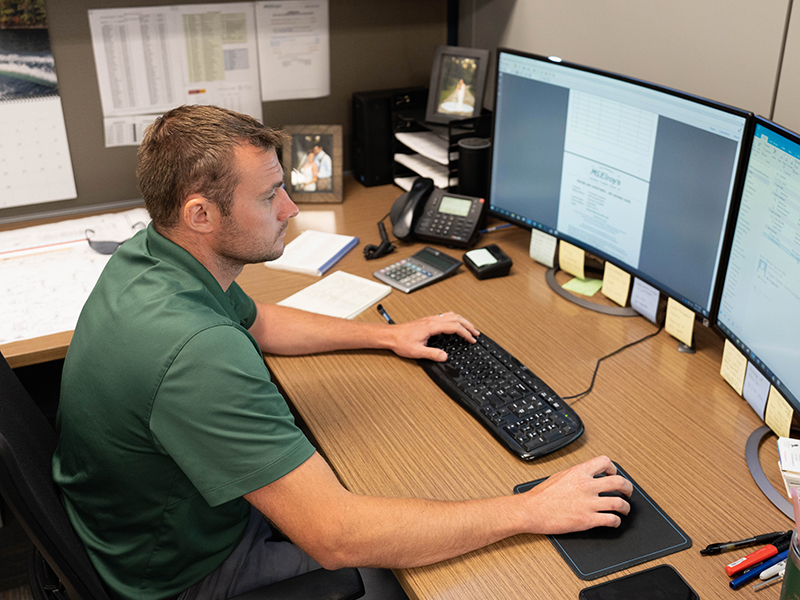 Quest for Perfection
Brit brings a lot of youthful energy and a fun sense of humor to the commercial HVAC service team, which Keith and the field technicians appreciate. At the same time, his drive for perfection never ends. "We have a great team of techs, and we all share the same mentality about craftsmanship," Brit said. "The high quality of the work they do on the projects that I sell speaks for itself, and makes my quest for perfection easier." After all, Brit learned many of his values from them. He said, "I've been very fortunate to have the mentors and resources available to help expand my knowledge and succeed within the company and industry."
Lake Life
Brit and his wife Kate will celebrate their first wedding anniversary on August 29, 2021. They live at Lakeview Lake, where Brit is the caretaker for a 30-cabin community – mowing the grounds, caring for the beach and providing security. "My great-grandfather, Homer, bought a cabin at Lakeview in 1951," Brit said. "I pretty much grew up at that lake." He and Kate met at a Pomona Lake ski show in 2012, and their favorite pastime is what Brit calls "lake-hopping."
"Wow! That Looks Good!"
Brit describes McElroy's as, "big enough you don't have to worry about the future, and small enough that everybody knows each other. There are solid values here, and the wellbeing of the employees is a high priority." Plus, there's the satisfaction that a craftsman like Brit gets from his work. "Maybe the air conditioner was a mess when you got there, but once you've fixed it you can leave perfection," he said. "It's always great when the customer says, 'Wow! That looks good!'" We couldn't agree more Brit. We're pleased and proud you're on our team, and we hope that you'll make your lifetime career at McElroy's.