Insights
Service Cassie Benton: 15 Years of Trust & Confidence
August 13, 2021
"Cassie is amazing at balancing a full plate, both at the office and at home," said Julie Schirmer, McElroy's residential HVAC service rep. "She's a great wife, mother and daughter, and she's built customer service/dispatch into the excellent team it is today. Cassie will push, push and push to ensure that everything gets done well. Even so, at the end of the day she's a good friend." Over her 15 years with McElroy's, Cassie has earned the trust and respect of colleagues and customers alike. We're pleased and proud to celebrate her 15th service anniversary on August 16, 2021.
From KCK to Topeka
Cassie grew up in Kansas City, Kansas, and attended the Turner School District. She had many interests, but there was no single career track that excited her enough to pursue it in college. So after graduation she entered the workforce. For three years Cassie worked in a high-end luggage store in Oak Park Mall, rising to store manager. She then gained office-setting experience working for a medical practice. In early 2006, Cassie moved to Topeka. "I applied to a temp agency here," Cassie said, "and that summer, I received a call out of the blue. McElroy's was looking for a full-time receptionist." Cassie interviewed and got the job.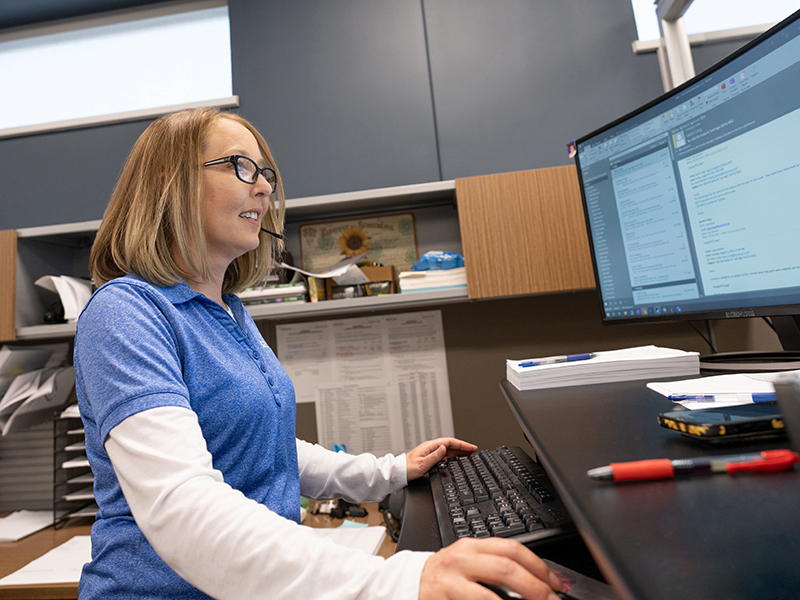 Streamlining Dispatch
Dan Beal had recently become president of McElroy's and had plans to streamline the service dispatch system to more efficiently meet customer needs. Cassie's capabilities had already impressed him, so he asked her to become the new dispatcher for commercial HVAC services. "Originally, the people taking customer calls were separate from the person who scheduled the technicians. That took a lot of back-and-forth calls," Cassie explained. "We made it so that when one of us took the customer's call, we also worked with the technician to schedule the service. Everything ran faster and smoother." Over time, Cassie was a key part of creating more process and technology efficiencies and was eventually named customer service manager.
Total Trust
"Cassie is not afraid to knock heads," said Keith Watkins, commercial HVAC service manager. "She's a 100-percent company employee who stands up for everything she believes is right and never stops at 'close enough.'" Early on, Cassie's determination – and Keith's similar personality – led to some tense times. They respectfully worked through those together and have developed an exceptional working relationship. "She understands my job better than anyone," Keith said. "When I give something to Cassie I have total trust she'll get it done. She multi-tasks quickly and efficiently with great attention to detail." Sometimes Keith worries that Cassie puts too high a priority on work, but the truth is, she's just as passionate about her family.
Family Friendly
Cassie maintains close relationships with her mother, Lorri, and step-dad, Tom, in Kansas City, and her brother, Billy, in Basehor. Cassie and her husband, Darren, are raising her daughter, Shelbi Lue, age 13, and his son, Deegan, age 12. "Shelbi Lue is very social and into sports and friends," Cassie said, "while Deegan is super-smart and sticks closer to family. It's fun, as they get older, to watch them turning into their own people." When Cassie first told her mother about the caring, family-friendly atmosphere at McElroy's, Lorri assumed it was a small "mom & pop" business. "When mom visited where I work, and saw what a big company McElroy's really is, she was amazed. That's when she fully understood that working at McElroy's is not 'just another job.'"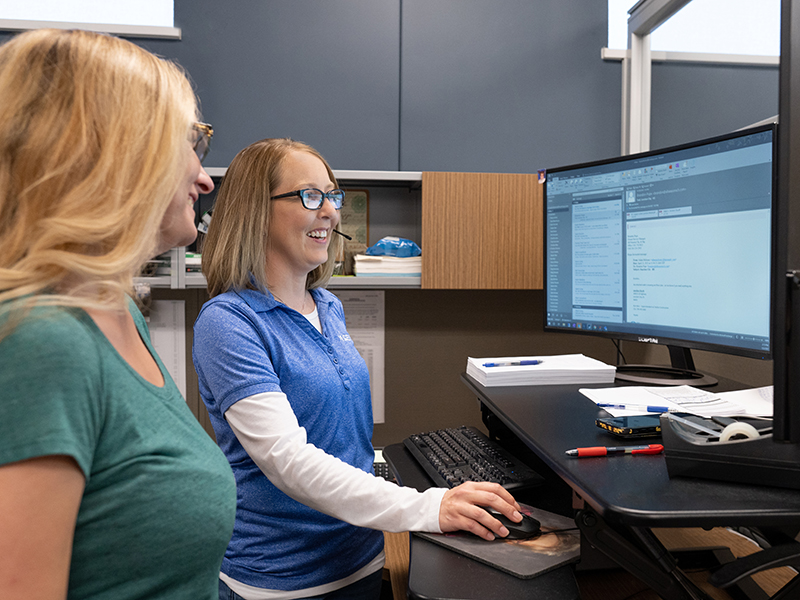 Making the Right Matches
Cassie emphasizes that customers also benefit from McElroy's family values. "Although we deal with them almost exclusively over the phone, we get to know our customers personally, and we really enjoy that," Cassie said. "We also know all of our technicians very well – their individual expertise and personalities. All that knowledge helps us match the right technician to each challenge." That's been true for both residential customers and commercial ones. "As commercial facility management has grown, the customer service team figured out how to make that side of our business run really smoothly," Cassie said. The detailed plan the team presented to Keith and to Luke Dumler, plumbing service manager, is running very successfully today.
Trust and Confidence
When Cassie started 15 years ago, she was juggling calls through a separate dispatcher on an old hand-set phone with flashing red buttons. Now she and her highly experienced team interface directly with customers and technicians thorough an instantaneous, computerized system. "Our database contains valuable customer history, including their equipment and the services we've provided in the past. That helps our technicians be totally prepared so they can do smart, efficient work," Cassie said. "But we still want to keep taking our customer calls in person – no automated attendant for us!" That's the spirit, Cassie. Keep pushing hard for the best possible customer experience – while maintaining those family values that are so dear to you. That's why the McElroy's team and our customers are so happy to put our full trust and confidence in you!