Insights
Service Chuck Buss: 25 Years of Solving Challenges
August 05, 2021
"Chuck is probably the most technically gifted guy I've ever known," said Keith Watkins, McElroy's commercial HVAC service manager. "He's a genius at fixing things. No matter how complicated the challenge is, when we send Chuck to take care of it, we know that problem will be gone." On August 5, 2021, we honor Chuck Buss, commercial HVAC service technician, for his 25th anniversary with McElroy's. Chuck's ability to trouble-shoot complex systems and find ideal solutions make him an excellent example of the McElroy's Problem Solver core value.
Technically Minded
Chuck grew up in O'Fallon, Missouri, near St. Louis, and his family moved to Manhattan, Kansas, when he was a high-school junior. His father, Robert, was a jet mechanic and an Air Force load master. "There wasn't much my dad couldn't do," said Chuck. Like his father, Chuck was interested in science and technical things. "I took shop courses like automotive and welding, and went to night school to learn refrigeration."
Desire to Learn
After high school, Chuck started doing maintenance at what was then Manhattan's Ramada Inn. An older employee there took Chuck under his wing and got him interested in HVAC. "I had a burning desire to learn everything I could," Chuck said. He joined the Refrigeration Service Engineers Society – a training and certification association for HVAC professionals. "I took night classes for a few years and got a job with Thermal Comfort Air in Manhattan." There, Chuck continued expanding his trade knowledge, working on residential and light commercial HVAC projects.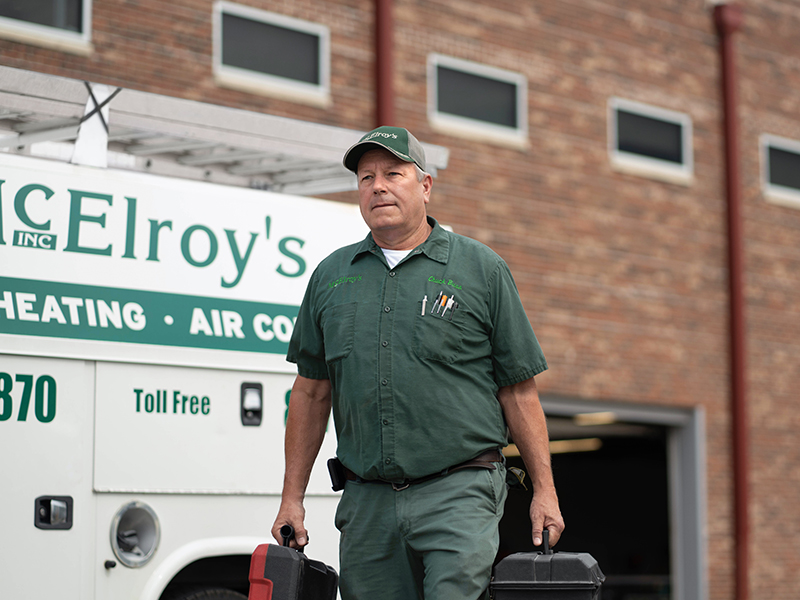 the mcelroy's team
In 1996, Chuck had a conversation with Bob Murray, an acquaintance of his older brother. Bob was a commercial HVAC service technician for McElroy's and he said Chuck should try to get on board there. "Bob said it would be a union job with better pay, bigger projects and strong company support," Chuck said. "McElroy's has a good name and a broad pool of knowledge. Working on the McElroy's team, I knew there'd be nothing I couldn't learn to handle."
You'll Learn Something!
Shaun O'Keeffe, McElroy's commercial HVAC service tech, has been on the McElroy's team nearly as long as Chuck, and has worked with him a lot. "Chuck's retention of technical knowledge is astonishing. He can spot things nobody else sees," Shaun said. "If Chuck calls me to help with a project – on a night, a weekend, whatever – I'll go because I'm guaranteed to learn something!" In addition to his technical expertise, Shaun said Chuck is a people person too. "Chuck really gets to know the customers. There's a broad base of folks he's helped who ask for him by name."
Family Life
Chuck and his wife Frances met while he was working at the Ramada where she was a bartender and hostess. Today, they live near Wamego and they own the Family Hair Works salon in St. Marys. Their daughter Alexandria is a senior at the University of Kansas, daughter Victoria works in product support from their home, and son Brandon is a deputy for Pottawatomie County. Brandon and his wife Tylar recently added the family's first grandchild, Bostyn. In his free time, Chuck likes to work in the garage and yard, and go out with Frances and their friends.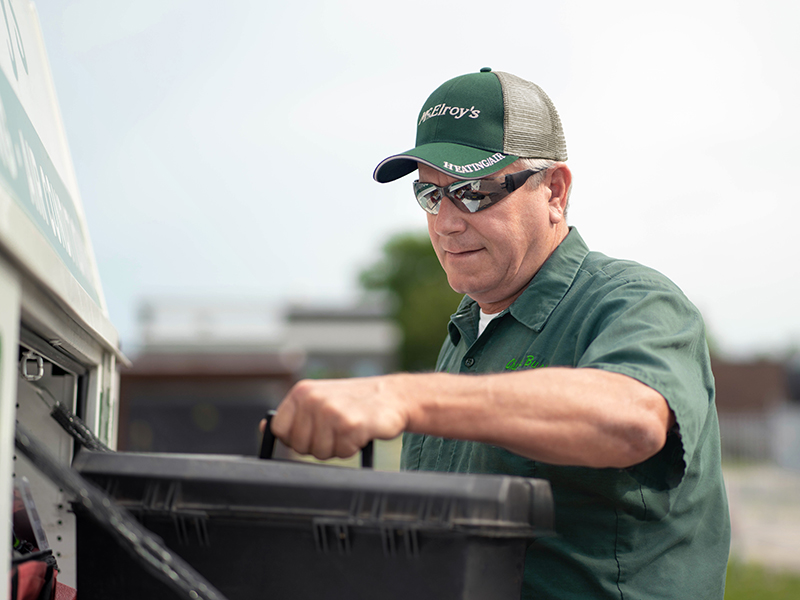 Solid Advice
We're glad Chuck listened to Bob's advice 25 years ago and came to McElroy's. Today, he offers advice of his own. "If you can get a job with McElroy's," Chuck said, "it'll be a great opportunity. McElroy's is a big company that still feels like family, and there's no ceiling on your growth. You'll have the chance to learn as much about the trade as you can, while making a good living." We appreciate Chuck's uncanny ability to spot whatever is causing an HVAC problem – and fix it – and his willingness to help his teammates to learn and grow. Thank you, Chuck! You're a key reason why the McElroy's HVAC service team is the best there is.