Insights
Construction Chuck Smelter: 45 Years of Craftsmanship
December 08, 2021
Chuck Smelter was born into an HVAC and plumbing family. He began working summers for his father at age 14 and joined McElroy's right out of high school. Now, a 45-year career with McElroy's behind him, Chuck's looking forward to retirement on December 31, 2021. When asked which McElroy's Core Value means the most to him, Chuck responded, "Craftsmanship. That's what I was taught, and what I've tried to pass on as the years have gone by."
The Family Business
Chuck's father, Ralph, and his uncle continued Smelter Plumbing, founded by Chuck's grandfather in Topeka. Ralph expanded into HVAC service, and beginning in Chuck's early teens, he worked summers and weekends for his father. Nearing graduation from Topeka High in 1976, Chuck told Ralph that he needed to earn a more livable wage. His father understood and suggested, "Call Phil Morris at McElroy's about a position there." With his experience, Chuck landed an opportunity as a non-union helper for McElroy's HVAC service team.
From Apprentice to Journeyman
After a couple of years in HVAC service, Chuck applied to be a union apprentice in plumbing and pipefitting, and started the program in September 1979. Now on the union track, Chuck shifted to the McElroy's commercial construction team. Shortly after graduating as a journeyman plumber/pipefitter in September 1983, he was laid off. About eight months later, Joe Geier brought him back to McElroy's. "Joe meant the world to me," said Chuck. "The foundation he helped me build is the reason I've stayed with McElroy's my entire career."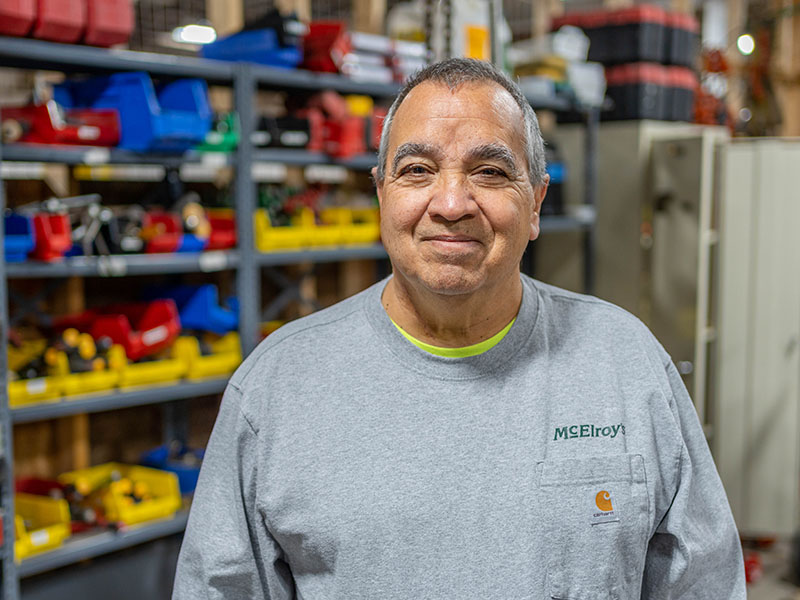 Learning and Growing
Joe took Chuck under his wing. "He taught me everything you don't learn in apprentice school," Chuck said. "He didn't fire me when he might have wanted to, and he didn't let me leave when maybe I wanted to. With Joe, I liked going to work every day. Learning and growing kept me coming back." Chuck learned a lot about craftsmanship from Joe, as well as Joe's values and mentoring skills. "Whenever I've felt the pressure of hard decisions, I'd ask myself – what would Joe Geier do?"
Commercial Construction Supervisor
In the mid 2000's Joe became ill and Chuck was asked to pick up some of his duties. Soon, Chuck became a McElroy's commercial construction supervisor, managing a team of seven or eight. "Chuck has great attention to detail, and was a great leader as a supervisor," said Jimmy Thomas, McElroy's commercial project manager. "Chuck gave his crews all the information they needed, explained things thoroughly and answered their questions. When it came to HVAC and refrigerant piping, he could trouble-shoot and figure out anything."
Out-of-state Projects
In 2017, Chuck was a project supervisor for a set of extremely large projects – adding air systems to existing Target distribution centers. "Chuck did great on these very demanding jobs," said Jimmy. "After we did the Topeka distribution center, they asked us to do centers in Tifton, Georgia and Lugoff, South Carolina. Chuck was part of our on-site supervisor team for all three. He helped with the scheduling, pre-fabrication drawings, and worked with the pre-fab shop to get things done right." The success of those jobs continues to lead to more out-of-state projects with the same general contractor today – often being handled by people Chuck helped to train.
Meticulous Craftsmanship
"Thorough. That's how I'd describe Chuck," said Brent Eisenbarth, McElroy's construction technician. Brent worked under Chuck's supervision for about 10 years. "Chuck is very, very knowledgeable and meticulous – always upholding strict quality standards. You never felt he was nit-picking your work, he was trying to make his guys better. He taught me pretty much everything I know, including my craftsmanship and customer service values. Chuck was great with questions and always ready to help."
Tools Manager
In August 2018, Chuck was diagnosed with cancer. "I finished my last chemo treatment that December, and I've been cancer-free going on three years, now," Chuck said. "In April 2019 I was asked to move out of field work and take on management of McElroy's tools inventory. That was a position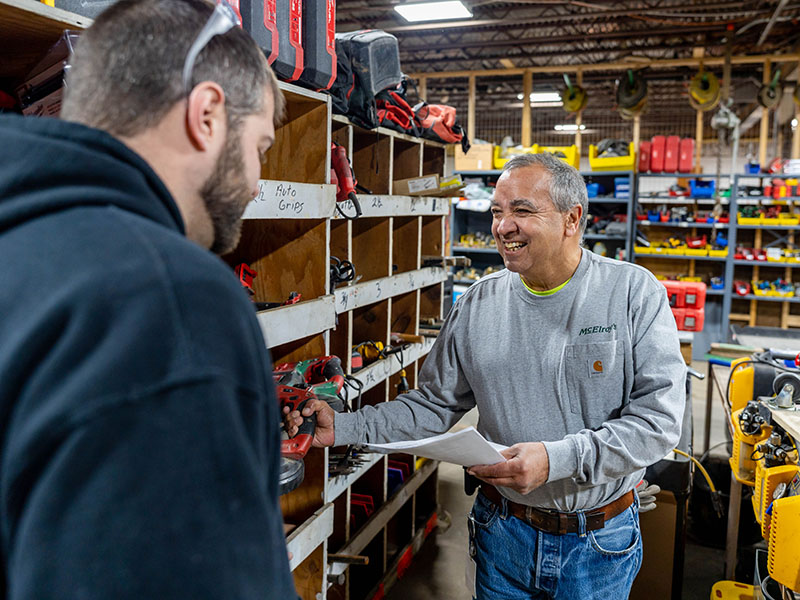 McElroy's had never had before. It was a different kind of challenge, but probably a good move for me at that point." Over the years, Chuck sometimes had teammates come to him, thinking they might want to work somewhere else. "I'd always honestly tell them, the grass isn't really greener anywhere else. McElroy's has been good for me."
Fun to Work With
Talk with people who know Chuck well and you'll probably hear it – he has a "different" sense of humor that's maybe not for everyone. "When I first met Chuck, I mistook him for an employee named Charlie and he seemed offended," said Alyssa Gentry, McElroy's assistant project manager. "I didn't think we were going to get along. But I got to know Chuck, and I just love him. He's sarcastic, but in a fun way, always cracking jokes. What you see is definitely what you get, and sometimes I just want to shoot him. But since he moved to our other building to manage our tools, I really miss him!" Jimmy and Brent agree that Chuck is a fun guy to work with – and even better to joke around and share a beer with.
Retirement Plans
"People ask what I'm going to do in retirement," Chuck said. "I haven't given it much thought. I'd like to work on my health and exercise more – and spend more time with my wife Denise, the kids and grandkids." Chuck has two daughters, Rachel and Morgan, and two step kids, Kirsten and Alec, plus five grandchildren, Ava, Clara, Kameron, Kashton and Jalyn. "I have a couple of brothers in Arizona and sometimes I think I'd like to live somewhere warmer, but the kids will probably keep me here."
A Sincere Thank You
Expert craftsmen like Chuck are becoming increasingly rare. No one at McElroy's today has been on the team as long as Chuck has. When Chuck first started, company founder Homer McElroy was chairman of the company, and his son Jerry was president. Third-generation McElroy's President Dan Beal said, "Chuck's expert problem solving and superior craftsmanship will be missed, and I'm glad he passed those traits on to others at McElroy's who will carry on his values. Chuck has been a great asset throughout his 45-year career at McElroy's, and we owe him a sincere thank you and a lot of appreciation for everything he has done for our team."