Insights
Construction Clint Mayer: 15 Years of Positive Leadership
January 06, 2023
"Clint comprehends the project he's in charge of quickly and will take care of all aspects of it," said Scott Schneider, McElroy's commercial-project supervisor. "He explains the task clearly, and leads with a positive attitude that brings up everybody's morale – especially when the going gets rough." On January 7, we celebrate commercial-construction plumbing foreman Clint Mayer's 15th anniversary with McElroy's, and we honor him for being a leading example of our Positive Attitude core value.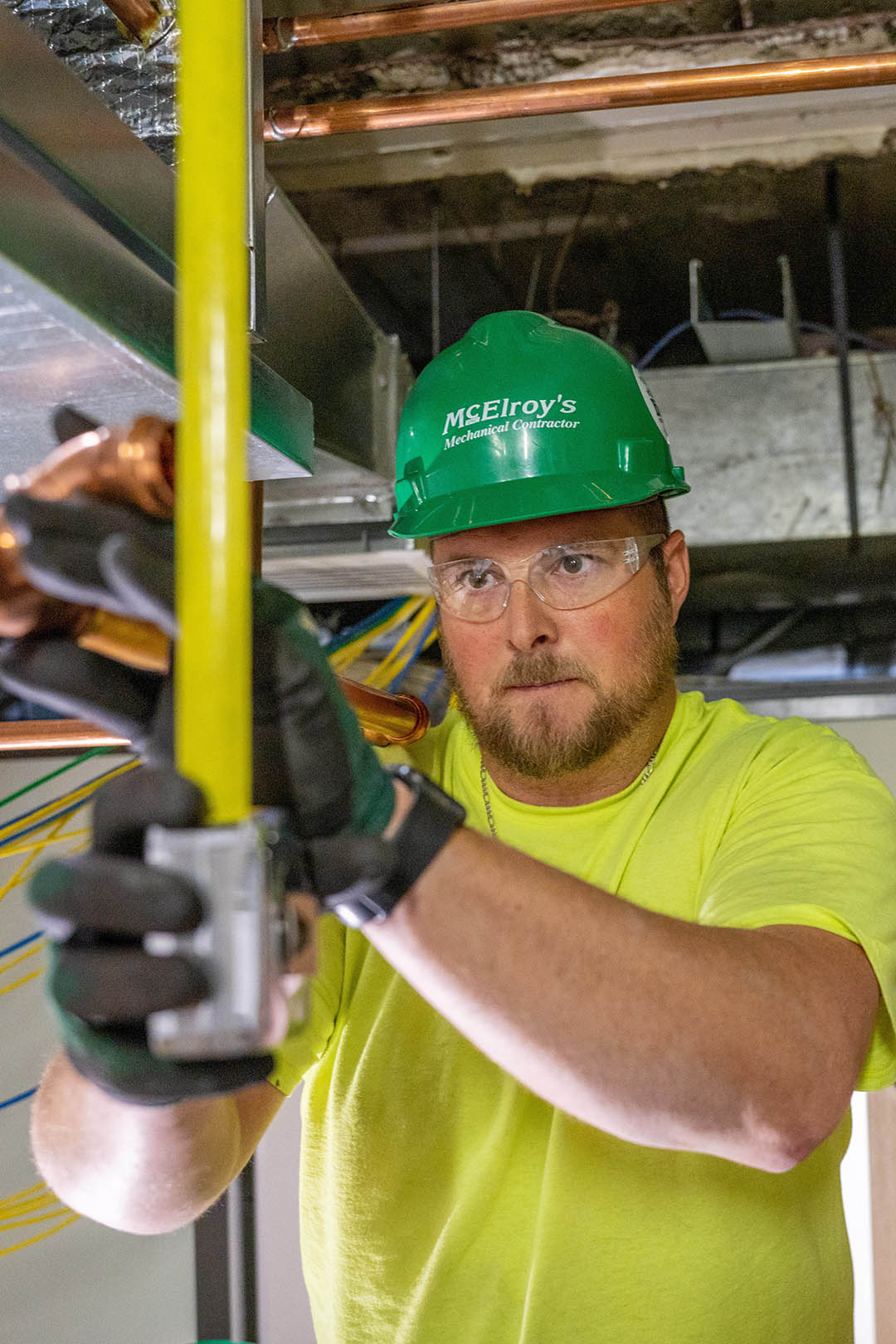 Sports and Friends
Clint planned on a career in sports, until he injured his elbow and shoulder while pitching at Butler Community College. "For me, growing up was about sports and friends," Clint said. In high school, he played shooting guard for the Shawnee Heights Thunderbirds, and they won the state championship his sophomore and senior years. His junior year he helped pitch the T-Birds to a state baseball title. Although he went on to earn an associate of science degree from Butler, he knew that a desk job was not for him.
From Asphalt to Apprentice
After college, Clint went to work for a regional asphalt company. "I was there for about a year, putting in 16-hour days. I chewed up a lot of boots," Clint said. But even at age 21, those hot, long hours got pretty old. "A good friend from Shawnee Heights was working in the McElroy's plumbing department. He suggested I try to get on there, so I did. I drove a delivery truck for a few months and got into the apprenticeship program to learn welding, plumbing and pipefitting."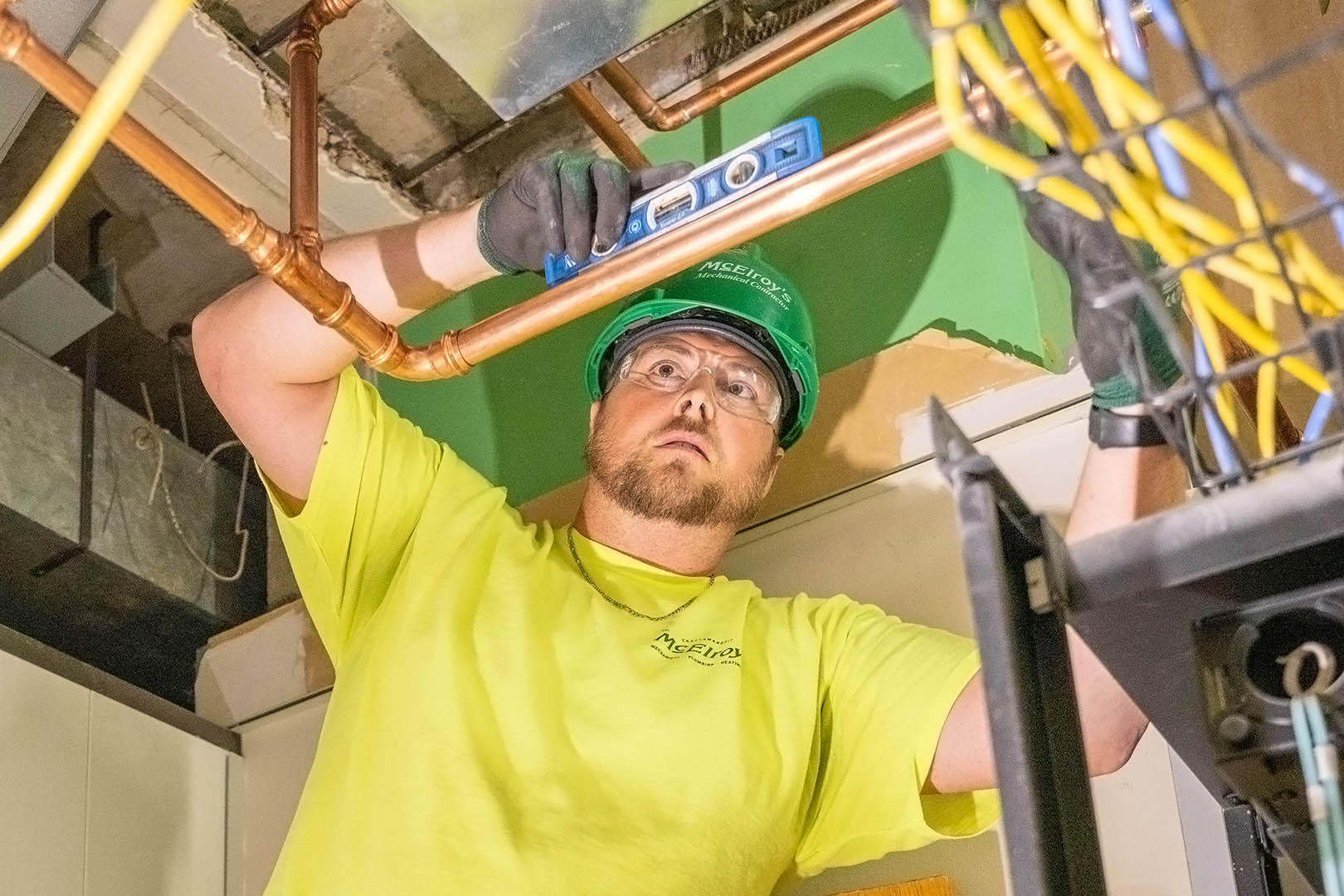 Made for This Work
As an apprentice, Clint quickly discovered that doing plumbing with McElroy's was where he was meant to be. "I'd found my niche. I felt like I was made for this kind of work," Clint said. "It came easily for me." Clint worked with the McElroy's construction team and was involved in a variety of renovation and upgrade projects. "I enjoy working with my hands, and I get to work at a lot of different places. Construction has a great future too. It's the kind of work where the hands and the skills have to be right here."
Foreman
In 2012, Clint became a journeyman plumber/pipefitter, and was assigned his first project as a foreman. Interestingly, the job was at Butler Community College – and it was big. "We upgraded the campus-wide two-pipe heating/cooling system to a four-pipe system," Clint explained. "With just two pipes, you have to reconfigure the system in the spring to convert from heat to coolant – and then back again in the fall. A four-pipe system offers parallel heating and cooling – all at the same time, as needed. It was a complex project, but I enjoyed the challenge!"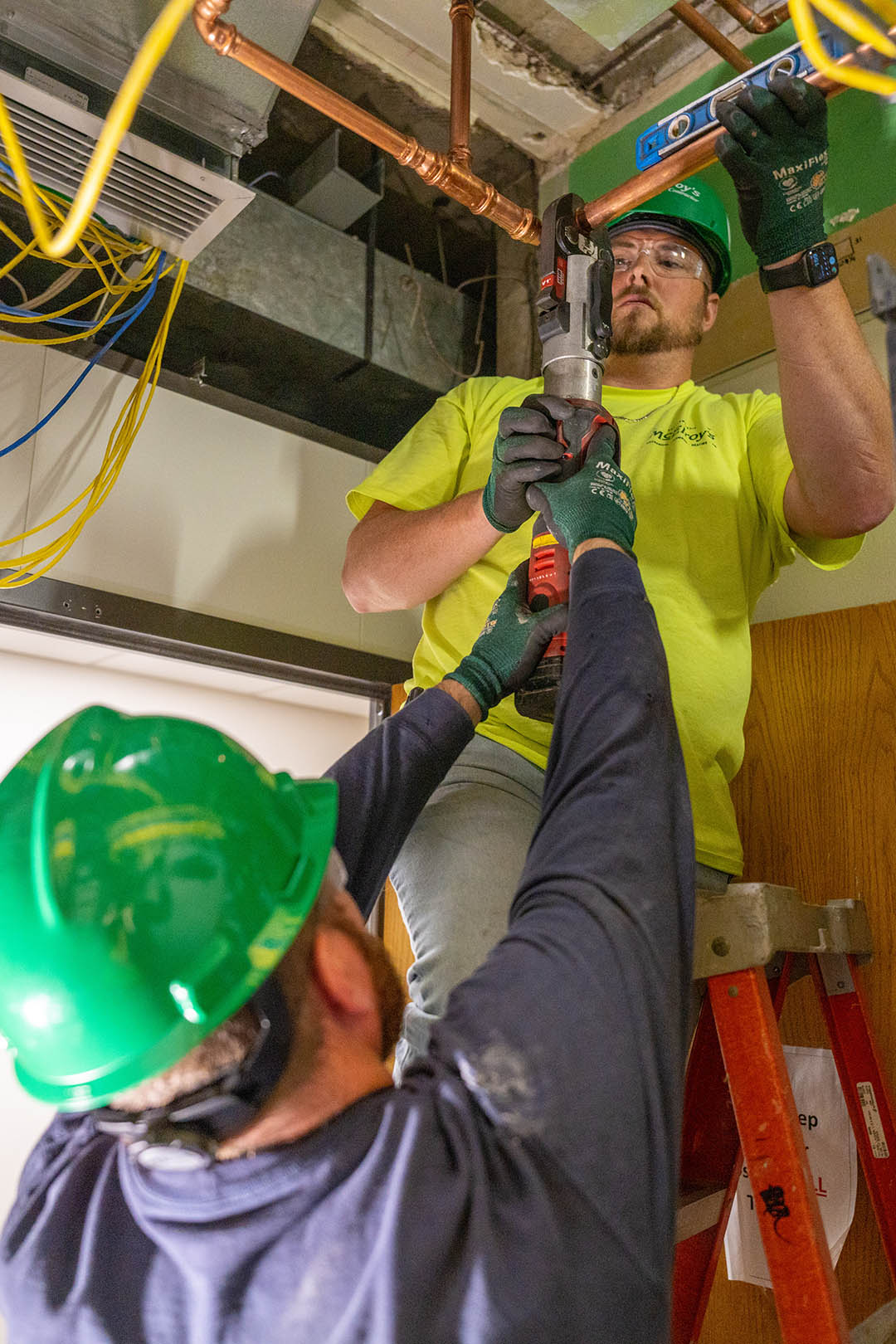 "we'll get this"
"I've worked side-by-side with Clint for a couple of years," said Dayne Shelman, a plumbing/pipefitting journeyman with McElroy's. "He forms a plan for each step of a project and keeps things moving along smoothly. If things do go sideways, he always stays calm. He doesn't let his emotions take over. No matter what, it's always, 'We'll get this.' He stays in a good mood and it's great for the team's morale."
Together as a Team
Another way Clint improves his team's morale is through his honesty and transparency. "I make sure my crew is fully informed and knows everything I know about a job," said Clint. "Withholding knowledge might give somebody a sense of job security, I guess. But I figure the more my crew knows, the more they can do – and the better they'll do it. Work's also more pleasant when we're all on the same page. We're tackling challenges and celebrating victories together as a team."
Home Life
"I like to go home every night knowing the work I've done brings comfort to people," Clint said. Home is 14 acres near Overbrook, Kansas, where he lives with his wife, Cristy – a tax accountant for a Lawrence firm. Clint and Cristy have a son, Thad, who is 10 and is into Tai Kwan Do and his new puppy. Clint's stepdaughter Ella is a freshman at Free State High School in Lawrence, and his stepson Keagon is studying at Wichita State University. For fun, they like to go boating with friends and play softball. Clint also enjoys unwinding by working outdoors on his acreage.
Loyalty and Laughter
"McElroy's has a genuine family atmosphere, and that means everything. Loyalty is truly a two-way street here," Clint said. "The company supports me, I've got my team's back, and they've got mine. I enjoy the people I work with, we work hard together, and I like to make them laugh whenever I can." That's how Clint leads with positivity, and we at McElroy's really appreciate it! We offer Clint our heartfelt thanks for his 15 years of excellent service. We're looking forward to having Clint on our team for many, many years to come!