Insights
Dan Beal: 30 Years of Innovation
July 08, 2021
Many third-generation leaders of a 70-year-old family-owned company would be content to keep things as they are – or might even fear to rock the boat with changes. Not McElroy's President Dan Beal. "Dan is always thinking about the next step," said Wade Jueneman, McElroy's VP of engineering. "When I present an idea to Dan, I know he listens and I know he thinks about it in the days to follow." Keith Watkins, commercial HVAC service manager, agrees. Keith noted that Dan is always open to new ideas, and Dan has instituted a wide variety of his own innovative solutions over the years.
Going Fast
Dan celebrates his 30th anniversary with McElroy's on July 8, 2021. Although he started at McElroy's in 1991, his fearlessness to move ahead fast may date all the way back to when he began riding motorcycles at the age of 5. "I've always liked going fast in the dirt," Dan said. He liked it so much that he participated in organized motorcycle racing from age 14 to 20. A second knee surgery convinced him to give up racing, but Dan still enjoys off-road motorcycling with friends, and his sons Braden and Parker.
Mechanical Engineer/MBA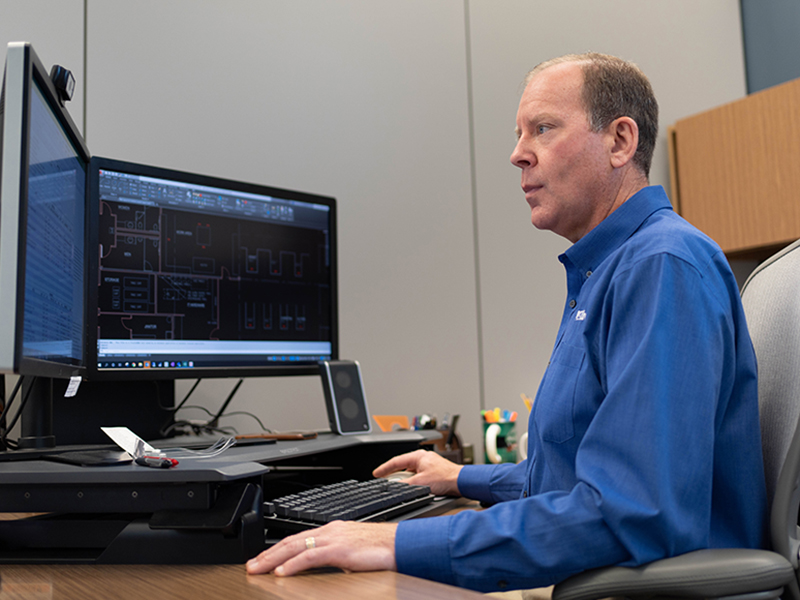 Dan grew up in Topeka and graduated from Washburn Rural High School where he enjoyed math and science. "I thought I might like to design motorcycles," Dan said. "Drafting and drawing mechanical things were always interesting to me." Dan enrolled in The University of Kansas Aerospace Engineering program, but soon shifted to mechanical engineering. After getting his degree, he went on to get an MBA with a concentration in marketing.
Wanting to Make an Impact
In high school, Dan met Paula McElroy, daughter of McElroy's president Jerry McElroy who was the son of the founder, Homer McElroy. They married when Paula finished her degree in education. While still in college, Dan completed a couple of internships working at a Texaco refinery. That experience with a huge multi-national corporation convinced Dan that he'd rather work for a company in which he could make an actual impact. That's when he went to work for Paula's father at McElroy's.
Learning the Ropes
"I started out working in the field as a helper," Dan said. "McElroy's had a two-year project for the Santa Fe railroad where I learned the ropes. It was great experience." Dan became a project manager and started keeping track of job time sheets and change orders on a Macintosh computer. He was the first person to use a personal computer at McElroy's. Project estimating and management had all been done by hand, and Dan led the way into making things faster and more accurate with technology.
licensed engineer to president
Early on, Dan began using AutoCAD for ductwork design and fabrication – another McElroy's first. He passed the professional engineering exam in 1995, became the company's licensed engineer, and was named vice president. Dan was the design-build engineer for many major projects, such as the Reser's Fine Foods plant, Tallgrass Surgery Center, the St. Francis Cardiology building, a Sabetha Hospital addition and many more. In 2005, Jerry promoted Dan to president of McElroy's.
Smart, Talented Team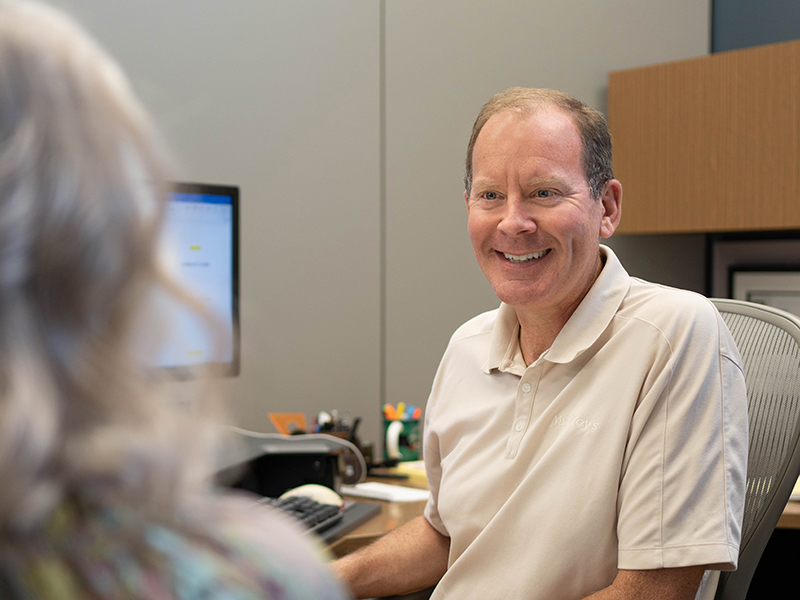 "To grow a company, you build a smart, talented team," Dan said. "I've had the privilege of working with and hiring a lot of great people who are way better than I am." Dan firmly believes that the McElroy's team is the area's best at focusing on customers and solving their challenges. "Customers know they can count on McElroy's. I make sure our leaders have the technology and support they need, and I empower them to lead their teams to success."
Management Freedom
"Dan is not a micro-manager," said Keith Watkins. "He gives his managers the tools and the space to do what he hired them for. That's the thing I appreciate most. Dan gives you room to succeed." But that freedom doesn't mean that Dan doesn't care. On the contrary … "While financial health is important for every company, Dan is not just about profit," Keith noted. "He's a people person who cares about employees and their families and truly wants them to be happy."
Positioned for Continued Success
"Dan has great attention to detail, and his persistent push to enhance organizational unity and procedures helps keep McElroy's running smoothly," Wade Jueneman said. "But it's his trust in his people that has enabled us to grow as individuals and to shape our branches of the company." That's important because ongoing innovation is a company-wide responsibility. While Dan has certainly led the way with new technology and practices, his passion for letting his leaders lead may be his strongest insight. Dan's forward-thinking approach is what positions a family-owned company, founded in 1951, for another 70 years of growth and success!