Insights
Team Doing What It Takes
August 31, 2021
"Kirk and I worked 10 to 12 hours a day, every day for five weeks on the project in Waco, Texas," said Preston Bond, McElroy's commercial project supervisor. "It was a lot of work away from home, but it was fun, too. It was great to fully meet the challenge." Preston and Kirk York, a 17-year veteran of McElroy's commercial construction team, stepped up together to build the refrigerant piping to add HVAC to an existing 654,000 square-foot distribution facility. These two hard-working and dedicated men are an excellent example of how the McElroy's team stands ready to do what it takes to meet the need.
Proven Capability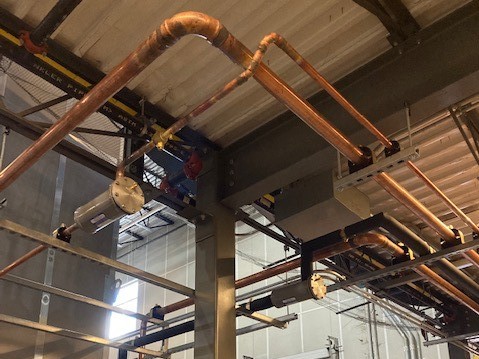 H&M Company, a national engineering and construction firm based in Jackson, Tennessee, has developed over 100 million square feet of distribution fulfillment facilities from coast to coast. In 2017 H&M hired McElroy's to add HVAC to an existing 1.355-million square-foot distribution center in Topeka, Kansas. "It was a large, demanding project, and our first job for H&M," said Jimmy Thomas, McElroy's commercial project manager. "We managed our tasks well and completed our part on time and on budget with very high quality work. When they ask us to bid on new projects, they know we can make it happen while meeting their high standards."
Specialized Piping Skills
"The Waco distribution center had seven 130-ton HVAC systems," said Preston. "Our job was to build all of the refrigerant piping to connect them with their outdoor two-circuit condensing units and indoor air-turnover units." Refrigeration pipe work is a specialized and tricky business, and McElroy's craftsmen are up to the task. "Attention to detail and keeping the system clean and dry is essential," Preston explained. "For example, you have to de-burr everything you cut, and purge the pipe with nitrogen while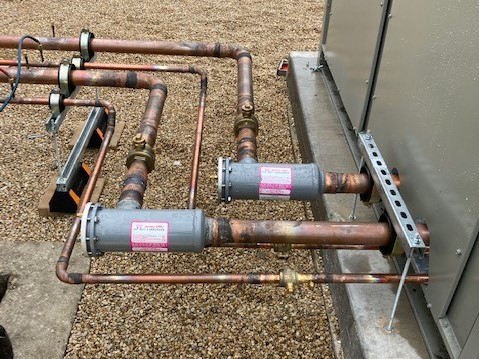 brazing." That's why Preston gave serious consideration to the team mate he would call on to help execute the project – someone highly skilled with whom he could work long and demanding hours. He chose Kirk York.
Away From Family
"On June first, Lindsey and I had our new daughter, Hazel," Kirk said. "Preston knew he was asking a lot when he wanted me to head for Texas with him five days later. But we've worked together a great deal, and we're a solid team, so I said yes." It helped that the two and their families are also friends outside of work. In addition to baby Hazel, Kirk has a six-year-old son named Harrison. Preston and his wife Tia have five kids from age 2 to 16. Although they missed celebrating Father's Day together, the families were able to visit Preston and Kirk in Texas for a few days and they celebrated July Fourth – a favorite holiday of theirs – together at home. Otherwise, they tried to make Waco as comfortable as they could. "We did family FaceTime in the evenings," said Kirk. "Preston and I bought a grill and barbecued to relax and feel a little more like home."
McElroy's Team in Macon
As Preston and Kirk were finishing up in Waco, a separate hand-picked duo was getting started on another H&M project in Macon, Georgia. McElroy's construction technicians Phil Harper and Brent Eisenbarth were tasked with a very similar job in an existing 640,000 square-foot distribution center for the same client. "Phil and Brent definitely have the skills and determination," Preston said, "and they're also a great fit for working together under pressure." They, too, had to leave families behind for about a month's worth of work. Phil and his wife Erica have a boy and a girl. Brent and his wife Heather have a toddler son. Like Preston and Kirk, their tight-knit families made the best of the assignment and Phil and Brent also excelled on the job.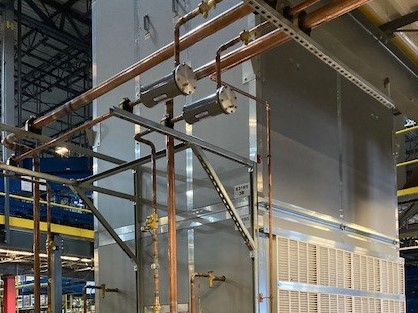 Upholding Promises
H&M Company, Inc., takes pride in their reputation for technical competence, and quality construction and design – on schedule and at competitive prices. The McElroy's team is dedicated to helping them uphold that promise. "It's impressive how hard McElroy's technicians work to get the job done on time and with the quality we demand," said Richard Petty, H&M project manager. "We handle major projects for world-class clients all across the United States, and we have several upcoming projects for clients looking to add A/C to their existing facilities. McElroy's is a trusted partner, and we'll be reaching out to them for their expertise and support."
Family Company & Values
"We're all willing to go the extra mile because McElroy's does the same for us," said Preston. "McElroy's is a family company with family values, and they take good care of us." The four men who worked on these two projects have a combined total of nearly 55 years working for McElroy's. Because talented technicians stay with McElroy's that long – technicians who know their jobs extremely well and truly enjoy working together – customers can count on McElroy's to get the job done! McElroy's thanks H&M for giving us the opportunity to prove ourselves, again and again. And we especially thank our skilled and dedicated craftsmen for giving so much, and doing what it takes to meet the need.