Insights
Residential Gary Clemmons: 10 Years of Service to Others
March 19, 2021
"Gary has developed a large following of customers who specifically request him for their home-comfort system repairs and maintenance," said Greg Hunsicker, McElroy's vice president of residential HVAC. "They appreciate his honest, caring attitude and they're willing to wait until he is available." On March 21, 2021, we're celebrating Gary Clemmons' 10th McElroy's work anniversary. We want to honor him for his outstanding HVAC skills and the way he embodies the McElroy 's core value of Service to Others.
Not a Desk Guy
Gary was born in Topeka but moved around a lot while his father was in the Air Force. Following in his father's military footsteps, Gary signed up for the Army just before he turned 17. He served four years of active duty in the infantry and another 12 years in the reserve. When he left active duty, Gary started building houses in Louisiana. "That's when I learned I really like working with my hands," Gary said. "I'm not a desk guy."
Family in Topeka
Gary moved to Topeka to help care for his grandmother. There, in 1985, he met Debbie. "I knew the minute I saw her that she'd be the woman I'd marry," Gary said. She had four children of her own, and together they had another. Today, Gary and Debbie have 14 grandchildren. "Everybody is nearby. The guys all get together and fish, and we all play a lot of cards and games."
Attitude is Everything
After working in seasonal construction, Gary wanted a year-round career, so he attended Kaw Area Vo Tech (now Washburn Tech) to study heating and air conditioning. "Someone always needs one or the other," Gary said. For about 14 years he worked at Brewster Place retirement community, where he put his maintenance and remodeling skills to use. "I really enjoyed it there. The residents were like family to me. Being with them through their changing life phases gave me perspective. There's only one thing in life you can really control – your own attitude. Keeping a positive outlook makes all the difference!"
"All In" with McElroy's
Gary reached a point at Brewster Place where there was no more room for growth. "When I'm in, I'm ALL in," Gary said, "and I wanted to become a master in the HVAC trade. When the right opportunity opened up at McElroy's, I knew I'd get the encouragement and support I needed to be the best I can be." Gary joined the McElroy's residential HVAC team and immediately began gaining and sharing knowledge. "There's been something to enjoy in most of the jobs I've had. But I feel more respected and valued at McElroy's than anywhere. It's very rewarding!"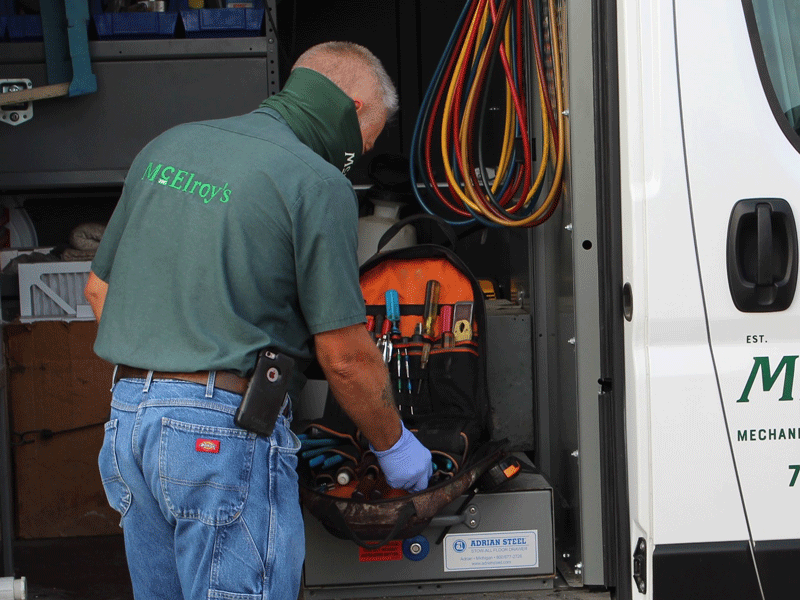 Friendly Approach
Julie Schirmer, McElroy's customer service rep, schedules Gary's assignments. "When we need an extra-attentive tech, Gary is ideal," Julie said. "He's great at listening, trouble-shooting and explaining things to customers." When customers are stressed about losing heating or cooling, Gary has a friendly, family-style approach that puts them at ease. "Humor is a key part of Gary's style," Julie said. "He's always got a 'Dad' joke to share!"
What It Takes
"My wife Debbie gets upset with me sometimes because I put everyone else's needs before my own," Gary said. "But every day it's something different. Each customer has their own individual concerns, and I try to understand and care for them just like family. When I'm solving someone's problem, I stick with it and do what it takes." That's what we at McElroy's call Service to Others – a value we hold in very high esteem. We want you to know, Gary, that your kindness and perseverance are deeply appreciated by all of us. Thank you for 10 years of exemplary service!