Insights
Residential Greg Hunsicker: 40 Years Committed to Solutions
June 01, 2023
"Greg Hunsicker knows more about residential heating and cooling systems than anyone in our market," said Dan Beal, McElroy's president. "Even more important to McElroy's, Greg has an unwavering passion for our company's core values – directly passed on to him from our founder, Greg's grandfather, Homer McElroy, and Greg's uncle, Jerry McElroy. Greg is committed to high-quality residential HVAC systems, installed with the finest craftsmanship, and backed by superior service solutions." Although Greg's relationship with the company stretches back to his earliest memories, his official 40th anniversary on the McElroy's team will be June 9, 2023. We're extremely proud to celebrate Greg Hunsicker, leader of the McElroy's residential HVAC team, as a key example of the dedication that makes the McElroy's name what it is today.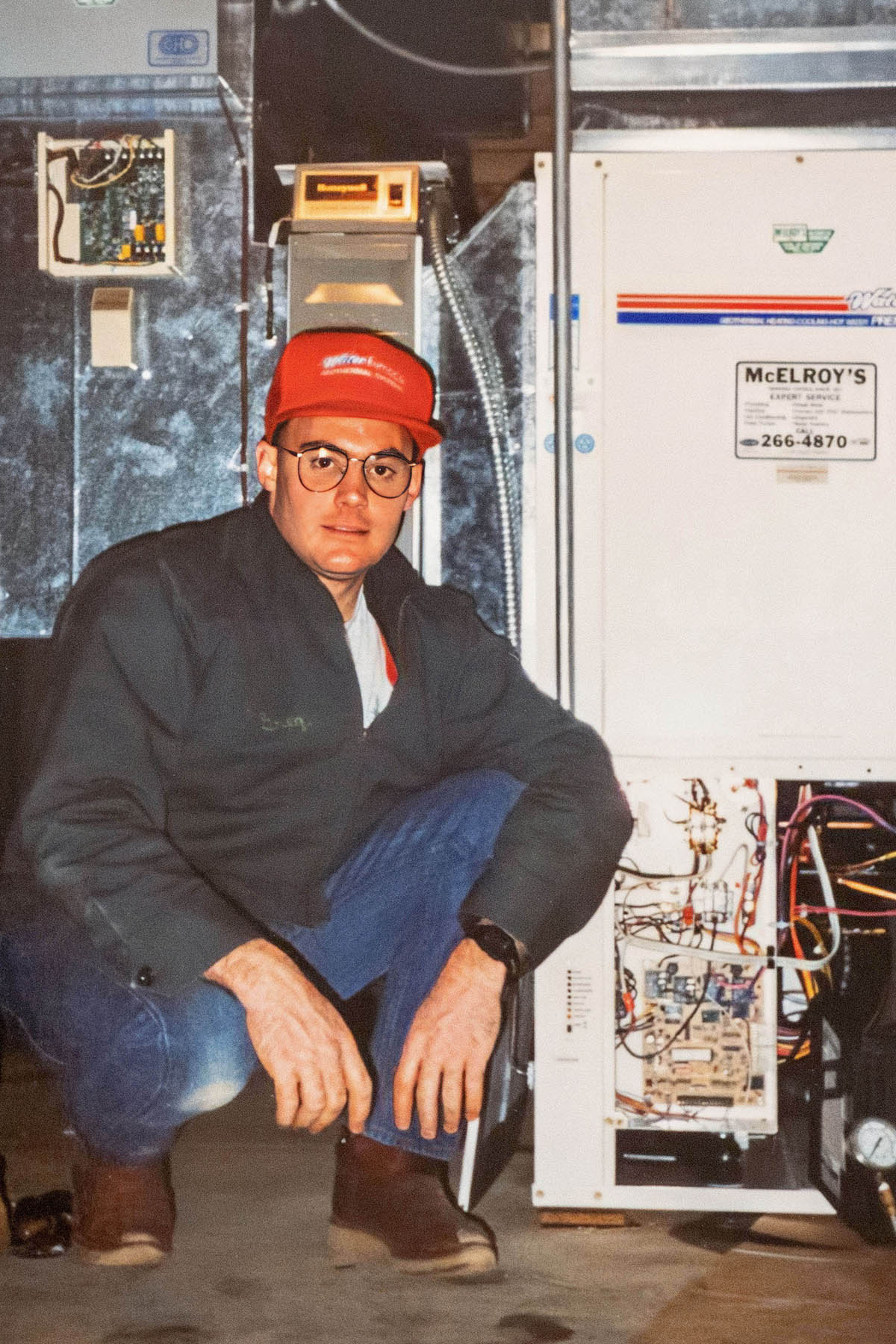 Weekends with Homer
Greg was born in Topeka, and first lived in a house at 3209 SW Topeka Boulevard, where the McElroy's main facility was eventually built and the company's prefabrication shops now stand. His mother, Carol, was Homer McElroy's daughter and she married Gary Hunsicker. As a child, Greg spent a lot of time with his grandparents, and Homer frequently took him to the office. "When the company moved to 3209 SW Topeka, I'd go there on Saturday mornings and sort fittings in the warehouse, putting things into the proper bins," said Greg. "In my early teens I'd scrap the copper out of old A/C systems and I got to keep half the money. After noon on Saturdays, we'd all head to the lake to enjoy the rest of the weekend."
The Hands-On Life
Greg has always enjoyed working with his hands. "In high school I especially enjoyed auto mechanics classes," Greg said. "Anything that didn't work, I'd fix it – replacing motors, transmissions, whatever it took. I rebuilt a 1962 Willys wagon for myself. And I received a lot of free lawnmowers and got them up and running again!" Another hands-on interest of Greg's was pursuing archery with his father. "We'd travel all over to bowhunt and attend archery competitions. My dad still owns an archery shop." And then there were those weekends at Lakeview Lake. "Homer had a family cabin there, and I grew up on the water. I still love boating, water skiing, barefooting and hydrofoiling."
No College Degree Needed
At age 17, Greg acquired a private pilot's certificate. "I wanted to make flying my career," Greg said. "When I went to K-State for my freshman year, I joined the flying club." But the summer after his first year at KSU, Greg signed on as summer help for his uncle, Jerry McElroy, who had taken over as president of McElroy's. "I spent a couple of months doing demolition work in commercial buildings," Greg said. "I took out sheet metal, ductwork and piping. After hours, I suited up with protective clothing and a respirator and removed asbestos." Joe Geier, a McElroy's employee for 37 years, was in charge of the residential HVAC team then. He took notice of Greg's work ethic. "Joe told me I could make a great living in the HVAC trade. I'd get paid while I learned, and I didn't need to go back to college. That sounded great, so I stayed!"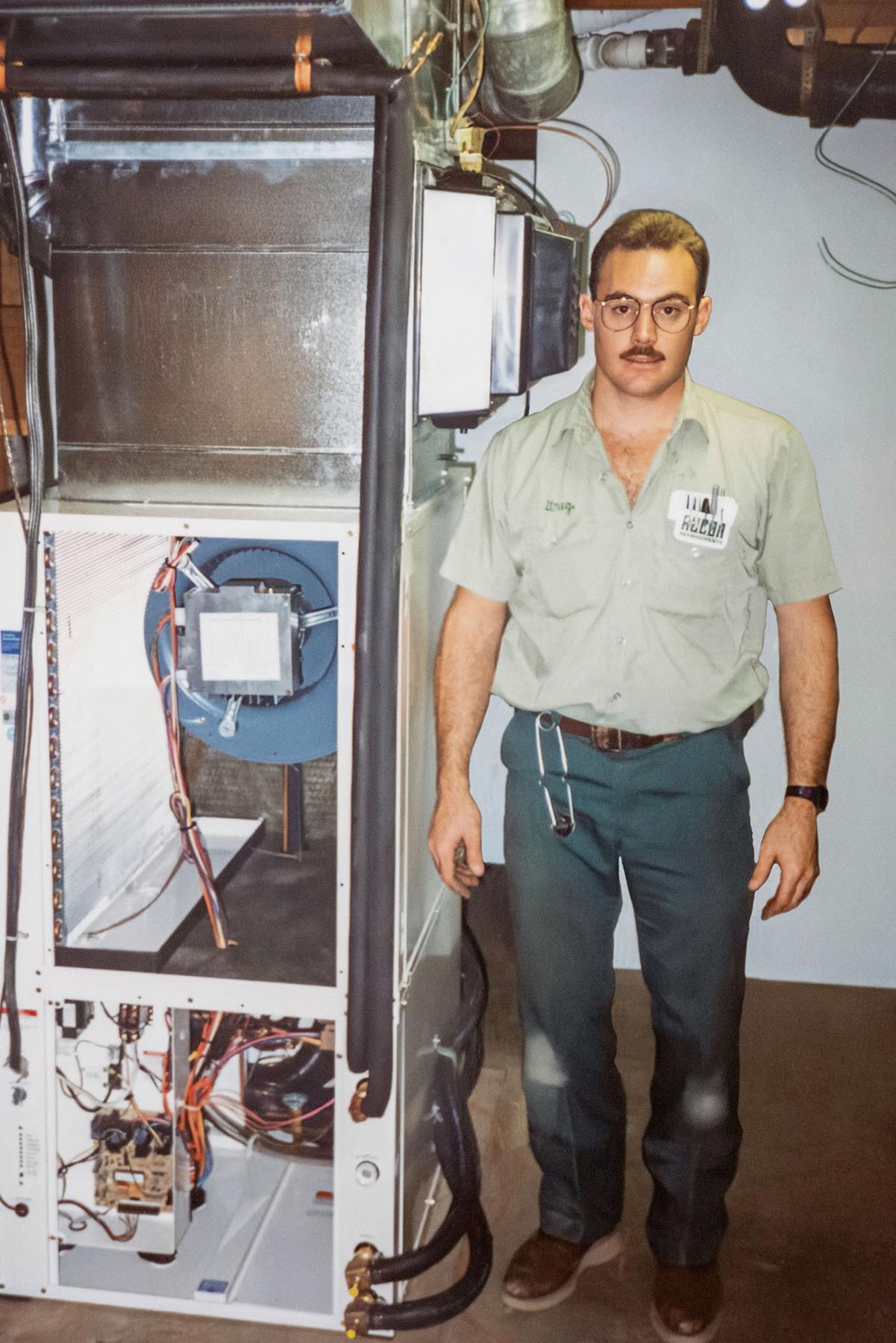 What It's Worth
Greg spent his first few years learning about residential heating and A/C, doing installations and service. Then, in 1986, he was offered the opportunity to run the department. In addition to managing the residential HVAC team, he was placed in charge of sales. "Homer and Jerry always emphasized we should get business based on top quality, not the lowest price," Greg said. "McElroy's has always stood for high-end technology and skilled craftsmanship. We sell a finished product that's what we'd want in our own house." Homer once told Greg the best response to someone asking if you can match a cheaper price from another company is, "No I can't, and I won't cut any corners or leave anything out just to match their price. We know what our installation is worth and they obviously know how little theirs is worth."
Leading in Innovation
Offering the finest products means Greg has a perpetual passion for innovation. "Our team has always been very knowledgeable about leading-edge traditional HVAC systems, but we've also been early experts at breakthrough ideas," Greg said. In 1990, Greg installed the first geothermal system in Topeka – which was more than twice as efficient as other systems of the time. For several years, only McElroy's had geothermal expertise, and the team installed hundreds of systems. His team pioneered "zoned" systems with multiple points of control for better comfort. And nearly 30 years ago Greg installed systems with modems so people could operate them remotely – an unheard-of feature at the time!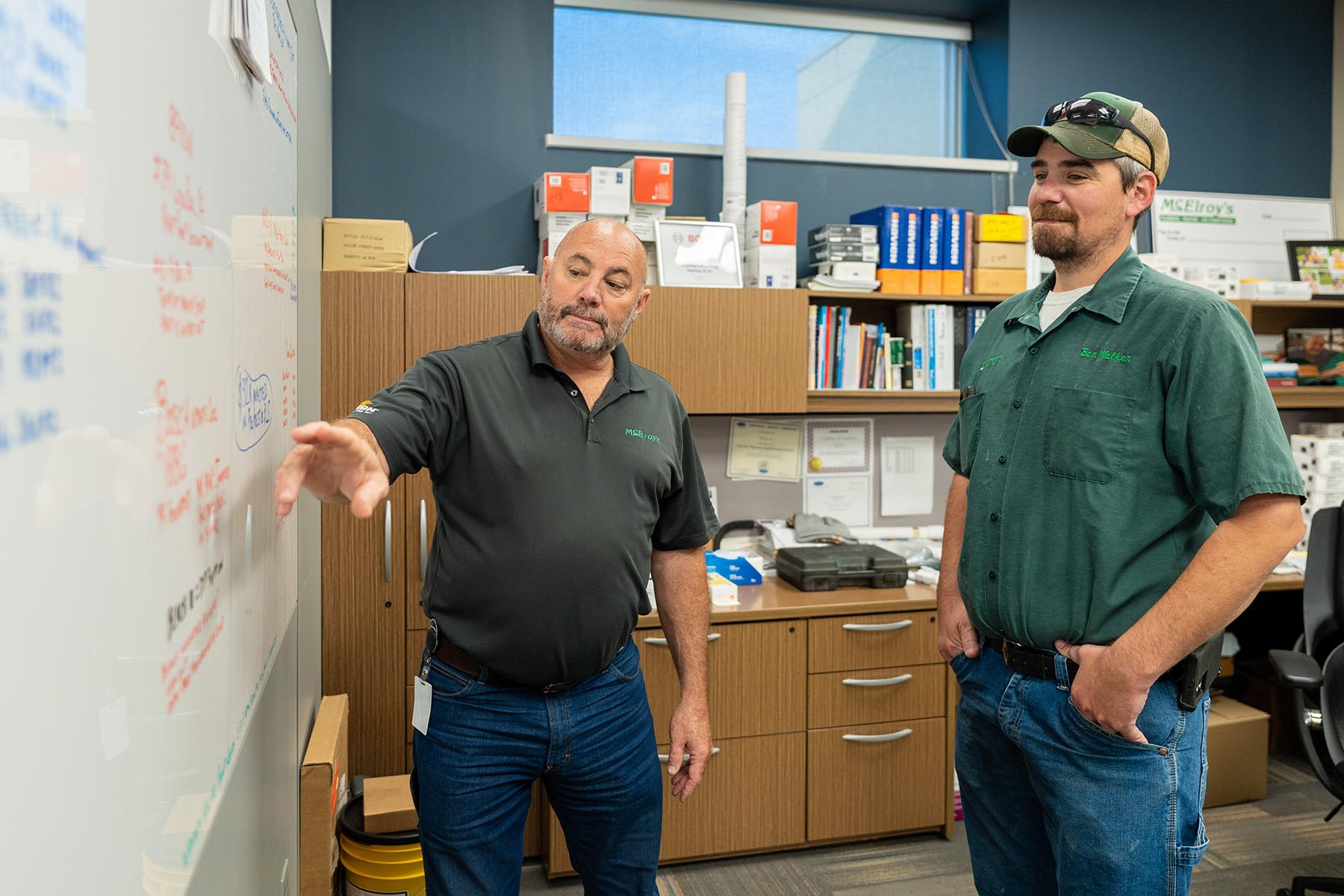 Persistent for Solutions
Ben Walker, residential HVAC technician, has been with McElroy's for 17 years – all of them working for Greg. "He's been like an extra dad to me. I can always talk with him when I need help with anything," Ben said. "He knows all about every piece of equipment we install or service. If the answer's not off the top of his head, he'll find it in the books and manuals lining his office. Or he'll give me the number of the manufacturer expert who will know. No matter what, Greg's persistent about helping to reach a solution!"
Appreciation of Customers
"Greg is very direct. You never have to wonder what he's thinking," said Julie Schirmer, McElroy's residential HVAC customer service rep. "I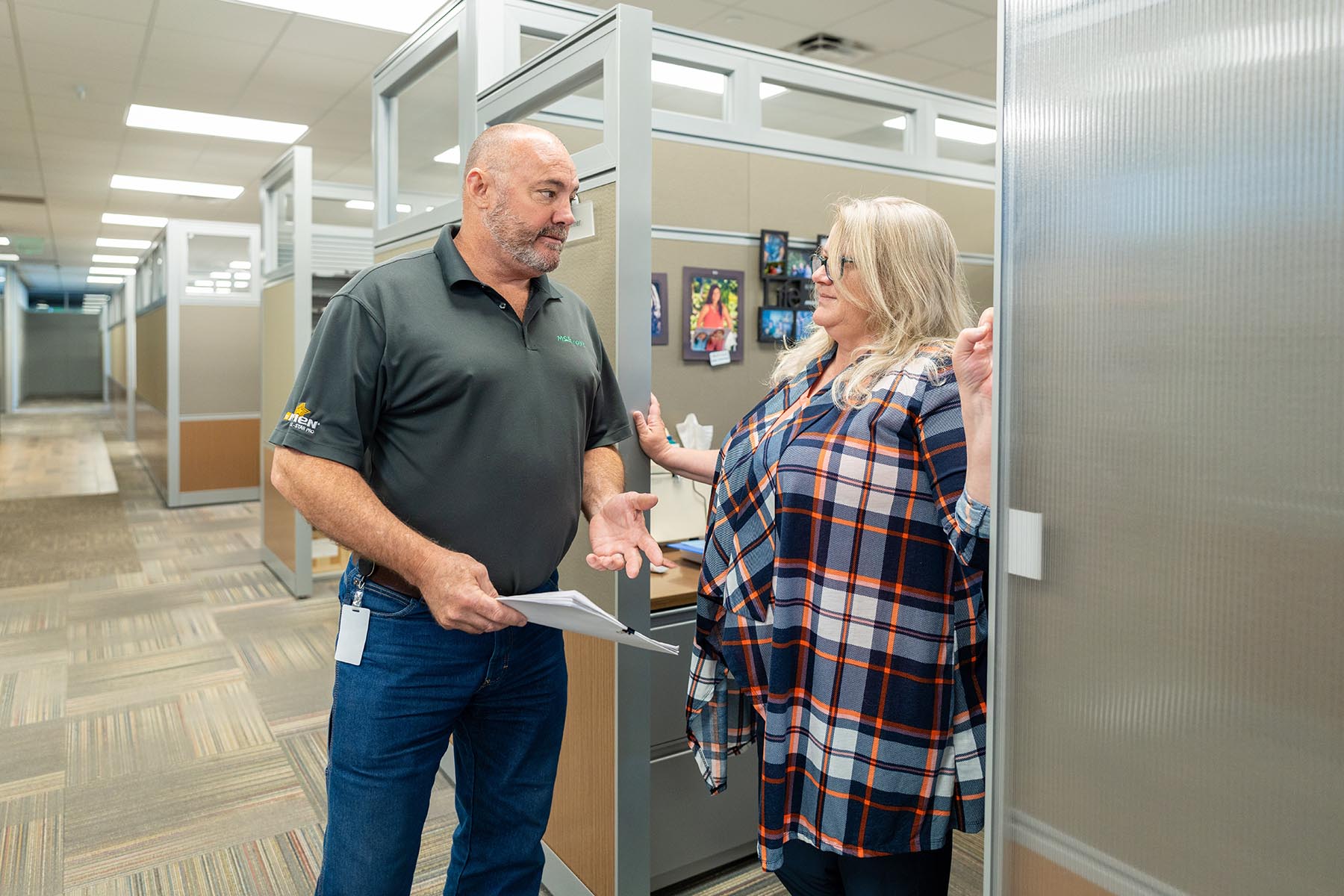 appreciate his thought process, the way he communicates, his family values, the way he takes care of our technicians and especially our customers. Greg shows his appreciation for our customers by advising them with truly the best recommendations for their individual situations. He really digs into a customer's concern and addresses the real issue – which sometimes is deep below the surface."
Finding Deadly Failures
An excellent example of Greg digging deep for answers was his research on furnace heat-exchanger failures. In the late 1990s he started tearing apart every furnace that his team retired to closely examine the heat exchangers. "I found an alarming number of dangerous cracks and holes which could lead to poisonous gases in the home," Greg explained. "I trained my team with the tools and methods to find those cracks and holes. We warned our customers about the dangers and replaced a lot of potentially deadly furnaces!" Greg took his knowledge on the road and trained technicians from other HVAC contractors and manufacturers throughout the region. "Manufacturers started making better heat exchangers, and we rarely see those problems today."
Family/Lake Life
Greg and his wife, Jennifer, who is the director of health care services for Florence Crittenton, enjoy spending their free time with family. Greg has two grown children. His son Brit works for McElroy's in commercial HVAC service sales. Brit and his wife Kate, a State Farm Insurance agent, are expecting their first child in September. Greg's daughter Aimee, an account rep for Mize CPAs, has a four-year-old daughter, Brecklynn. Jennifer has three grown daughters and a son, plus four grandkids, which will soon become six! All of the grandkids are under age six. Time at the lake remains a major emphasis including riding Lift eFoils – electric-powered hydrofoil surfboards – for which Greg is a dealer.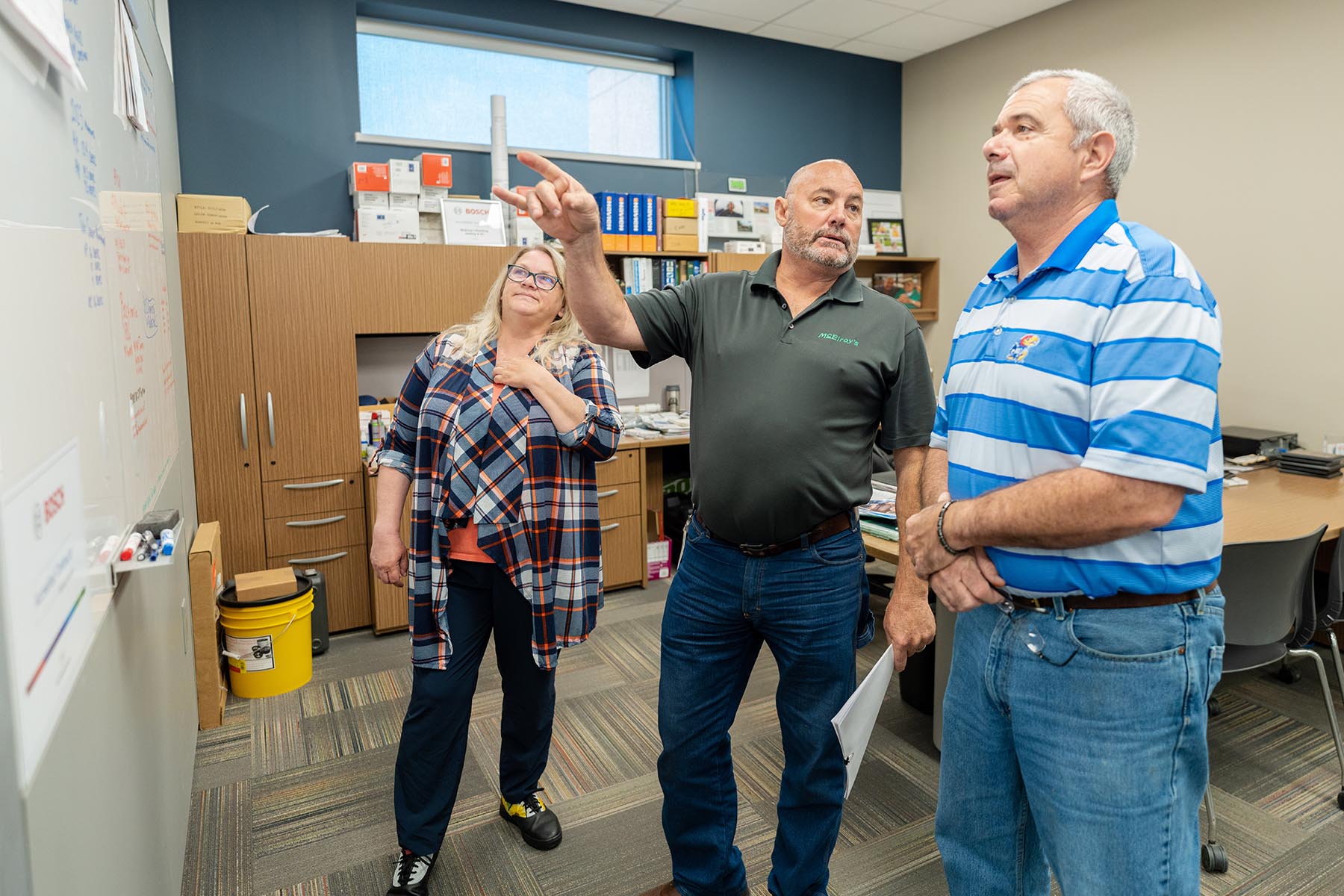 Advancing the Legacy
"It's very satisfying when we help people replace their old heating/air systems – usually in a day – with quieter systems that offer better temperature and humidity comfort, at lower operating costs," said Greg. "I always strive to under-promise and over-deliver. Consistently exceeding value expectations keeps our residential customers coming back decade after decade." We're glad that Greg decided to forgo college, or a pilot's career, and devote himself to McElroy's for the last four decades. His hard-earned knowledge, and his passion for providing the best possible solution for each customer are unparalleled. Thank you, Greg! We look forward to your continuing contributions to advancing the legacy of the McElroy's name!