Insights
Service Greg Zabokrtsky: 30 Years of Focused Service
December 14, 2022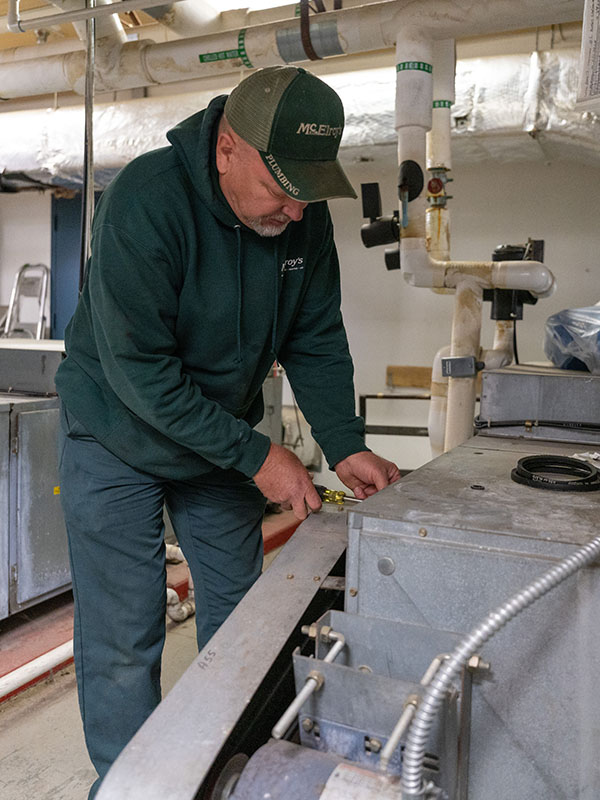 "From scheduled maintenance to emergency repairs, you can count on Greg Zabokrtsky to take care of things," said Keith Watkins, McElroy's commercial HVAC service manager. "Greg is a seasoned technician who's very familiar with the customers he serves, their buildings and HVAC equipment. He focuses on servicing their HVAC systems as if they were his own." On December 14, we celebrate commercial HVAC service technician Greg Zabokrtsky's 30th anniversary with McElroy's, and we honor him for being a great example of our Service to Others core value.
Jobs with Electricity
Growing up on a small farm near Tecumseh, Kansas, Greg was always helping to fix things. He attended Shawnee Heights schools where his father was an administrator, in charge of buildings, grounds and transportation. "My favorite class was science, especially when we were studying electricity," Greg said. "I did a report on jobs that include electricity. For career day, I did a ride-along with a technician from an area HVAC company – and I decided that's what I wanted to do."
Heating, Air & Refrigeration
After high school graduation, Greg went to a vo-tech school hoping to learn about heating and air. "Back then, we started out working mostly on appliances – refrigerators, washers and dryers," Greg said. "I switched to Pittsburg State where I got to focus on heating, air and refrigeration." Back in Topeka each summer, Greg began working for GMG Cooling, and went full time after completing his studies. "For a small company, Glen M. Gay really pushed the envelope," Greg said. "We did some big jobs for Brewster Place, Topeka Performing Arts Center and the Eisenhower Center in Abilene."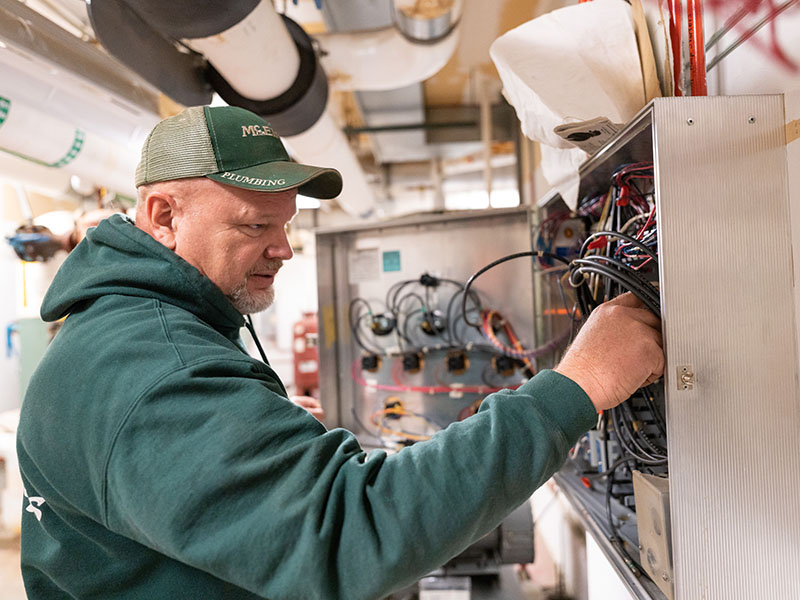 The McElroy's Team
After about six years, Greg decided to move to a larger company with better benefits. "I got a job with Huxtable Associates (now P1 Group) and joined the union," Greg said. They were impressed that I already knew how to do complex jobs." Soon, Bob Collard who had worked at Huxtable and had become McElroy's service manager, suggested Greg should move there. Bob didn't have an immediate position in service, so Greg started in construction with McElroy's on a KU project team. In a few months, a spot opened on the McElroy's service team and Greg has been there ever since.
Long-Term Relationships
"Doing service work, I enjoy the variety each day brings – going different places and solving different problems," Greg said. "Construction projects come and go, but no matter what the economy is like, equipment always needs to be serviced." Greg has built long-term relationships with customers he works for – and with the buildings he services. "While people might change over time, I've worked at Topeka's First United Methodist Church since I was with Huxtable. And my service at Aldersgate Village goes back to my early days with GMG. I'm so familiar with systems like those that when there's a concern, they can call me up and I often help them right on the phone."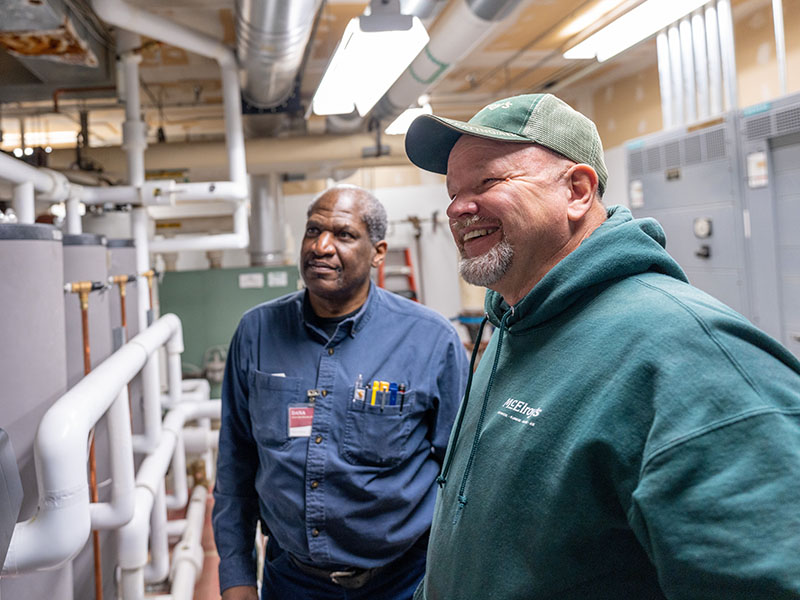 Service-Focused
"Greg is number one for us here. He's on top of everything," said Dana Anderson, Aldersgate Village associate director of maintenance. "Greg is very service-focused and extremely knowledgeable. He'll hear the squeaky belt, a motor that's out of balance, or a pump that's going bad and he'll get to the root of the problem." What's more, Greg helps Aldersgate stay ahead of potential issues. "Every spring and fall, Greg makes sure our systems are up and ready to go. He even reminds me of things to watch out for, like cottonwood seed clogging our outdoor units."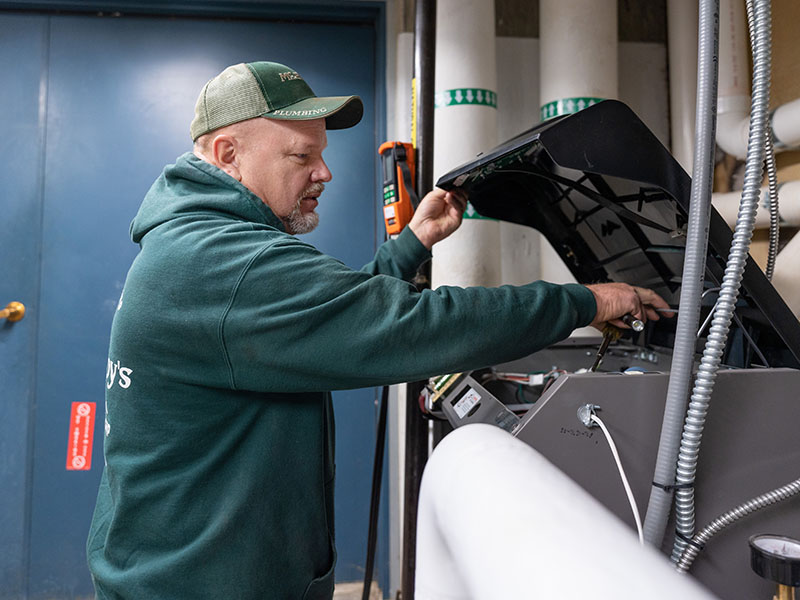 Advice for Peers
Greg also has a history of friendly service with his peers at McElroy's. "I was a neighbor of Greg's and grew up with his daughters," said Austin Jones, McElroy's commercial HVAC service technician. "I've always known Greg as the guy who fixes things. I'd see his truck at our school and know he was there solving some issue." Like Greg, Austin enjoys working with his hands. Greg steered Austin toward an HVAC career. "That was great advice, and he still offers valuable suggestions. Greg is always ready to help if you give him a call. The next day he'll follow up to make sure everything went well. Greg wants to help you succeed."
Wife & Daughters
Greg and his wife, Teresa, live on an 80-acre farm between Auburn and Burlingame, Kansas. Teresa is a radiation therapist at the University of Kansas Health System, St. Francis. When their three daughters were kids, they were active in every sport – volleyball, softball, basketball and track. Today, Kaitlyn, a KSU grad, is working for an accounting firm in Grand Island, Nebraska. Karli graduated from Emporia State with an information science degree, is engaged to be married, and works in application development for BNSF Railway. Jessica is finishing up her doctorate in physical therapy through KU Med, with her clinicals at Kansas Rehab Hospital. Now that Greg and Teresa aren't going to ballgames all over the place, they enjoy hunting, fishing, camping, gardening and riding horses together. And of course, Greg is the mechanic everyone turns to when their car is making a strange sound.
Like a Friend
After 30 years with the company, Greg might be biased when he said, "McElroy's is the best place around to work." Why, you ask? "It's the quality of the people. From everyone at McElroy's to our customers, they're the kind of folks you enjoy working with." You can see that Greg means it by the way he serves his customers and his peers. "I try to treat everyone like a friend, and focus on helping out as best I can," he said. That's exactly what McElroy's appreciates in someone who so clearly exemplifies our Service to Others core value. We offer Greg Zabokrtsky our sincere thanks for his three decades of dedicated service. We're very glad Greg's on our team!