Insights
Service Jason Long: 20 Years of Problem Solving
July 14, 2021
"Jason was a field technician for many years before moving into sales," said Cassie Benton, McElroy's customer service manager. "He fully understands HVAC service. Just last week Jason talked through a challenge with a customer in Sabetha. He solved their problem over the phone, and saved us and the customer from having to send a technician there." On July 14, 2021, we celebrate Jason Long's 20th anniversary with McElroy's. His depth of experience and willingness to help others make him an outstanding example of the McElroy's Problem Solver core value.
A Sports Family
Jason grew up in Carbondale and attended the Santa Fe Trail school district. He played every sport available in junior high. In high school he played football, playing tight end, wide receiver and corner back. His senior season, the Chargers won their league and district, qualifying for the 4A sub-state playoffs. Jason's wife Jaime played college softball for the Missouri Western Griffons, and their children are also athletically minded. Their son Talan, a high-school sophomore, plays football, basketball and baseball, and eighth-grade daughter Taylor plays volleyball, basketball, track and softball. Everyone enjoys the baseball/softball field they have at their home!
Interest in HVAC
When Jason was young, his parents were friends with Keith Watkins' parents. Keith is now McElroy's commercial HVAC service manager. "Keith is about five years older than I am and I've known him my whole life," Jason said. "While I was still in school, Keith worked on my parents' HVAC system. It looked interesting to me." Jason grew up helping his grandpa Charlie with his farm, so he already knew he enjoyed working with his hands. "Working in the HVAC trade seemed like a great move."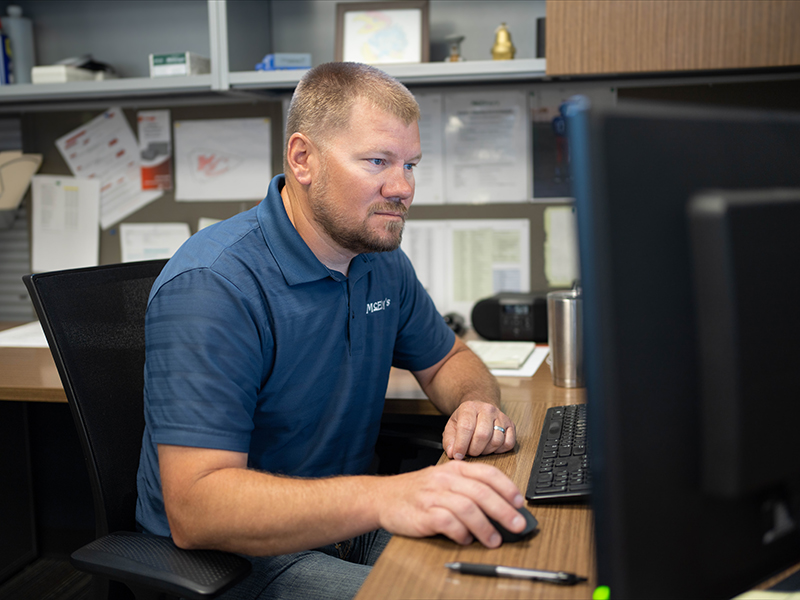 The "Premier Company"
Jason attended Kaw Area Vo Tech and completed the Heating & Air program. He got a job with an HVAC company and after about a year there a position opened up at McElroy's. "My parents always said McElroy's was the premier company, and that's where I wanted to be," Jason said. He started in residential HVAC service and installation. Over time Jason moved into McElroy's growing commercial service division. At one point he left McElroy's to join a bigger company, but he found himself doing too much of the same thing. "I got bored," Jason said. "When Keith asked me to return and work in McElroy's building controls division, I was glad to return. I plan to work here until I retire now!"
"Good As Gold"
Keith became McElroy's commercial HVAC service manager, and in 2014 he was looking for someone to focus on sales. Jason applied and got the position. "Jason's experience in the field gives him valuable sales tools," Keith said. "Customers throw challenges at Jason all day long, and he solves them – with suggestions based on real-world knowledge." Since Keith and Jason have worked together since Jason was an apprentice, Keith trusts him highly. "Jason's a hard worker and you get what he promises. His word is as good as gold."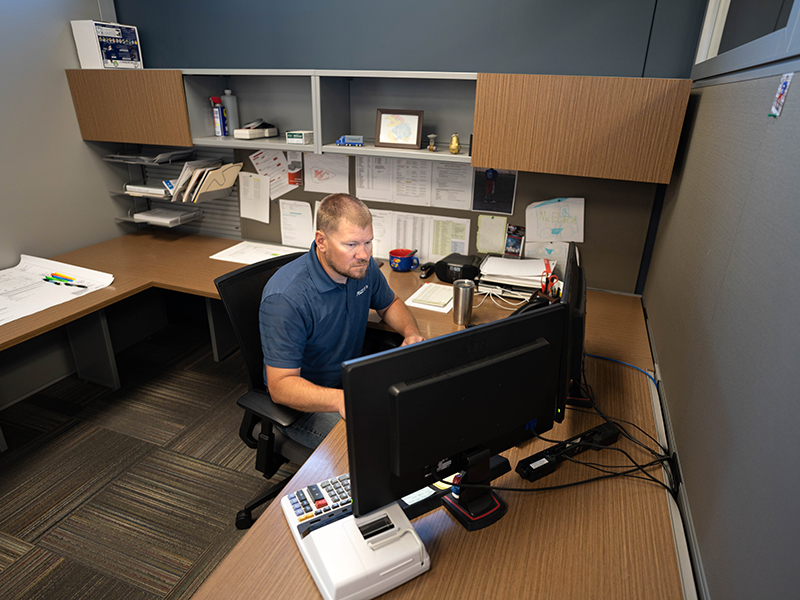 Wisest Solution
While Jason still does building controls projects, his main focus is on commercial HVAC sales – and he enjoys the daily challenges. "Customers reach out because they have a problem," Jason said. "I meet with them, evaluate the situation, and give them options and prices. It can run from a simple repair, to changing out components to a complete system replacement if that's the best choice. We really focus on what's the wisest long-term solution for the customer."
No Limits
For anyone interested in the HVAC trade, Jason suggests you should learn as much as you can. And if you get the chance to join McElroy's, take it. "We have the best technicians around," Jason said. "You'll see more and learn more at McElroy's. We take care of things other companies won't touch. There's nothing we can't fix, and there's no limit to how far you can go." We've enjoyed watching Jason grow and advance at McElroy's, and we're glad he's made the decision to make his career with us. Thank you, Jason, for providing 20 years of solutions for our customers and our team! We're looking forward to seeing the next tough challenge you'll solve!