Insights
Construction Jim Konrade: 15 Years of Working With a Smile
January 09, 2023
"Jim Konrade has worked in the McElroy's plumbing service department for both commercial and residential customers, as well as commercial new construction," said Scott Schneider, McElroy's commercial construction project supervisor. "That well-rounded experience gives him a variety of perspectives on how to solve plumbing challenges. No matter how difficult the task, Jim always approaches it with a smile." On January 9, we're honoring Jim Konrade for 15 years with McElroy's. In addition to his proven plumbing skills, Jim's positive attitude makes each day more enjoyable for everyone around him.
Oakland and the Santa Fe RR
Jim grew up in Topeka's Oakland neighborhood, the youngest of six kids. "The Kansas River was our playground," Jim said. "I'm a proud Oakland river rat." Jim attended Catholic schools, graduating from Hayden High where he participated in track, and in football as a defensive end and fullback. "My dad, Wilfred, was a general foreman for Amtrack and the Santa Fe Railroad, and his father was a boiler maker for Santa Fe. I like working with my hands, and dad always told me I should learn a trade. I've always felt that building is in my blood." Even so, Jim went to Washburn University and earned a business degree.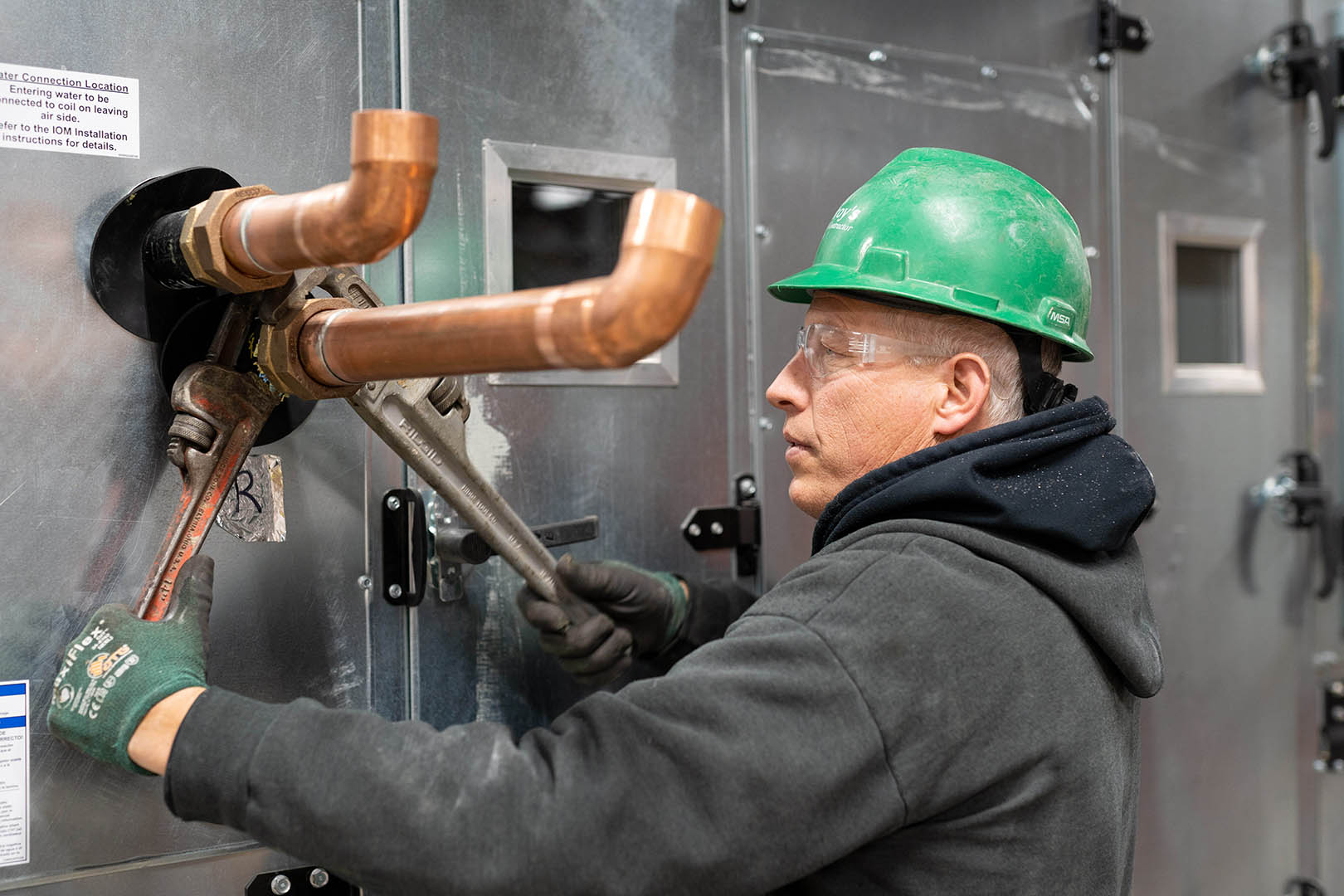 The Plumbing Trade
To pay for college, Jim put his hands to work cleaning drains for a local plumbing company. "With my degree, I guess I could have managed a Pizza Hut," Jim said, "but instead I decided to go the trades route with a plumbing and pipefitting apprenticeship." Jim joined the Local 441 Plumbers & Pipefitters Union and worked for Plumbing by Carlson for about 13 years until he was laid off during the 2008 recession. McElroy's, however, was hiring. "I joined McElroy's to work on the new Stormont Vail Ear, Nose and Throat building. After that, I helped with the new Stormont Vail Emergency Department. I've been with McElroy's ever since."
Always Happy and Smiling
An opportunity opened up in the McElroy's plumbing service department, and Jim moved into that area for about five years. In those days, Rawlyn Reynolds, McElroy's warehouse purchasing associate, was a delivery driver for McElroy's. "I don't remember Jim ever having a bad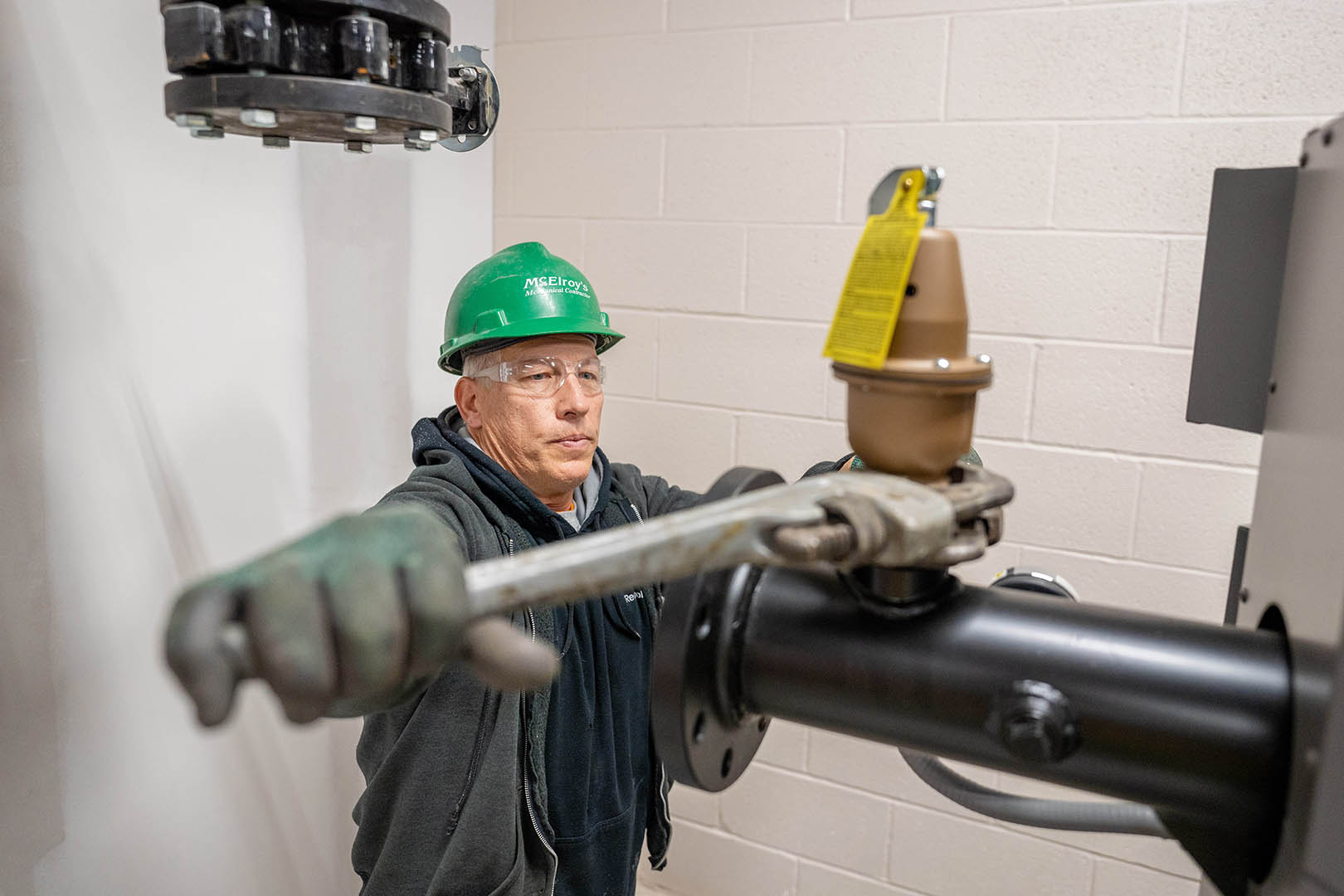 attitude," Rawlyn said. "One day Jim was on a service call, and I delivered a water heater to him – in maybe the nastiest basement I've ever seen. The steps were so rotten that one broke when Jim stepped on it. (He fixed it.) You could hardly see the ceiling through the cobwebs. But Jim was happy, smiling and joking around like he always is, every time I see him or talk to him on the phone."
His Father's Legacy
"My dad always said that whether you're in a good mood or a bad one, it rubs off on people," Jim said. "So I've always tried to be as upbeat as I can. Dad was also a stickler about craftsmanship. He wanted his work to be as perfect as it could be, and I feel the same way about mine." While Jim was working in plumbing service, his father became ill and Jim needed to devote time to his needs. "I liked plumbing service, and learned a lot in that area. But you never know when a customer will have an emergency, so the on-call hours are unpredictable. I needed regular hours to care for my dad." McElroy's was able to shift Jim back to the relatively regular schedule that comes with the construction side – to help meet his family's needs.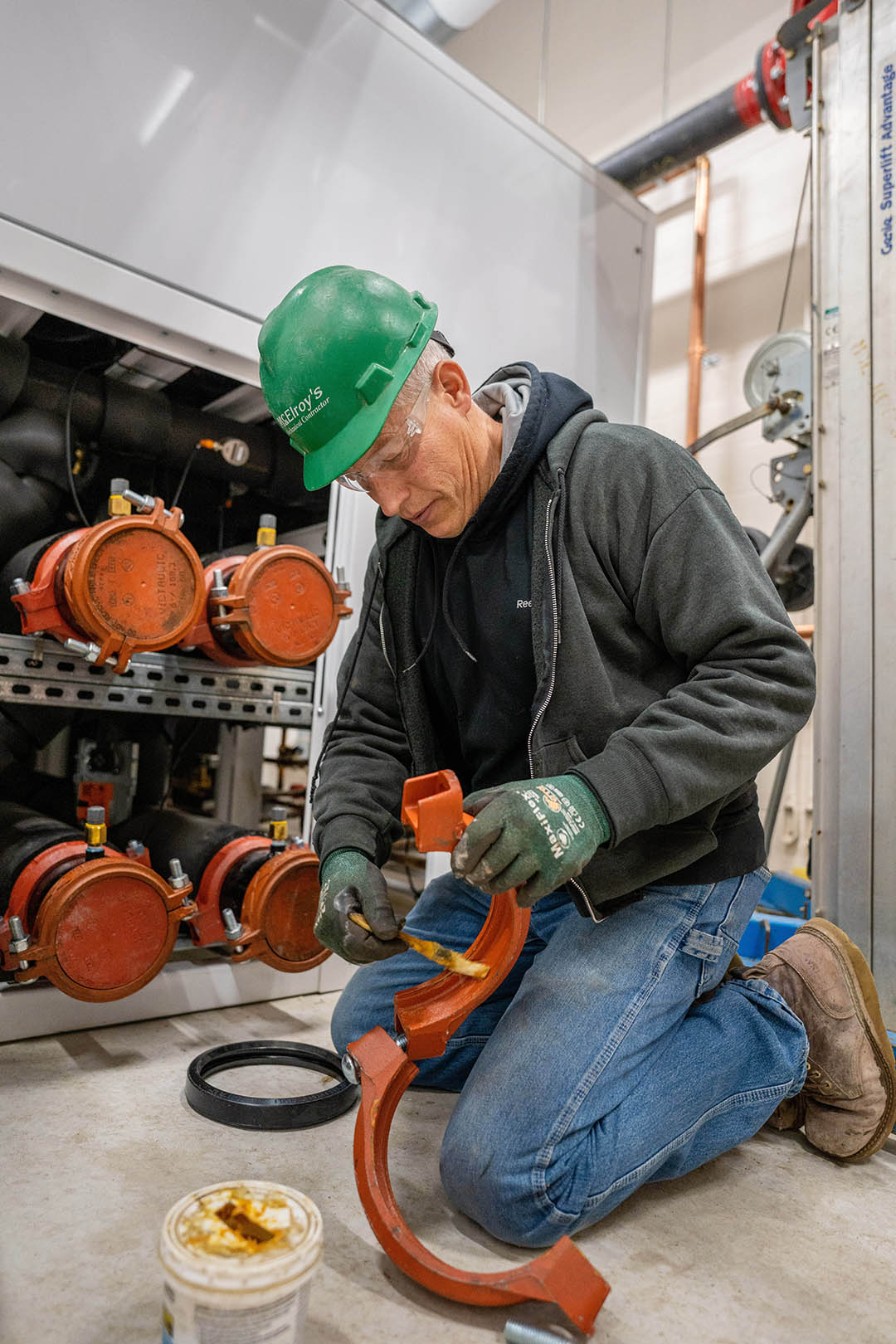 Friends With Everyone
Scott Schneider said that one of many things that make Jim a great commercial construction technician is that his good humor is infectious – it creates a positive work environment for everyone. "I just want to be known as a good guy who gets along with everybody on the job site," Jim explained. Jim doesn't just mean his peers on the McElroy's team, he means ALL the trades who are working together. "I try to be friends with everyone. You know you'll see them again on the next project, and the one after that."
Proud Husband and Father
Jim has been married to Leah for 30 years. She is the clinical secretary for the Diabetes Services Department at Stormont Vail Hospital. True to Jim's lifelong love of the water, the couple lives near Lake Perry where they enjoy the boat dock, camping and lake activities. "We have three kids," Jim said. "They're all K-State grads, and all of them are engineers. We're very proud of what they're accomplishing." Kendall, age 27, is a chemical engineer for Zeeco in Broken Arrow, OK. Logan, 25, is a mechanical engineer for Harris Fabrication in Topeka. And Luke, 22, is a construction engineer for Haas Metal Engineering, also in Topeka.
Happy Attitude
"When you're working on new construction, you start with a clean slate and every day you see progress. I like that," Jim said. "Working in the plumbing trade, there's always something interesting to do, something new to learn. I enjoy coming to work every day." McElroy's enjoys having Jim Konrade working with us every day. His experience and skill make everyone around him better. Even more than that – it's his happy attitude we appreciate the most. It's infectious. And it makes everyone's day a little brighter. Thank you, Jim. We look forward to you coming to work with us each day for many years to come!