Insights
Joanne Ortiz: 15 Years of Accuracy
January 29, 2021
Craftsmanship
Joanne Ortiz celebrates her 15th McElroy's work anniversary on January 30, 2021, and we want to honor her for exemplifying the McElroy's Core Value of Craftsmanship. Joanne takes a craftsman's approach to working with information and numbers, paying strict attention to details and taking pride in accuracy. She also has a history of craftsmanship in the more traditional sense – designing and building things.
Family Business
Joanne grew up in Topeka and attended Washburn Rural schools. After graduation, she completed vocational training for the secretarial/office field. For a couple of years, Joanne worked at the Timberline Unfinished Furniture store, learning about different woods, stains and finishes. So in 1983 when her mother, Sharon, founded Creative Cabinetry, Joanne was eager to join her in the wooden cabinet business.
Work Ethic
"I worked with my mother for 22 years doing everything regarding wooden cabinets," Joanne said. "I took measurements, drew designs, built and finished them." One regular customer was Charlie Campbell. He bought cabinets from Joanne for construction customers and his own home. He was impressed by her work ethic and her mind for details. Charlie moved on to become the plumbing department manager at McElroy's.
Joining McElroy's
In 2005, Sharon and Joanne closed their company. "Charlie told me McElroy's was looking for someone to help with plumbing-service pricing," Joanne said. Her ability to understand every facet of a project, from the time it takes to do the job to the materials used, made her an ideal candidate. She was hired the day of her interview. "I love McElroy's," Joanne said. "The atmosphere is comfortable, everyone is willing to help, and there's always plenty for me to do. I like getting things done!"
Trustworthy and Fair
At McElroy's, Joanne looks at completed service projects and makes sure that the time and materials logged are complete and accurate. She knows so much about what plumbers and HVAC technicians do that she'll spot a missing part, or notice time that's too long or short. "Her in-depth knowledge is great for our customers," said Beth Pritchett, McElroy's accountant. "Invoices based on Joanne's pricing are trustworthy and fair, and any questions can be easily answered."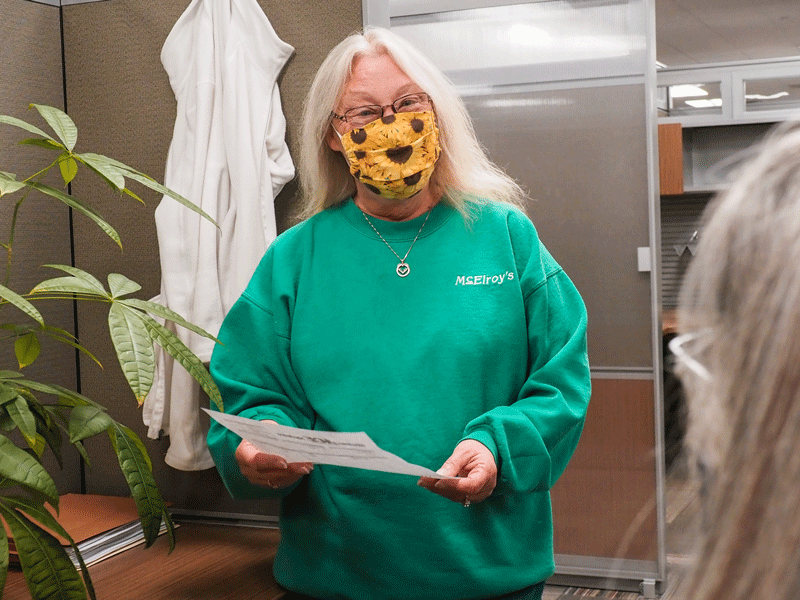 High Standards
"Over the years, Joanne has learned how to price every service we do," said Nathan Stillings, McElroy's CFO, "and she genuinely cares about making sure everything is correctly accounted for. We've grown and evolved, so Joanne now focuses on HVAC and sheet metal services. But she can step in to help with anything, and she's trained several people to do pricing with her high standards."
Family
Joanne enjoys spending time with her three adult children: Jonathan and twins Danielle and Jacob. She also has a married stepson, Ray, who lives in Texas with his wife and three kids. "I love being around my kids," Joanne said. "When we have the chance, we enjoy outdoor activities like camping and fishing." McElroy's enjoys having Joanne as part of our family, too. "There's no place I'd rather work," said Joanne. "I hope to be with McElroy's until I retire!" Thank you for 15 great years, Joanne. We're looking forward to many more!