Insights
Service Julie Schirmer: 10 Years of Friendly Caring
September 30, 2022
The outdoor temperature is near a record and your heater or air conditioner just quit. Who wouldn't be stressed and cranky? Call Julie Schirmer at McElroy's – and relax. "Julie is consistently positive and caring with our customers on the phone," said Greg Hunsicker, McElroy's vice president of residential HVAC sales and service. "She makes people feel very important because she's genuinely concerned about them and wants to provide solutions." On October 1, we celebrate residential HVAC service rep Julie Schirmer's 10th anniversary with McElroy's, and we honor her for being the embodiment of our Positive Attitude core value.
Service With a Smile
Julie grew up in Berryton, just south of Topeka, Kansas, and attended the Shawnee Heights school district. She started her first job at age 14, working at Dairy Queen.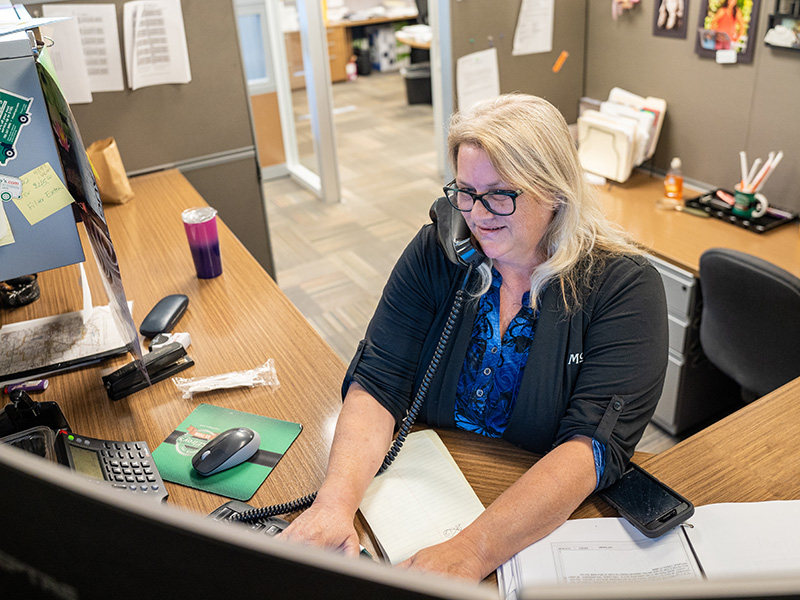 "I was shy and quiet in school. But at work, I was trained in service-with-a-smile," Julie said. "All my customer interaction today is over the phone, but I still make it a point to smile. Customers hear when you're smiling, and it shows them you're friendly and caring." From her fast-food beginnings, Julie moved into a variety of jobs at car dealerships, in sales and as a service department rep. "I never stayed anywhere very long. After a couple of years I'd get ants in my pants and want to move on."
Learning the HVAC Biz
Eventually, Julie started working for a distributor of products serving electrical contractors. During three years there, she worked in the office, the warehouse and in counter sales. From there, she took a job at a distributorship for Goodman Manufacturing, a residential air-conditioning and heating systems company. "I was trained by David Horton, whose goal was to train people well enough that they could replace him," Julie said. "He was a terrific mentor and I learned a lot about the heating/ventilation and AC (HVAC) business."
McElroy's Opportunity
When the "ants" urged her to move on again, Julie was lured into a new position with a distributor of plumbing and HVAC supplies. It didn't go well. "What they told me I'd be doing, and what the position really was were very different things," Julie said. "It was a fiasco." Fortunately, while Julie had been at Goodman, a customer of hers was Keith Watkins, McElroy's commercial HVAC service manager. When a position opened up at McElroy's, Keith thought of Julie's customer service skills. He called her and said, "This is the job for you."
Thriving on Chaos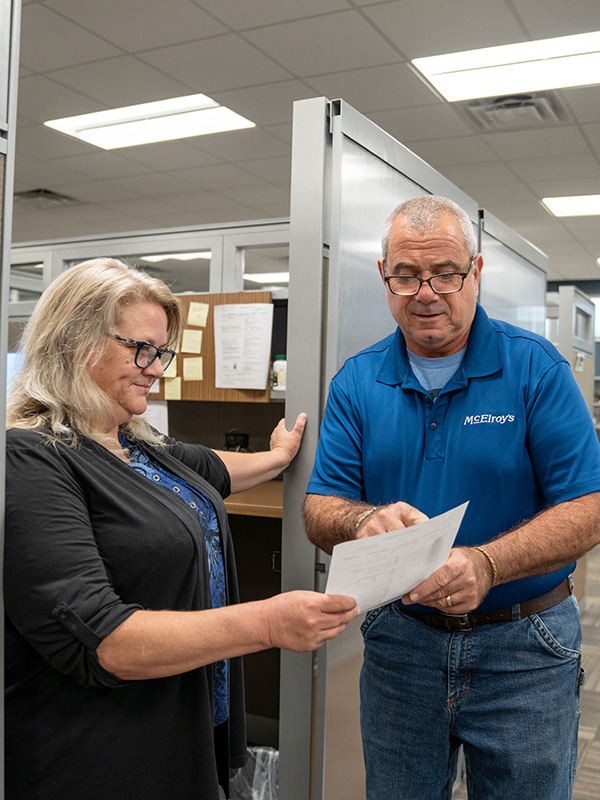 Julie joined the McElroy's team as a customer service rep, taking customer calls and dispatching technicians to do the work. "When I started at McElroy's, I assumed it would be like every other job I'd ever had – I'd be moving on in a few years," Julie recalled. "But no. I quickly discovered this is my thing. I love it and seem to do well at it." Customers call with emergencies and every situation is different. Some days are sheer chaos, and Julie thrives on it. "You have to be a little crazy to think chaos is fun, but I really like talking with people and helping them out."
Calming Influence
"Julie listens thoughtfully and responds in ways that assure customers she's treating them like a friend," said Cassie Benton, McElroy's customer service manager. "She adjusts to almost any situation and personality type, and customers like her calming influence." Among her peers, Julie helps out with a consistently positive attitude. "Julie is reliable, rarely complains and she gives and receives help with a smile."
Easy Going, Even Keeled
Julie says the dispatching part of her job is like putting puzzles together – matching the skills and personalities of the McElroy's technicians with individual customers and their needs. Phil Salsbury has worked on the McElroy's HVAC team for nearly 40 years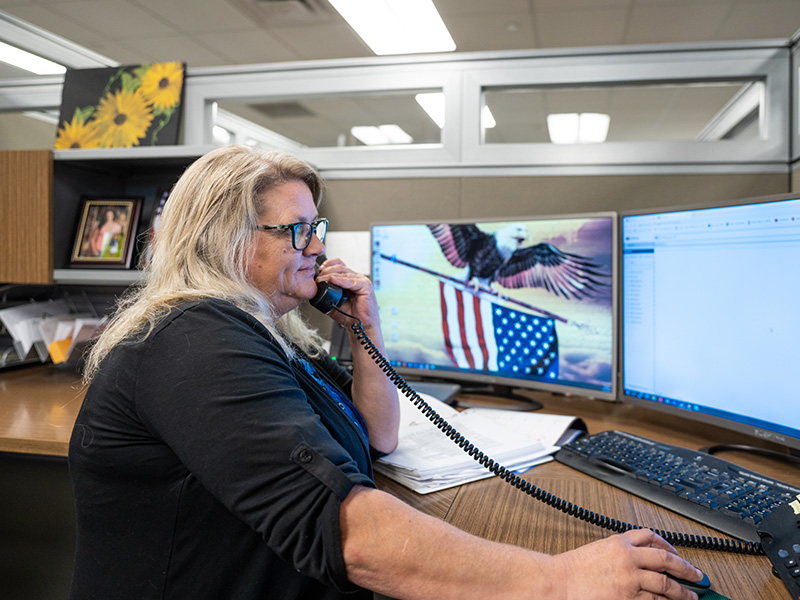 and knows how important a good dispatcher is. "Julie is easy going and nothing rattles her," Phil said. "She gives me the up-front information I need to do the job right. When I have a question, she replies quickly. Her kind and soft-spoken voice makes everybody – customers and techs – feel more at ease. She's terrific."
Purpose
Part of Julie's even-keeled nature may be her strong relationship with God. "I feel God gives everyone a purpose," Julie said. "If we're paying attention, God gives us messages to help us along. The signs may not be clear at first, and they're not always what we want to hear – but they're there to help us if we'll listen." Julie said her family members all know how she feels about her faith, about each of them, and her future. "Death doesn't worry me. I'm content with where I'm going."
Family
Julie's three kids are grown. Daughter Shelby lives in Omaha and is due to have a baby at year's end. "My first grandkid!" Julie said. Her other daughter, Jodi, works at Happy Basset Barrell House, a brewpub in south Topeka. Her son Tanner works at McElroy's as a residential HVAC technician. "He was a nuclear mechanic in the Navy, so he understands thermodynamics," Julie said. On Fridays, Julie always wears something red. "R.E.D. stands for Remember Everyone Deployed," she explained. "It's a way to remember our troops, wherever they're serving."
No More Ants
So now Julie has been with McElroy's at least three times longer than any other job she's had. "I love it here. This job is my social life – our customers and my coworkers," Julie said. "Our President, Dan Beal and his wife Paula actually, genuinely listen to their team and care about each of us. Paula is a true friend." And of Greg Hunsicker, Julie said, "I love working with Greg. We have the same mentality about treating customers right. I know what he expects and he never has to guess how I'll handle things." Julie – we're glad you've settled in with McElroy's for the long haul, and that those ants-in-the-pants won't be driving you anywhere else. We're looking forward to many more years of the Positive Attitude and friendly style you share with us all!