Insights
Service Linda Lillard: 10 Years of Building Trust
September 10, 2021
While working from home has gone from being rare to very common, it hasn't always been successful. It requires capable and reliable employees who can thrive on their own. "Beyond getting all her usual job duties done, Linda has taken on even more roles and responsibilities since shifting to her home office in the spring of 2020," said Keith Watkins, commercial HVAC service manager. "Linda's a self-starter who knows her job well and works with minimal direction. She's a valuable team member I can rely on." We're celebrating Linda Lillard's 10th anniversary with McElroy's on September 12, 2021. Linda's proven dedication to meeting the needs of our HVAC and plumbing service-agreement customers makes her a great example of the McElroy's Trustworthy core value.
Do It Right
Linda grew up in mid-town Kansas City, Missouri, near Southwest Boulevard. "I was in the middle of six siblings who were raised with strong values and a solid work ethic," said Linda. "Mom and dad always said if you're going to do anything, you should do it right." Linda went to college close to home at the University of Missouri–Kansas City, where she earned her bachelor's in Business Administration. "It came easily to me. I enjoyed learning about supply and demand, market share and business processes. I never wanted to own a business myself, but I've always been driven to be a leader with big-picture thinking."
Customer Satisfaction and Growth
Linda's affinity for business processes helped her make big impacts in her jobs. At Birch Telecom she became the leader of a 30-person team focused on commercial T-1 internet installation. She established procedures that streamlined processes. "In six months we trimmed order turnaround from 90 days to 16 days," Linda said. She also developed a new key-account management program and was named director of key-account sales. Linda then went to LaGarde, a software company in Olathe, Kansas. "I created a technical support call center for website hosting, design and SEO services. In 18 months we grew from three employees to 75, and by year two had generated significant aftermarket sales."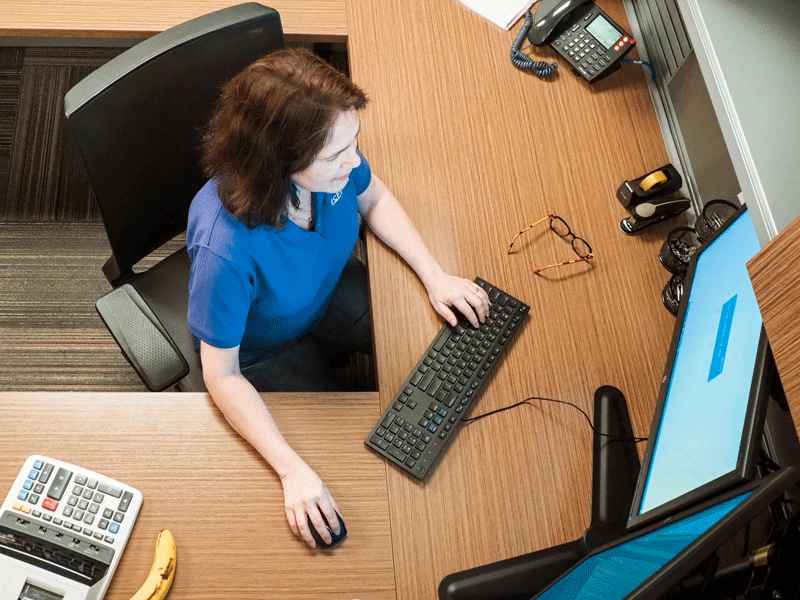 maintenance contracts
Linda was working for Johnson Controls in Kansas City when she impressed Keith Watkins with her customer service. He wanted to add her to McElroy's growing commercial HVAC service team, so Keith and Dan Beal, McElroy's president, went to Kansas City to recruit her. "Keith hired me to sell preventive maintenance contracts for commercial HVAC customers," said Linda, "and we added residential customers later." Linda now handles close to 2,000 service agreements. About 90 days ahead of every commercial contract renewal date, Linda gives each customer a service-satisfaction call. "I make sure they're happy with every aspect of our service, and I find out if there's anything we could do better." In addition to the customer relations duties, she manages entry of the contracts and provides detailed cost/income analyses.
Reliable With a Smile
"Linda is detail oriented, manages her workload very well and is extremely accountable," said Cassie Benton, McElroy's customer service manager. "Linda is great at explaining things to customers, who never have to worry about the status of their contract. She shows her caring personality by always wearing a smile as she pulls through for our customers and our team." Cassie describes Linda as a loyal member of the McElroy's family. "She joined McElroy's knowing she'd be commuting from Kansas City, and she did that reliably for many years. Working from home, she's as dependable as ever. You can trust Linda to help with anything – day or night."
Faith and Family
Building on the values she grew up with, faith and family are very important to Linda. "I have two sons and a daughter, and five grandsons ages eight to 14," she said. "My oldest son and his four boys live in Louisiana, and my daughter and her son live near me in Kansas City." Linda enjoys flower gardening, and finding treasures at thrift and antique stores. "I also enjoy hosting dinner parties for which I cook. There's a special satisfaction in making something delicious for family and friends."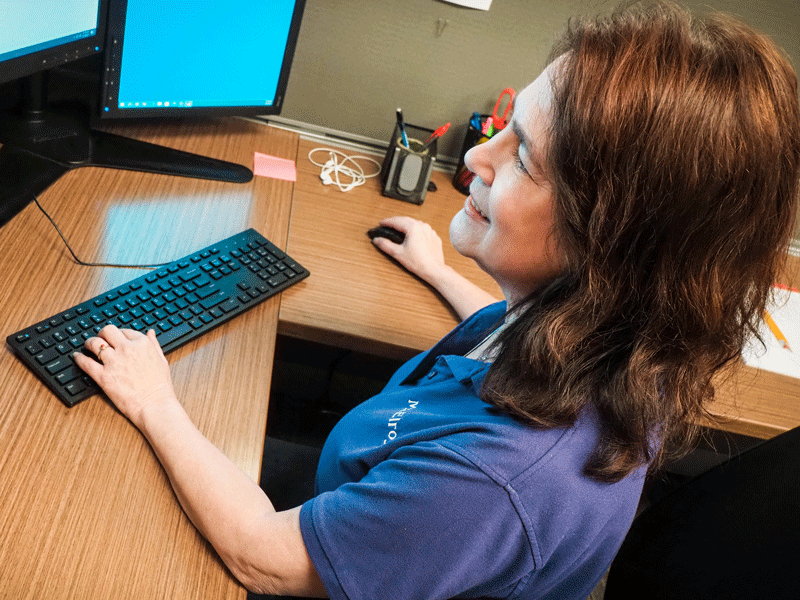 philosophy of caring
When asked how she likes working for McElroy's, Linda said, "McElroy's values their team members as people and respects our contributions. They equip us and take care of us, including good pay and benefits – and that philosophy of caring carries over to the customer." In 1951, Homer McElroy founded the company that bears his name on the principal that great employees are the foundation of any successful business. That core philosophy continues 70 years later, resulting in outstanding employees like Linda. Her dedicated reliability, big-picture thinking and follow-through make her a trusted partner for her team mates and customers alike. Thank you, Linda, for being such a dedicated member of the McElroy's team!