Insights
Construction Nate Zirkle: 10 Years of Can-Do Attitude
November 04, 2022
Construction plumbing/pipefitting work can be challenging at times. If things aren't going together as they should and frustration is setting in, count on Nate Zirkle's good-natured voice of experience to tell the team, "No worries. We'll figure this out." That positive attitude turns into solutions, the work gets done and everybody is happier. On November 6, we're celebrating Nate Zirkle's 10th work anniversary with McElroy's. We're glad to celebrate his outstanding mechanical skills and we-can-do-it attitude.
Rural Roots
Nate enjoyed his youth in rural Harveyville, southwest of Topeka. Working on the family's cattle and hay operations helped him develop mechanical skills and well-rounded common sense. "There's always something to fix on a farm," Nate said. "For example, I helped my grandpa rebuild a tractor and I tore down and rebuilt several cars." His father, Brian, is in the concrete business and Nate started working summers there at age 14. After graduating from Mission Valley High School, Nate worked a couple of years for a Topeka handyman contractor.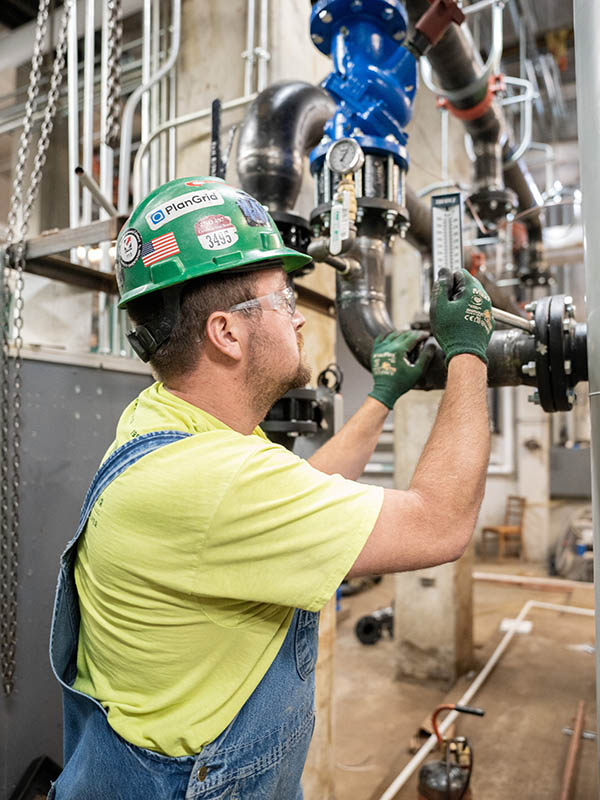 Turning Wrenches
"Since I was a kid, I've always been turning wrenches," Nate said. "So I decided to make a career out of it." Nate enrolled in the Heating, Air Conditioning and Refrigeration program with WTI and took night classes for 18 months. At age 20, he joined the Plumbers and Pipefitters Union Local 441. "I worked for about a year on a couple of projects with P1 Group, and then some projects with other contractors for a few months." It was good work, but not consistent, and he never felt like he was part of a team.
McElroy's Opportunity
During a high-school career day, Nate had done a ride-along with a McElroy's residential HVAC service technician. "McElroy's seemed like a good company to work for, but I didn't think I'd like going into people's homes," Nate said. But in 2012, a project opened up in the McElroy's construction division. "I started working on an HVAC job at the Landon State Office Building led by Brian Bergquist, and I've been on the McElroy's team ever since."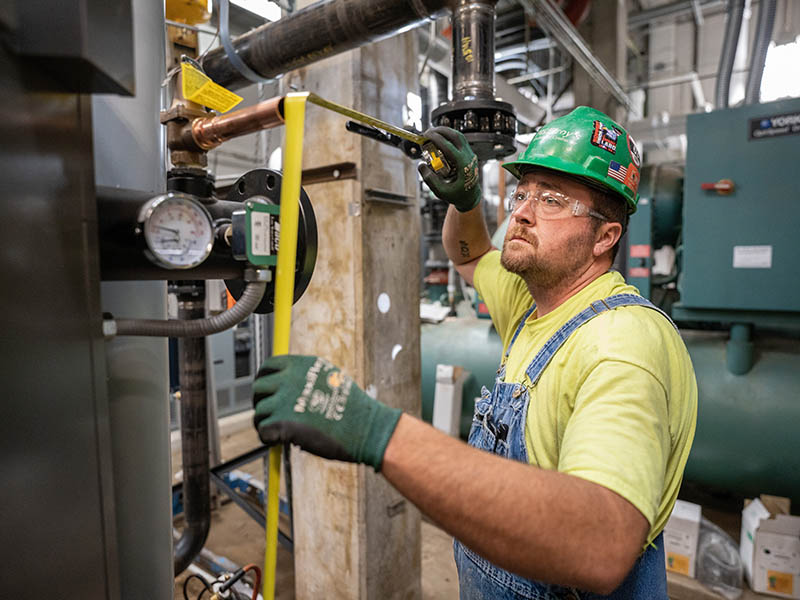 Ability and Attitude
Soon Nate went to work with Brian's brother, Dusty Bergquist, on McElroy's projects in the Lawrence, Kansas area. "Nate is a solid technician," Dusty said. "He has the skills and ability to accomplish difficult tasks, and he's always very attentive to the details. I especially enjoyed having him on the team because of his great attitude. No matter how challenging the issues might be, Nate always looks for the most positive outcome."
Helping Peers Grow
After becoming a journeyman, and with a few more years of field experience, Nate started leading projects. Levi Strathman, who recently became a journeyman himself, gained several years of experience with Nate. "He's a jack of many trades," Levi said. "From doing concrete to building diesel engines, Nate can adapt and overcome any challenge." Nate has a special way of helping his peers to learn and grow. "Nate likes to teach by letting you do it yourself. Many times he watched me struggle through figuring something out. Now I understand he was training me to develop my own problem-solving skills."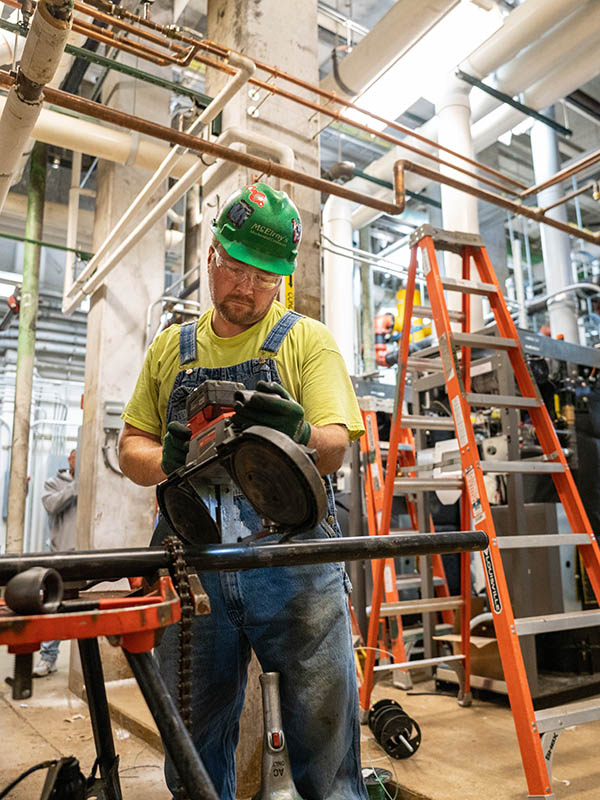 Greener Pastures?
In recent years, Nate has played a key role is some large and complex construction projects. He served as plumbing/pipefitting foreman on Bev-Hub, a canning and bottling co-packing plant near Manhattan, Kansas, for which McElroy's was the Design-Build firm. Nate just completed leading the McElroy's team on construction of the new 200-dock Old Dominion Freight Lines terminal near Bonner Springs, Kansas. "At McElroy's, they know you and care about you," Nate said. "I've seen guys leave, thinking there are greener pastures. And then they come back. I have great opportunities with McElroy's, and I'm glad to be here."
Family Life
In 2011, Nate married his high-school sweetheart, Courtney. She studied AutoCAD, a computer-aided drafting software, and is a designer for PKMR Engineers in Topeka. "We each understand what the other does at work, so we can have some great conversations," Nate said. With their son Hank, age six, and daughter Henley, two, the family lives on about 12 acres situated between Auburn and Carbondale, Kansas. Nate's parents, grandmother, three brothers and two sisters still live near Harveyville. "We all enjoy hunting, fishing and four-wheeling. And of course I like to help out friends and family by fixing things."
"Nate will pick you up!"
"Nate can talk with anyone about anything," Levi Strathman said. "That's one reason people enjoy working around him. You feel like you've been buddies for years. And any time you're not feeling on top of your game, Nate will pick you up and get you motivated!" Positive Attitude is one of the five McElroy's Core Values, and Nate Zirkle is as good an example as you could ever find. Add to that his exemplary technical skills, craftsmanship and leadership and it's clear why McElroy's is so pleased to have him as a 10-year member of our team. We offer Nate our heartfelt thanks and look forward to many more years with him at McElroy's!