Insights
Construction Phil Harper: 20 Years of Smiling Expertise
July 20, 2023
"For such a sharp, technically minded guy, Phil Harper is a lot of fun," said Wade Jueneman, McElroy's vice president. "He's the commercial construction team's go-to expert regarding cooling, refrigeration, thermostats and electronics. Smart as he is, he's also a pleasure to work with. No matter the challenges, he's always upbeat and smiling." On July 20, 2023, we'll celebrate Phil Harper's 20th anniversary as a member of the McElroy's team. We're proud to honor Phil as a commercial project supervisor who leads by example with both a wealth of knowledge and a happy, easy-going style!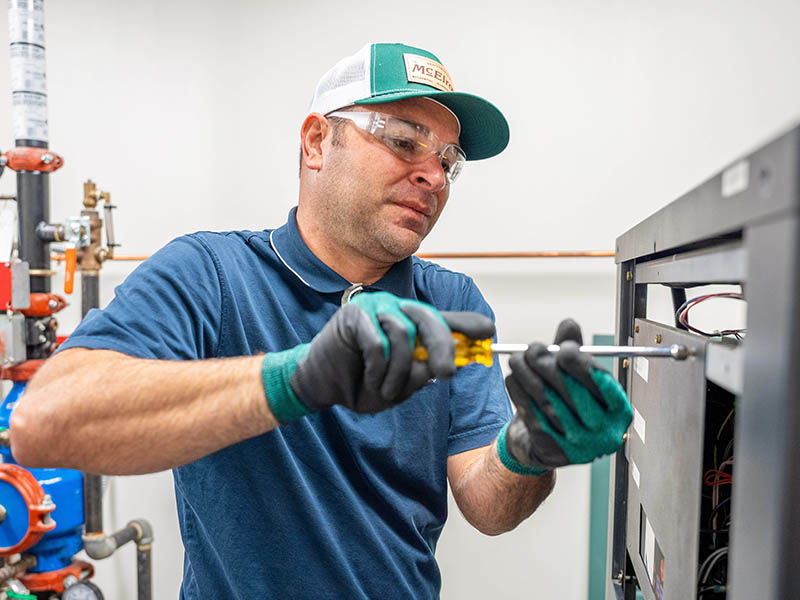 The Bus to HVAC
Phil grew up on a farm near Soldier, Kansas, northwest of Holton. He attended school at Jackson Heights High School, where he met his bride-to-be, Erica. "This was the starting point of where I am today," Phil noted. "It was our junior year of high school and Erica thought it would be good to take a Photo Technology course from the Vo-Tech program at Kaw Area Technical School in Topeka," Phil said. "So, I decided to enroll in a couple of their HVAC courses. Truth be told, I didn't want her riding the bus with all the other guys." It turned out that Phil enjoyed the classes. "I like working with my hands, and it was something different every day." After graduating from high school, Phil completed his Vo-Tech studies and earned a Certificate in (HVAC) Heating, Ventilation, and Air Conditioning.
The Bone Pile
With his HVAC Certificate in hand, Phil followed a friend's advice and applied for a position at McElroy's. "I started working in the residential HVAC department," Phil said. "I enjoyed the work until things slowed down. They kept me busy by working on 'the bone pile' – cutting up old heating and cooling units for scrap." Phil wanted more opportunities to learn and advance, so after about a year, he joined the Plumbers and Pipefitters Union Local 441. This opened the door for him to become part of the McElroy's commercial construction team.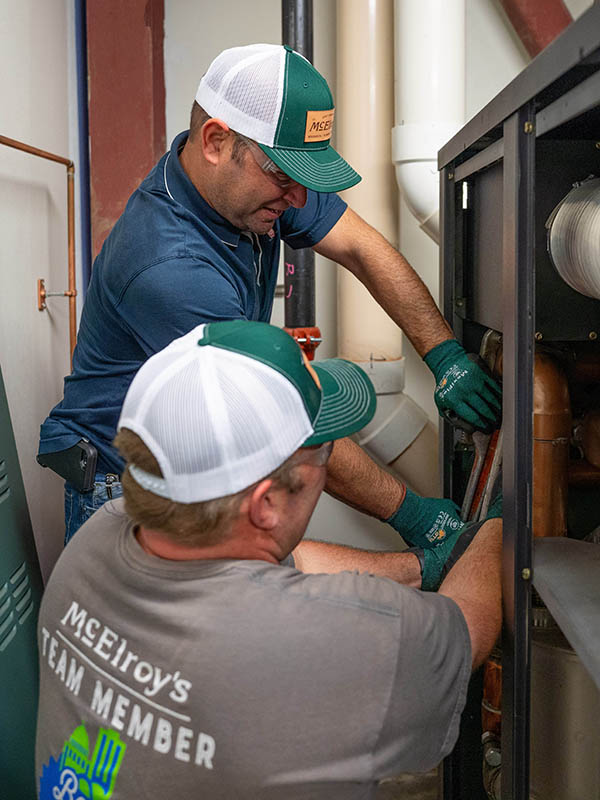 Tropical Birds
"My first project in commercial construction was a chiller replacement at Ottawa High School. It was much more involved than what I'd done in residential, and I enjoyed the challenge," Phil said. "The most memorable project, though, was replacing the rooftop cooling units at the Topeka Zoo's Tropical Rainforest. It's a huge dome-covered environment filled with tropical trees, plants, animals and birds. It was kind of an adventure setting up the new thermostats inside with these colorful birds flying all around."
High-quality Leader
"I started working with Phil on my first day with McElroy's, in July 2009," said Brent Eisenbarth, now a designer on the McElroy's Building Information Modeling Team. "He's a good leader who teaches people how to do high-quality work, so there won't be any customer call-backs. Phil is always there for the guys he supervises, and his team loves the heck out of him. In all the time I've known him, I've never seen him in a foul mood."
Building Controls
Phil had worked in commercial construction for McElroy's for about 12 years when he was asked if he'd like to work in the company's building-automation department. "I was ready for something new, so that sounded good to me," Phil said. "I learned to program and install building controls made by Trane and Schneider Electric. The new technology was fascinating and fun." After about four years though, another company beckoned, and Phil left McElroy's.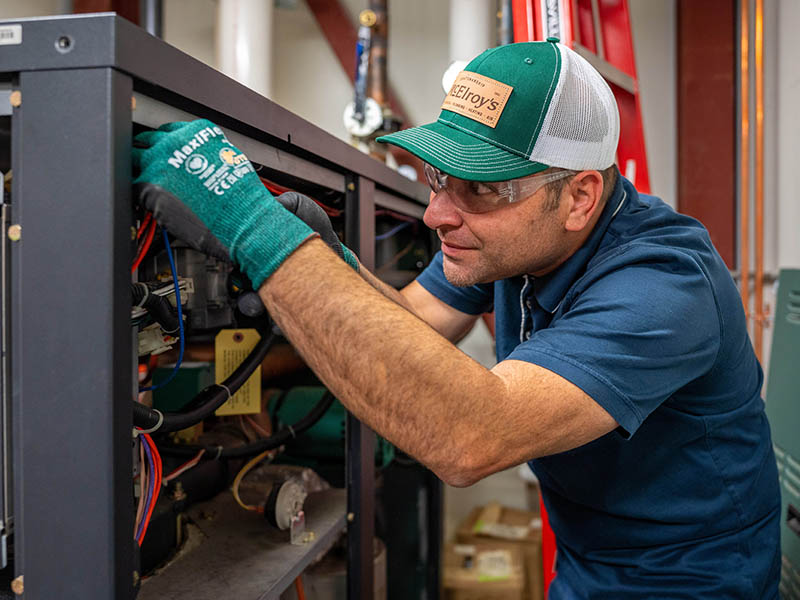 Project Supervisor
"The new company was fine, but they had me commuting from my home in Valley Falls to Manhattan – which took a three-hour bite out of every day. That was hard on my family," Phil said. "Plus, I missed the environment and colleagues at McElroy's." It wasn't quite a year before one of those colleagues asked Phil to return to McElroy's – he was glad to. "There is a great team at McElroy's, and I came back for that comradery." In late 2022 Phil was promoted to commercial project supervisor. His area of expertise is heating and refrigeration, building controls and system startups. "It's a lot of responsibility, overseeing a wide variety of projects, but I like seeing a completed product and it's just my personality to see it through – whatever it takes."
Family Life
Phil and Erica live just outside of Valley Falls with their children, Elliot, age 12 and Ava, age 10. Erica earned an Elementary Education Degree and currently teaches third grade at the elementary school in Effingham. Elliot and Ava both enjoy soccer and all things technology. The family likes camping and short vacations – especially going to water parks. Phil gets satisfaction from working around the house. Together they tend their small farm of chickens, a few cows, and a couple of pigs every now and then.
Brightens a Room
"Phil taught me a lot about system startup and controls," said Preston Bond, also a McElroy's commercial project supervisor. "He has tremendous knowledge, and he's able to communicate complex information clearly to technicians in the field and to customers. His combination of expertise and friendliness make him ideal for training owners about how their HVAC systems work." We celebrate you, Phil Harper, for building 20 years' worth of specialized knowledge which you share with an impressively positive attitude. Your peers look up to you, and everyone appreciates how your personality brightens a room!