Insights
Residential Phil Salsbury: 40 Years of Troubleshooting
June 15, 2023
"Phil Salsbury has developed many friendships and a high level of trust with hundreds of residential HVAC customers," said Greg Hunsicker, leader of McElroy's residential HVAC team. "Over his four-decade career, Phil has grown an incomparable ability to troubleshoot complex system issues and provide smart solutions. Generations of customers have been happy to see Phil arrive in their time of need!" McElroy's is proud to say we'll celebrate Phil Salsbury's 40th anniversary with our team on June 18. Soon after, we'll be wishing Phil the very best of retirements when he embarks on his next life-adventure starting August 1.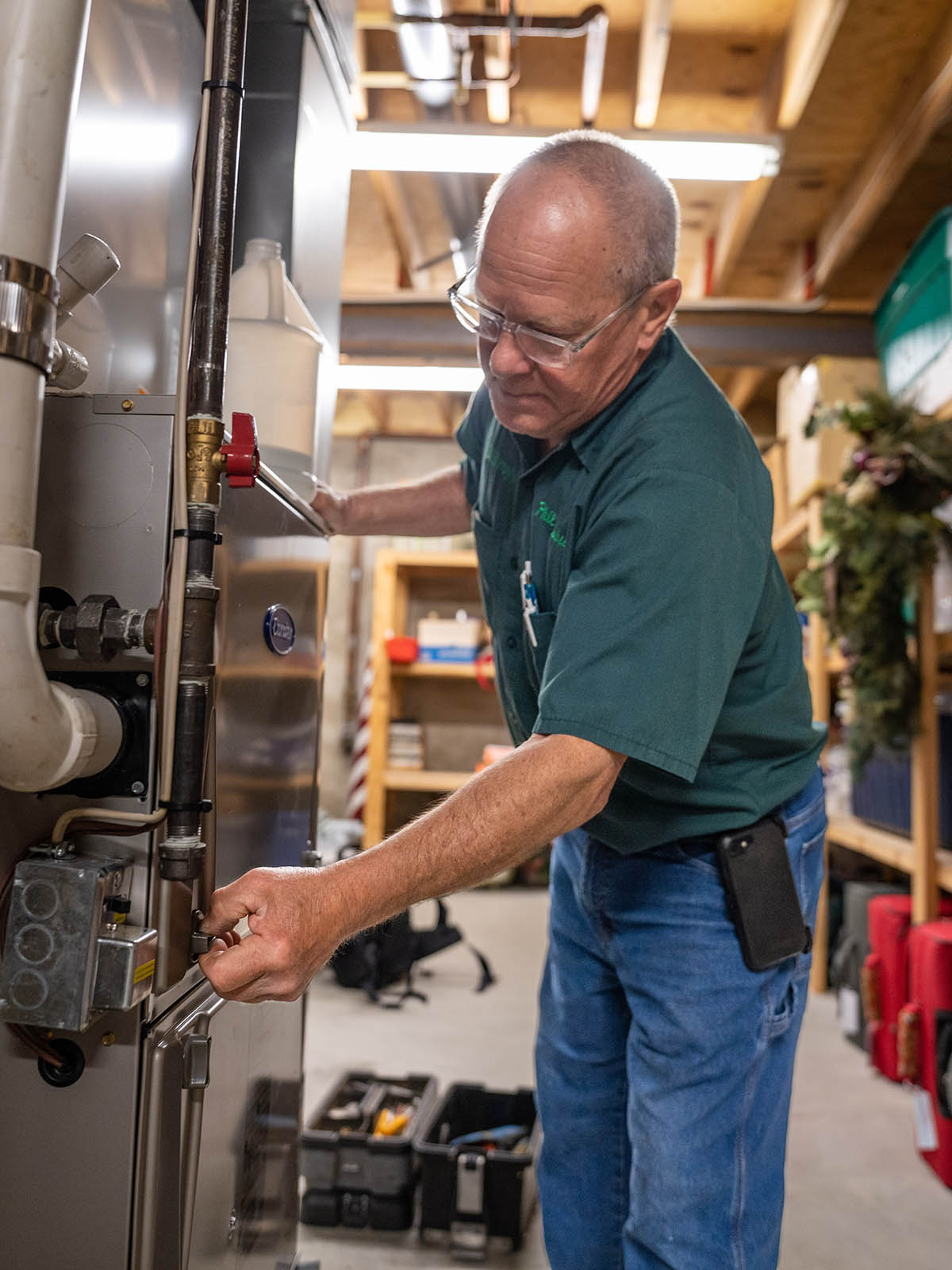 Shop Class, Cars and Bikes
Phil was born in Topeka, Kansas, the youngest of five. His father was a builder – a carpenter all his life – and the family moved around a bit to follow work. Eventually, they moved to Overland Park where Phil attended Shawnee Mission South. "I enjoyed all the shop classes – metal, wood, automotive – and I liked working on cars and racing dirt bikes," said Phil. "I still keep in touch with my motorcycle buddies from high school." After graduation, Phil worked in construction for a while, helping with concrete and carpentry. But a 1978 motorcycle accident damaged Phil's right shoulder, and shifted him to indoors work for a while.
Parts Department
Phil's oldest sister, Suzy, is married to the founder of DL Smith Electric, who was looking for someone to work in his company's parts department. Phil went to work for DL for several years, but he missed the satisfaction of mechanical work. In 1980, Phil married Brenda. "Phil can take anything motorized and make it run. That's what he enjoys the most," Brenda said. "While Phil was at DL Smith, I worked for a company that sold lighting, and Jerry McElroy (then McElroy's president) was a frequent customer. I knew what Jerry and his father Homer stood for, and that McElroy's was a substantial Topeka company. So I asked Jerry if he needed an HVAC guy on his team. He said he'd be glad to talk with Phil."
Learn Everything
"I got an interview with Jerry, and he was impressed by my strong desire to work with my hands in the field," Phil said. "I really appreciate the opportunity he gave me." Phil worked for McElroy's in HVAC construction and residential service for a while, and then settled into commercial HVAC service for eight years. "I wanted to learn everything I could – to thoroughly know HVAC – also including refrigeration, coolers and freezers. To be a strong troubleshooter takes wide-ranging experience."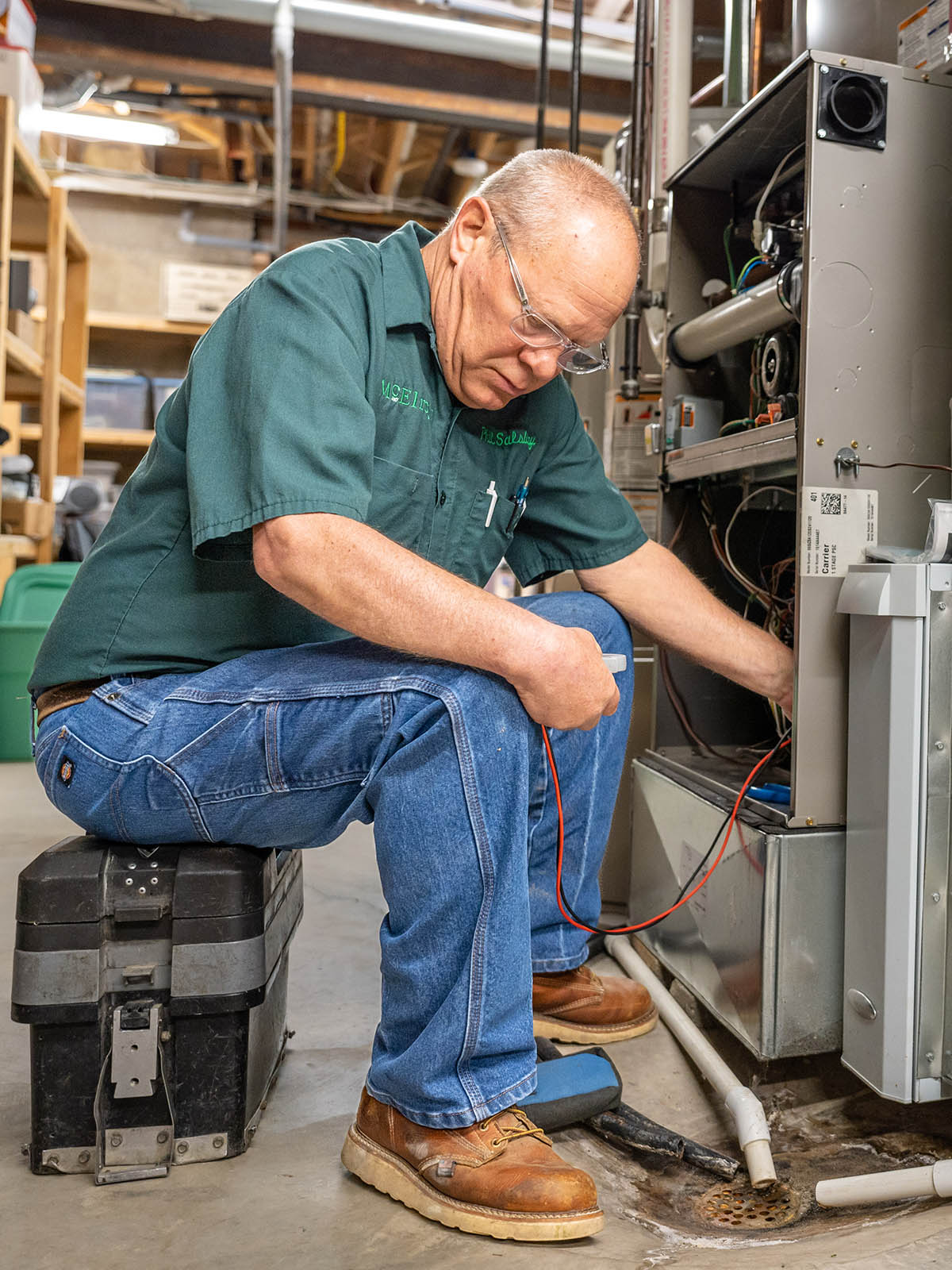 Residential HVAC
From the residential work he'd done early on, Phil knew that solving challenges for homeowners really appealed to him. When the chance to join the McElroy's residential HVAC team full-time came up, Phil was happy to take it. "Phil is a mechanical genius," said Julie Schirmer, McElroy's residential HVAC service rep. "Every customer has a different HVAC system and different problems. Phil can fix unique equipment that no one else can touch. His willingness to go above and beyond is off the charts. He can and will solve any emergency at any time! Customers absolutely love him – even, and maybe especially, the most difficult ones!"
Figure It Out
"I say I have nuts and bolts for brains, and a good day is solving something tough," said Phil. "After all these years, I still run into something different every day and I'm always learning something new." Phil is glad he was able to make McElroy's his home for four decades. "I've had the chance to do everything there is in HVAC here. McElroy's is great people, steady work and pay, with wonderful customers. McElroy's invests in us a lot – mentoring us and sending us to advanced training. When other companies can't figure something out, McElroy's always will."
Family
Phil and Brenda live on 10 acres southwest of Topeka. Brenda is a speech paraprofessional at Jay Shideler Elementary School. She is also a fifth-generation participant in quarter-horse shows. "Brenda used to rodeo when she was younger, and she still competes in both Western and English riding on a national level," said Phil. "Our daughter Lindsey is also an accomplished equestrian. In 2007 she placed fourth in the world in an English competition in Oklahoma City." Lindsey is married to McElroy's plumbing/pipefitting technician Kirk York, who started as Phil's apprentice. They have two children: Harrison, an eight-year-old boy, and Hazel, a two-year-old girl. When not doing family activities, Phil loves restoring things that have engines in his climate-controlled shop shed.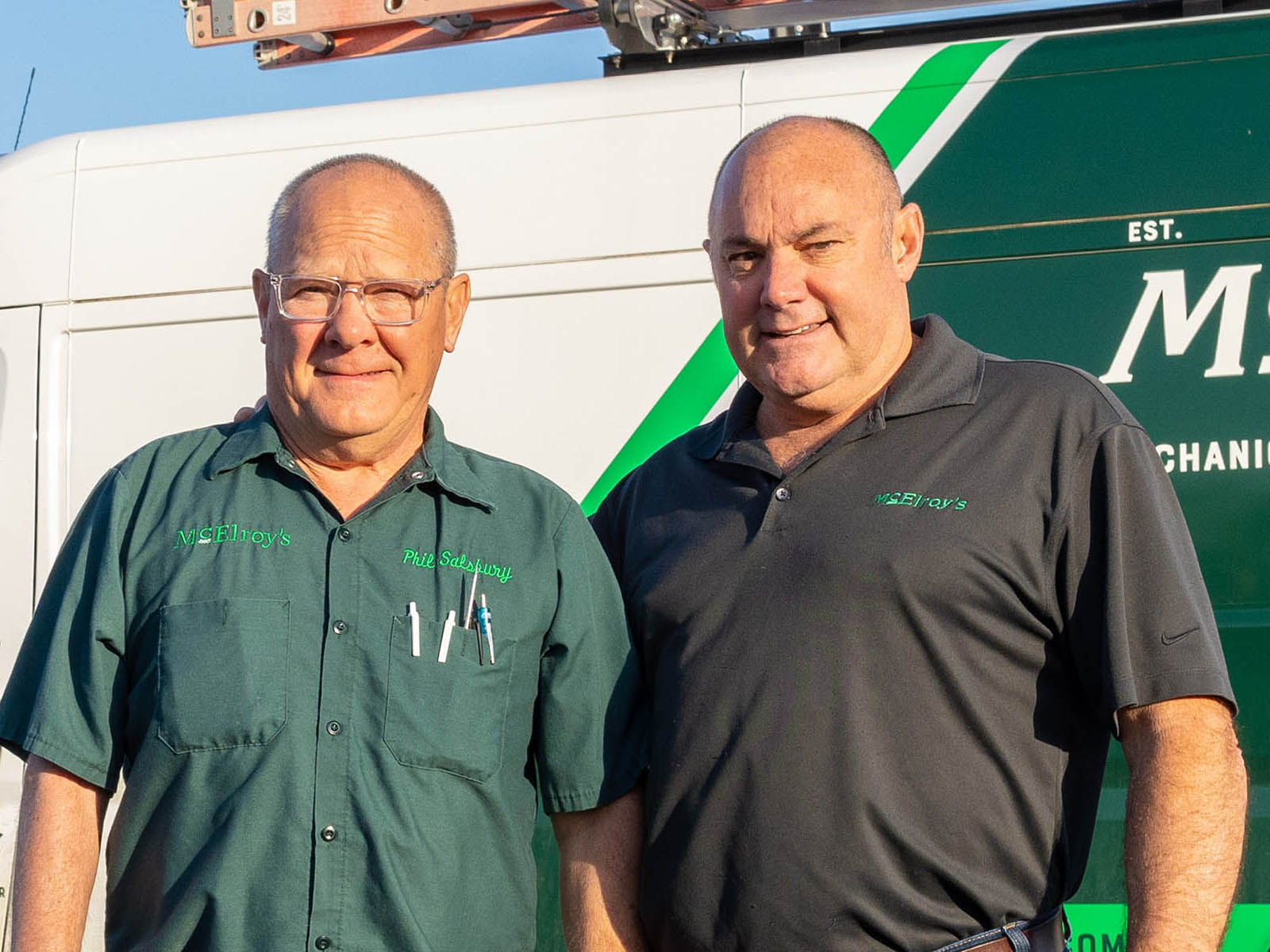 Barefoot Skier
As we mentioned, Phil will retire from McElroy's on August 1, 2023. "Phil has been a dear member of the McElroy's family for four decades. I'll miss seeing him around the office, our conversations, and his sense of humor," said Greg Hunsicker. "One of his retirement goals is to water ski more. Phil and I spent countless hours on the lake together and he is a truly amazing athlete behind a ski boat. He has barefoot skied competitively and won a few times. I am very envious that he'll be at the lake on beautiful days when I'm still here at the office!"
Customer Dedication
"Since Phil made residential service his specialty, he's worked in some customers' homes for 30 years," said Brenda. "Even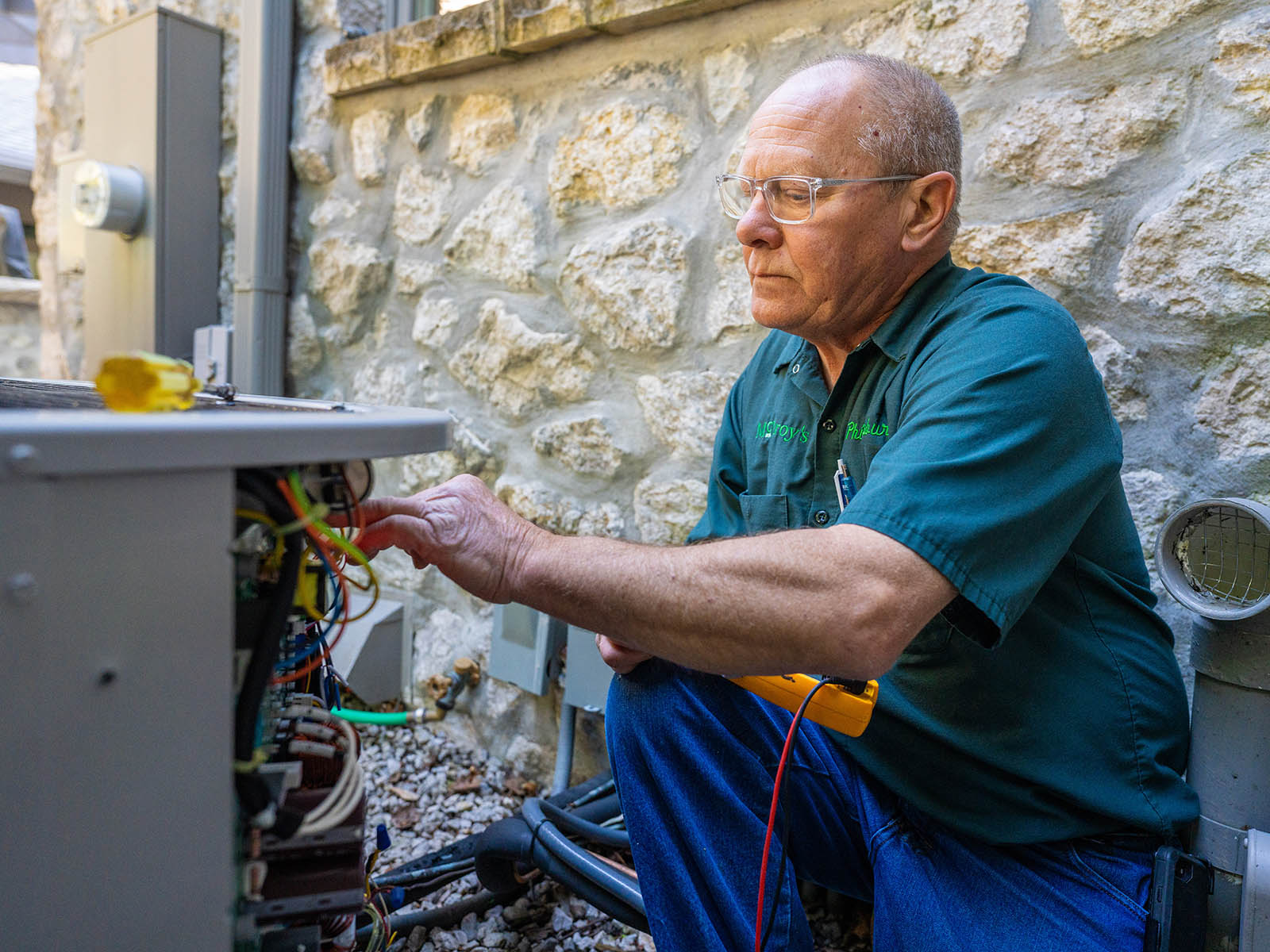 when he wasn't the on-call technician, he'd still take after-hours calls and try to help people over the phone. That's how much pride he has always taken in his customer relationships." After Phil has retired, he'll probably enjoy running into past customers at the store, but we doubt he'll miss Saturday night emergency calls!
Retirement
"The time has flown. I can't believe it's been 40 years," Phil said. "McElroy's has been good to me, and I'm in a great position for moving on to what's next." We're sure there is an endless supply of things with engines – trucks, cars, boats, motorcycles, lawn mowers, etc. – that Phil can expertly get running again. We'd also enjoy hearing that he's won another barefoot skiing trophy! We want to thank you, Phil, for making so much out of that opportunity you sought from Jerry McElroy back in 1983. You are truly one of the most outstanding troubleshooters the McElroy's team has had, and we wish you the very best in your well-earned retirement!