Insights
Service Rendy Habiger: 35 Years of Trusted Solutions
January 19, 2022
"Rendy has a ton of experience and really cares about customers' concerns," said Luke Dumler, McElroy's plumbing service manager. "He enjoys seeing their issues resolved and is dedicated to making that happen. No matter whether it's a weekend or 3:00 a.m., trust Rendy to answer the call and be there to help." On January 19, 2022, Rendy Habiger, McElroy's plumbing service salesman, celebrates 35 years with McElroy's. We thank Rendy for his dedication to providing solutions to our customers, and we honor him as an outstanding example of the McElroy's Trustworthy core value.
Friendly, Active Youth
Rendy grew up near Topeka's Crestview Park in a home where his mother still lives. The neighborhood had lots of kids to play with, and Rendy made friends easily. In his mid-teens, Rendy was a Junior Leader for summer camps at Lake Shawnee. "I got free swimming very day," he said. "I pretty much grew up at the pool and was on the swim team." Rendy was a versatile athlete in the Topeka West school district. In 7th through 9th grades, he wrestled in the 100-lb. class and only lost once. His senior year at Topeka West High, Rendy was 13th in the state in gymnastic rings, and Class 4A state champion in pole vault with a record of 14' 6".
Transmission Shop
Coming out of high school, Rendy wasn't sure what he wanted to do, so college wasn't part of his plans. After a few years in a transmission shop, he opened his own business. "I learned how to take transmissions apart and rebuild them. I enjoyed that," Rendy said. "I've always liked working with my hands."
Starting at McElroy's
In late 1986, a schoolmate of Rendy's, Mike Frost, was a dispatcher at McElroy's. He suggested Rendy might apply there. Knowing McElroy's had a truck fleet, Rendy hoped to get on board as a mechanic. "Instead I was hired as a helper/laborer on the sheet metal team," said Rendy. "After a while, I was on a job at the Topeka VA Hospital and saw the work the plumbers were doing. That looked interesting. Jerry McElroy was president at the time, and I asked him about becoming a plumbing pre-apprentice. He encouraged me to do that."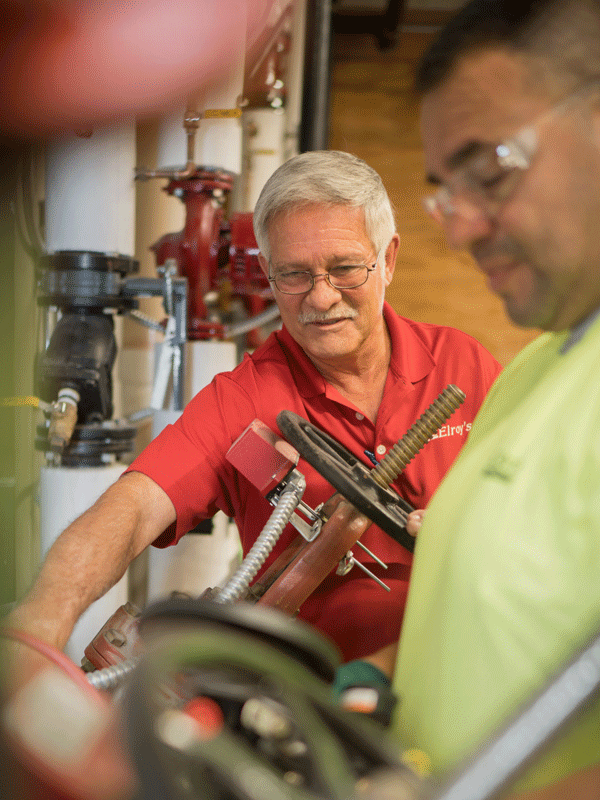 Journeyman Plumber
Rendy entered the union plumbing apprentice program, and started doing plumbing/pipefitting work on the McElroy's commercial/industrial construction team. Five years later, he became a journeyman. "Right away, I was handed a large set of plans for a major industrial-building remodel to see if I could handle it," Rendy said. "That was quite a test, and it turned out good. Over the following years, I worked a lot of jobs for a variety of project managers."
Project Supervisor
In 2002, Rendy was asked to focus on supervising construction projects in the Manhattan, KS area. "Over the next decade, I supervised a variety of Manhattan projects, such as work at K-State University and the athletic department," Rendy said. "I got to know the coaches and was well acquainted with the Bill Snyder family. It was enjoyable work that often resulted in sideline football tickets."
Commercial Plumbing Service
in 2013, the McElroy's plumbing service department wanted to expand their reach on the commercial side – with which Rendy was very familiar. He was asked to move into commercial plumbing service sales. "I've always enjoyed meeting people and taking care of their needs," Rendy said. "I love representing McElroy's. It's a great, family-oriented company, and McElroy's trusts their employees to take great care of customers. I feel good when I go the extra mile for commercial customers. They know they can call me 24/7 for an emergency."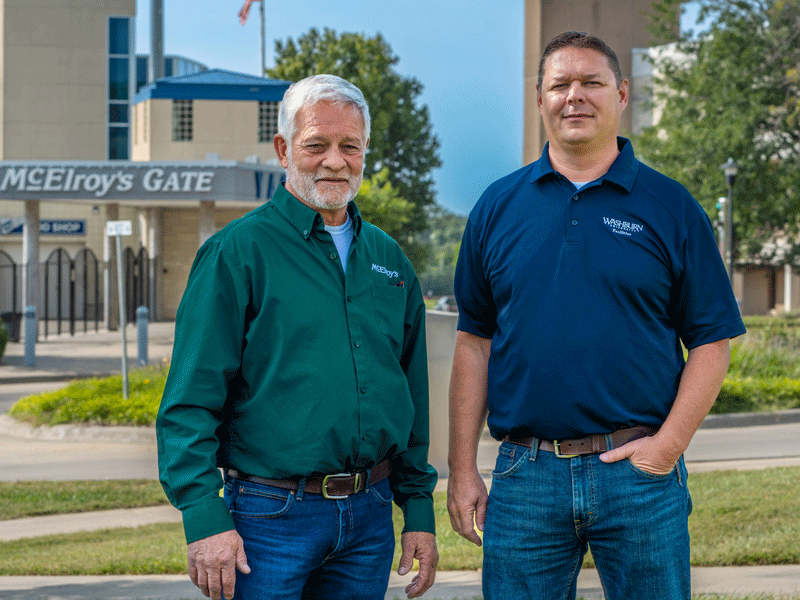 Never Backs Down
"At Washburn University, our top priorities are responsiveness and communication," said Matt Harden, assistant director for maintenance in WU's facilities services department. "Rendy is always quick and eager to offer solutions and never backs down from a problem. He explains his understanding of the situation and the reasoning for his suggestions. That makes it much easier for us to make the best decisions on what to do. After the fact, he makes sure everything is fully resolved – his follow-through is exceptional."
Call on Rendy
"It seems like Rendy and I often find ourselves staring into a hole the size of a pickup truck, discussing what it will take to fix the situation," said Chris Carter, facilities management director for the Topeka Housing Authority. "I can always call Rendy in a pinch, day or night, and rely on him to get the job done right every time. He knows his stuff and is easy to talk to – very down to earth, honest and to the point. His positive attitude and demeanor extends to all of our employees and residents, which we highly value. I truly look forward to working with Rendy!"
There for Solutions
Rendy is also an accomplished problem solver. "The water department said we had a leak at one of our rental properties that was causing our tenant sky-high water bills," said Becky Dixon, manager of several Topeka rental properties. "Other plumbing companies came out, but couldn't find any leak. The last plumber told me the only company that could help was McElroy's. That's how I got a hold of Rendy." Rendy discovered the problem wasn't a leak at all – it was a faulty meter. Rendy called the water department, told them to watch the meter online, and ran a test. When they saw the problem, the department supervisor immediately came out to fix it. "Rendy was there to solve the issue. And he did. I was just so thankful!"
Family – and More
Rendy and his wife, Sherry, recently celebrated their 40th anniversary. Their son, Patrick, and his wife, Christina, live in Topeka with their kids, Troy and Sophia. Rendy's family has long been involved in the Youth With a Mission and foreign exchange student programs. Over the years, they've hosted six exchange students. Oleg came from Ukraine and stayed with the Habigers for a year. "We grew so close that we informally adopted Oleg. He's a key part of our family now," Rendy said. "We were excited when his parents came to America and became citizens. Today Oleg lives in Kansas City, so he and his kids, Ezra and Esther, are close enough to join us for family activities."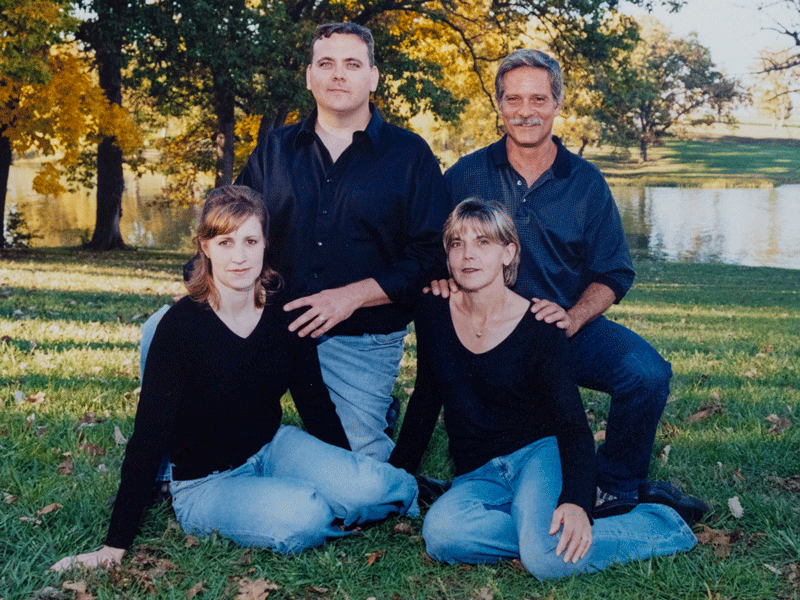 Favorite Activities
Rendy and Sherry live on five acres south of Auburn, Kansas, where they enjoy riding on side-by-sides and quads, bicycling, hiking and bonfires with the grandkids. Rendy has been active in Topeka Bible Church. He's been a Pioneer Boys leader for youth from kindergarten to sixth grade, and has taught fifth and sixth grade Sunday school. Rendy's also part of the RU Ready 4 BBQ competitive pork smoking team. "Patrick and Christina lead the Habiger team for Keller Williams Realty. They host an annual client-appreciation event for about 350 customers," Rendy said. "One year we smoked 51 slabs of ribs, 12 pork butts, 150 chicken thighs and countless hot dogs for the event."
Trustworthy – In Action
In closing, Luke tells this story about Rendy. "On Christmas eve, a customer in Lawrence had a major water-main break and needed it fixed fast. Rendy dropped everything, got an excavator to the site and went to evaluate. He quickly arranged to get the special fittings we needed, and stayed onsite with the excavators and techs until the emergency was fixed. This was all between Christmas Eve and Christmas Day, in the snow and freezing temperatures. Someone could easily have said the parts weren't available or made other excuses to put off the work. But not Rendy. That's the definition of Trustworthy!" McElroy's appreciates you, Rendy, and your 35 years of providing caring solutions to our customers. Thank you!