Insights
Season of Sharing: A Safer Furnace
January 14, 2021
Improving Health & Comfort
At McElroy's, one of our Core Values is Service to Others. As part of our giving culture, we look for opportunities to enhance people's living environments to improve health and comfort in sustainable ways. Partnering with Advisors Excel and MCP Group through the Season of Sharing initiative has been a great way to give back to our community.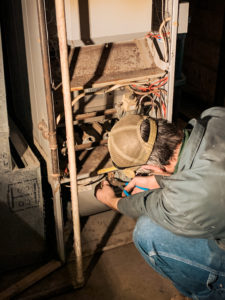 Safe & Efficient Solution
– A solo parent of a 10-year old son, Aimee reached out to Advisors Excel in hope of being able to replace her very old furnace. When McElroy's inspected it, we found it was at least several years beyond the average safe-service life of a gas furnace. It would definitely be best for Aimee and her son to have a safer – and more efficient – new furnace. McElroy's was glad to be able to help.
In Time for Christmas
On the morning of December 23, 2020, McElroy's technicians Ben Walker and Skylar Schooler arrived at Aimee's home. Before noon, they had disconnected and removed the old furnace. Then they brought in and installed a Carrier Comfort 95 high-efficiency gas furnace. By mid-afternoon everything was hooked up and running. Aimee and her son could enjoy a comfortable Christmas, without the worry of a dangerously old furnace. She could start saving on her gas bills too!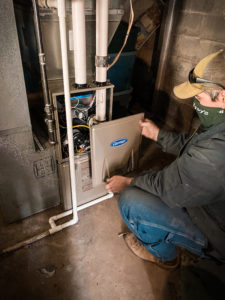 Paying Forward
"In her Season of Sharing application, Aimee said she always tries to pay it forward, and help out with what she can," noted Greg Hunsicker, McElroy's Vice President of Residential HVAC. "We feel the same way at McElroy's. The community has given us great opportunities, and we like to give back when we have the chance." Once again, we thank Advisors Excel and MCP Group for the opportunity to partner with them for the Season of Sharing program. We look forward to helping meet community needs again next year!