Insights
Season of Sharing: More Accessible Bath
January 07, 2021
Teaming Up to Help
This recent holiday season, McElroy's was pleased to partner with Advisors Excel for their Sixth Annual Season of Sharing. For the second year in a row, McElroy's teamed up with MCP Group to donate time, expertise and resources to help grant a life-changing wish.
A Safer Alternative
Marilyn and MC were hoping for a safer alternative to their old bathtub to help them better deal with limited mobility. So they applied for Advisors Excel's Season of Sharing program. McElroy's and MCP Group combined our capabilities to make a more convenient shower stall a reality. In the process, Marilyn and MC also received a freshened up bathroom.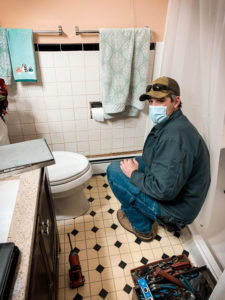 Expert Installation
Shawn O'Malley, a 20-year veteran of McElroy's plumbing department, came in to handle the plumbing duties. He meticulously installed all-new piping for the shower fixtures as well as fresh drain piping below. Ben Walker, of McElroy's HVAC team, refurbished the bathroom's heat register and added a new cover. MCP Group put in the shower stall, complete with sheetrock and finishing work throughout the bathroom. Fixtures and materials were donated by the Neenan Company and Johnstone Supply.
Hopes Fulfilled
Marilyn and MC are thrilled with the changes. "It's really refreshing," said MC, "to not have to be so conscious of just a simple thing as getting in and out of a bathtub." MC added, as Marilyn nodded in agreement, "They do good work. They do very, very good work!"
Glad to Give Back
"Our community has provided us with many opportunities," said McElroy's President Dan Beal. "We're pleased and proud to have the chance to serve the community with gratitude. Partnering with our friends at Advisors Excel and MCP Group makes the experience of helping out even more satisfying."