Insights
Upgrade to Variable Refrigerant Flow (VRF)
February 25, 2021
"We're upgrading from an outdated, one-tenant building to a high-technology, multi-tenant facility where companies can accomplish great things," said Seth Wagoner, CEO & CFO of AIM Strategies, LLC. "As a private equity firm that helps companies drive phenomenal results, we appreciate the value of great working environments." AIM is partnering with Schwerdt Design Group, MCP Group and McElroy's to completely renovate the AT&T building at 220 SE Sixth Avenue in Topeka.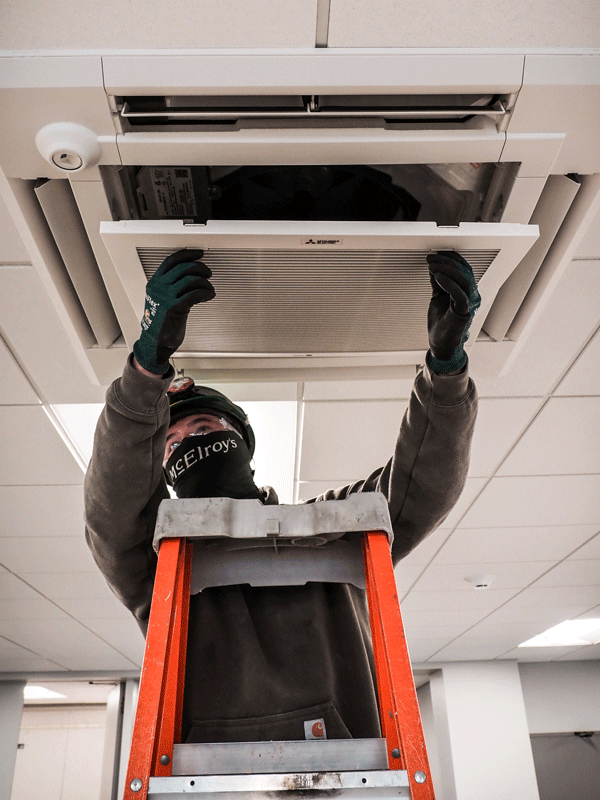 State-of-the-Art
A key part of the improvement is replacement of the antiquated, ducted heating and air system with a state-of-the-art variable refrigerant flow (VRF) system. "The VRF systems McElroy's installs offer valuable advantages," said Jimmy Thomas, McElroy's commercial project manager. "Instead of circulating air throughout the building via ductwork, pipes carry refrigerant to individual climate control units. Each unit automatically provides precisely the degree of heating or cooling that location requires."
Flexible and Compact
Using piped refrigerant instead of ducted air makes installing the VRF system much faster and easier, especially for a complete renovation like this one. "VRF is a very flexible and compact system that can be smoothly integrated into an existing facility," Jimmy said. "Plus, without bulky duct systems, it leaves more working space for the people who occupy the building – increasing the facility's value."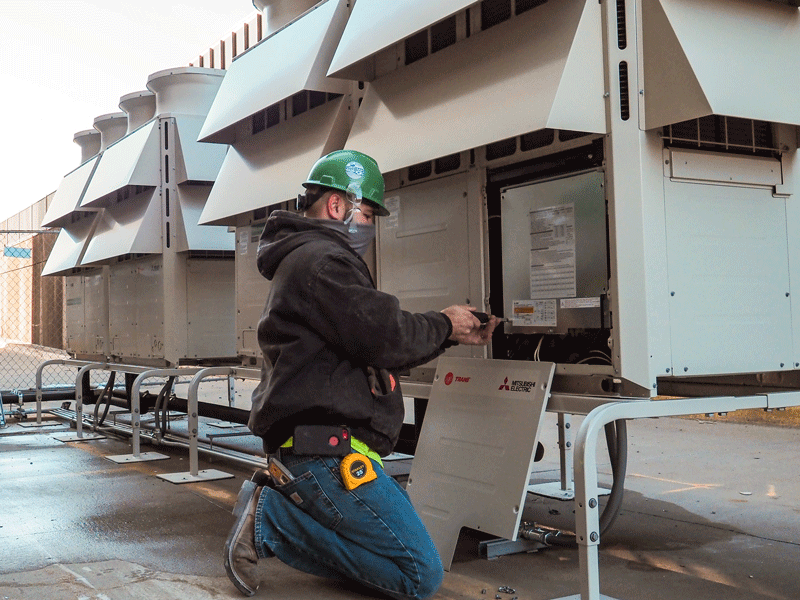 Comfort and Savings
VRF systems take maximum advantage of leading-edge smart technology to precisely control heating and cooling. "The building's tenants will enjoy zone-specific comfort control, which improves productivity," said Jimmy. "That same automation also monitors energy use and system conditions. In addition to the obvious savings for energy efficiency, the system provides maintenance alerts that help to avoid system failures that could result in expensive employee downtime and emergency repairs."
Custom Energy Billing
All that data makes ownership and management of the building easier, too. "Rather than relying on an outdated formula, like billing tenants for energy usage based on square feet," said Seth, "this system helps us precisely track each tenant's actual energy usage. We can provide utility billing that's individually accurate and fair for everyone."
Knowledge and Skill
"AIM Strategies is very happy with the diverse knowledge and skillsets that McElroy's offers," said Seth. "We've completed many successful projects with McElroy's and we look forward to partnering with them on many more." For innovative mechanical systems that add value to new construction or renovated facilities, count on the creative thinking and expert craftsmanship of McElroy's.