Insights
Construction Wade Jueneman: 15 Years of Engineering Solutions
April 29, 2022
"Wade's personality and technical skills are a unique combination," said Dan Beal, McElroy's president. "His personality is very likeable, friendly and funny – which, as a fellow engineer, I hate to say – is rare for a person with such high technical and engineering expertise. He's also very decisive and action oriented. That's critical in our industry, when time and money are of the essence." On April 30 we're honoring Wade Jueneman, McElroy's vice president, for 15 years with McElroy's, during which time he has distinguished himself as an outstanding team member and leader.
Hanover, Kansas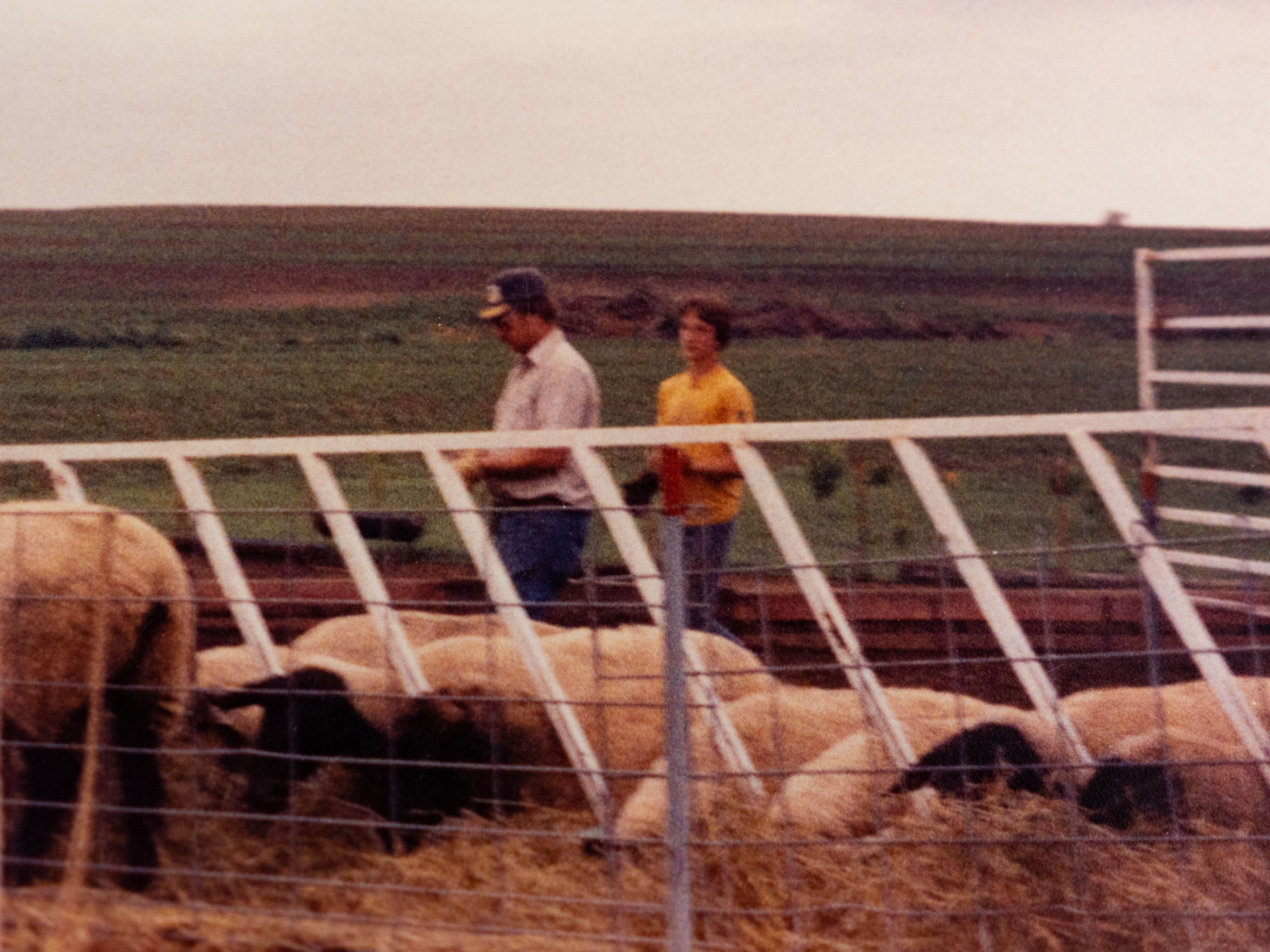 Wade is the embodiment of small-town values. He grew up in Hanover in north-central Kansas, currently home to about 650 people, where his parents, George and Kathy, still live. "I was in the fourth generation in my family to live there," Wade said. "I have so many relatives in the area that I don't even know them all. And in a town that size, even people you aren't related to are like your mom and dad. Everyone kept you in line."
Farmhand
Starting after sixth grade, Wade worked summers on the 3,000-acre farm of his neighbors, Harold and Mary Lou Schwartz. "I'd start with chores at dawn, be on a tractor by mid-morning and work until about 10 pm. It was hard, but I loved it," Wade said. "I worked there through the summer after my sophomore year in college and learned how to take care of everything from irrigation pumps and pipes to farm implements. Harold was very innovative, and successful enough to have lots of new, big equipment that was interesting to work with."
Valedictorian
During the school year, Wade was a diligent student and athlete. At Hanover High, basketball and track were his best sports and math was his favorite class. He was valedictorian of his graduating class. "My parents hadn't gone to college and they really encouraged me to go," Wade said. "The school counselor looked at my interest in math and experience with the mechanical side of farming and suggested that I look into engineering. That sounded fine to me."
Engineering Studies
Wade enrolled in mechanical engineering at Kansas State University. Going from a high-school senior class of 21 kids to college lecture classes of 300 students was a bit of a shock, but Wade adjusted. "I loved college," Wade said. "To be honest, I mostly just studied and worked. I paid 100-perecnt of my own way by washing UPS trucks, working as a land surveyor and as a barkeep, bouncer and doorman." After a couple of years, Wade decided to change from mechanical engineering to architectural engineering – which is about the mechanical systems that work inside of buildings. "To me, mechanical engineering was more theoretical. Architectural engineering was real-world work I could get my hands into."
Consulting Engineer
While at KSU, Wade took an internship at Brack & Associates, a consulting engineering firm in Topeka. They hired him full-time in 1998 and he worked there for nine years. "The folks at Brack are a great group, and I learned a lot there," Wade said. "I did mechanical, electrical and plumbing (MEP) design for buildings. I designed a lot of data and telephone switch buildings for SW Bell and buildings for hospital systems like St. Francis and Stormont Vail. Some were additions and renovations, and some, like Mercy Hospital in Carthage, Missouri, were built from the ground up."
Move to McElroy's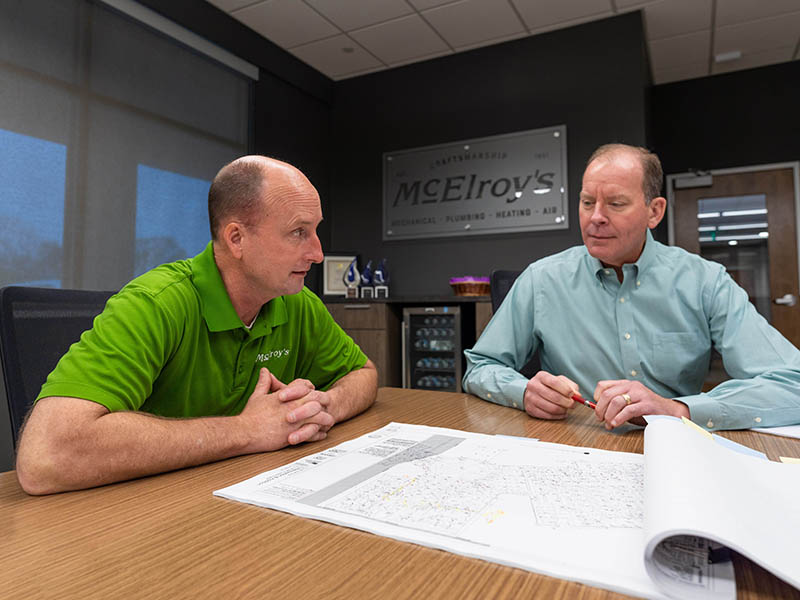 As a consulting engineer, Wade put his ideas onto paper, but someone else would build them. He began thinking he'd like to be where he could also work on the construction of his plans. That's when Dan Beal suggested Wade might consider joining the McElroy's team. "I knew Dan and McElroy's through our great business relationship – which still exists between Brack and McElroy's today," Wade said. "The two companies have the same values. They do it right and get it done." It was a hard choice for Wade to leave Brack & Associates, but it was time for the next phase of his career.
Learning the Details
At McElroy's, Wade started as an estimator and project manager. "I had a lot to learn about how things actually go together in the field, and I enjoyed that," Wade said. "There are so many details in construction that aren't exactly in the engineer's plans – and those details are a big deal! If something isn't going together as planned, I like to figure out why and then fix it. I love a good challenge."
Figuring Things Out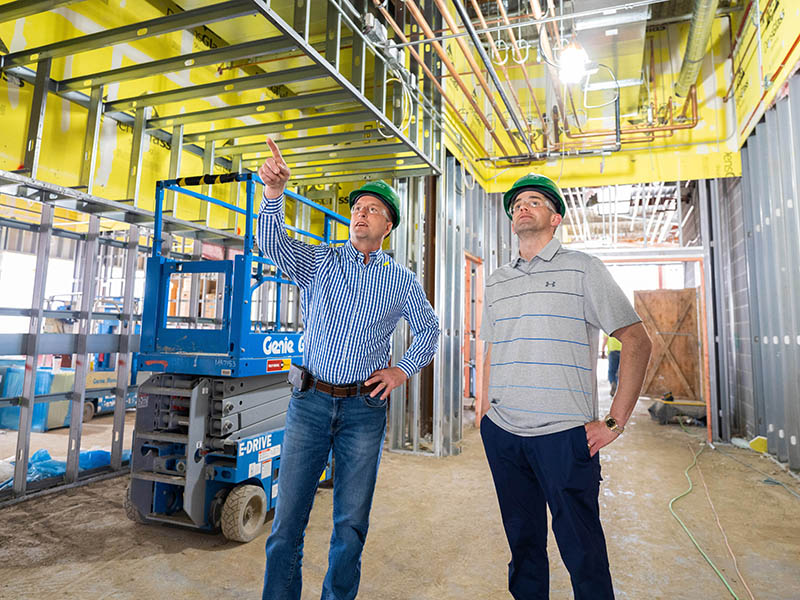 "Wade's great at solving problems," said Jimmy Thomas, McElroy's commercial project manager. "When he's in his office, you'll often spot someone in there bouncing an issue off of him for an answer – figuring something out. Wade allows you to work freely and trusts you to make decisions, but will step in when something isn't going right. He helps people learn from their mistakes, and will sit down and explain what went wrong and how to not let it be a mistake again."
Design-Build
A good way for Wade to head off mistakes is to manage both the design and the construction of key projects – a process known as Design-Build. Combining his engineering skills with his project management experience, Wade began serving McElroy's clients with start-to-finish mechanical construction services. A recent Design-Build project Wade completed was for the Bev-Hub beverage co-packing facility in Manhattan, Kansas. "Wade solved a lot of complex problems at Bev-Hub," said Dan Beal. "Wade said the processes he designed were some of the most complicated challenges he'd ever faced. He spent many late nights tackling those problems and designing a truly one-of-a-kind system that controls very intricate processes."
Never Give Up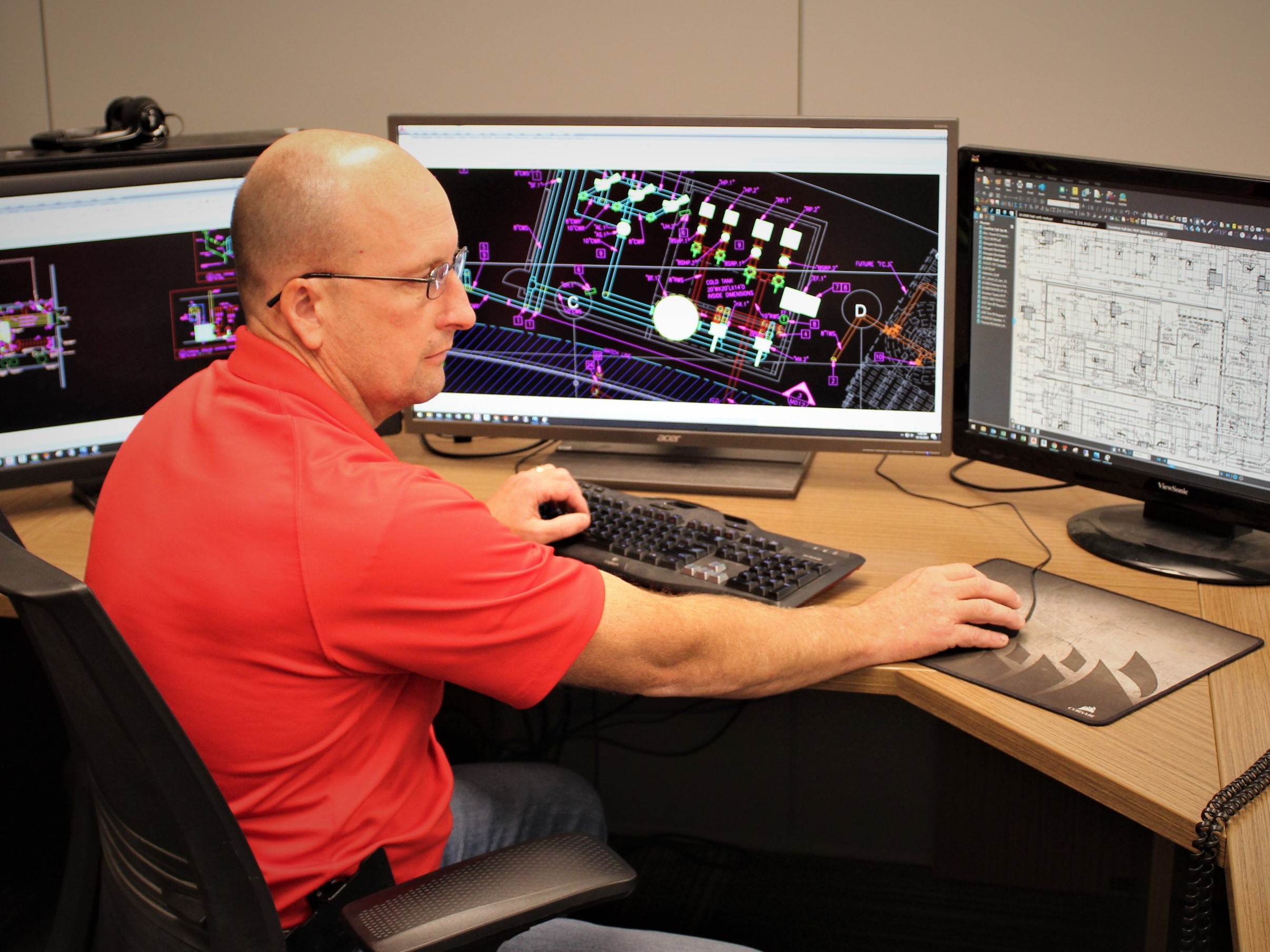 Wade wears many hats at McElroy's, and he likes it that way. "I enjoy engineering and design, but I also like getting out of the office and talking with clients, employees and the public. With variety, the days go quickly," Wade said. "At McElroy's, there's always somebody who knows more about a particular challenge. I like to find those folks and pick their brains to find solutions together. I can't think of us at McElroy's ever giving up on a problem. Not ever.
Enjoying the Outdoors
Wade met his wife, Karen, at KSU. They have two sons, Kaden, aged 19, and Shane, who is 16. Karen and Wade enjoy being outdoors on their 30 acres, with a two-acre pond, in south Topeka. "When I'm not cutting wood or mowing the lawn, we like to go to the lake for water sports or to the mountains to ski," Wade said. "I also like working with my hands – fixing stuff and tinkering in my shed." Shane enjoys the same high-school sports as his dad, basketball and track. Kaden is living on his own in Hanover, working as a welder in nearby Marysville, and spending time with his girlfriend, Hannah.
Common-sense Values
"Wade exemplifies all of the core values of McElroy's," said Dan. "I especially appreciate his way of solving any situation with ingenuity and common sense. Wade may say he got his common sense from KSU, but I'd have to disagree and give his mom and dad credit!" Likewise, Dan points out that Wade and Karen are very proud of their sons, Kaden and Shane. "Wade has taught them the same values he was raised with," Dan said. If the boys stick with they've learned, they should do as well in life as their dad. McElroy's is pleased and proud to have called Wade Jueneman our teammate for 15 years – and we look forward to many more years of the solutions he engineers!